November seems like such a busy (but lovely!) month. It is filled with family, food, football, more food, and lots to keep up with. It is one of those months that I really need to work to stay on top of my planning, or it feels like things get out of control quickly. And Thanksgiving is just around the corner! This printable weekly meal planner for November will keep you in the holiday mood while you are being a champion of organization and efficiency.
The meal planner template is available as both an A5 planner insert and also as an 8.5×11.
Printable Weekly Meal Planner for November
Don't forget to check out our other awesome seasonally inspired weekly meal planning templates available too. Check them out here:
And read this post about how to print pro-quality printables if you're new to printables or just want some guidance on how to make them look their best.
How do I use meal planning templates?
They are super flexible and can be put to work in whatever way works best for you. You might use them for just planning dinners, but some people like to plan every meal! You can plan a week at a time, but you may save even more time if you plan a few weeks or even the whole month at once.
The right side of the page has a handy spot to fill in your grocery list to take to the store with you too.
TIP: Don't throw away your old meal plans! Save them for future weeks when you need some meal planning inspiration.
Can you give me some recipe or meal ideas for November?
Oh yes! We have tons of great Thanksgiving and fall ideas to help you get those meal planners filled out.
Here is a 21 Day Fix Veggie Quiche with Sweet Potato Crust that is a great meal for both breakfast AND dinner! If you are trying to prepare a holiday meal, but you don't want to spend your life savings on feeding everyone, here are some ideas for Thanksgiving Dinner on a Budget. Here are some Easy Meal Planning Recipes: Thanksgiving. And if you love Thanksgiving, but you are trying to stay on that healthy diet, here are 25 Thanksgiving Dishes That Are 21 Day Fix Friendly.
Now, what do you do with the leftovers? Check out these 21 Day Fix Thanksgiving Leftovers Recipes for some great ideas.
Where can I find more meal planning help?
If you need some ideas for more than just Thanksgiving dinner, we have plenty of other resources for you. If you don't know where to start, start here – our free 30 Day Meal Plan Challenge. You'll get tons of meal planning help and recipes and go from NO meal plan to a month's worth of dinners all planned out in just 30 days!
And If you'd like to get your meal planning under control, you'll love this Printable Fall Meal Planner with over thirteen pages of meal planning tools! You can get 30% off your printable meal planner purchase with code BLOGREADER30.
Do you need any other printable ideas for November?
Here is a cute Printable Thanksgiving Table Setting for Kids and Free Thanksgiving Printables: Thanksgiving Place Cards to get your table looking nice. This Free Thanksgiving Printable Wall Art will help decorate and these Printable Thanksgiving Planner Stickers will take your holiday organization to the next level.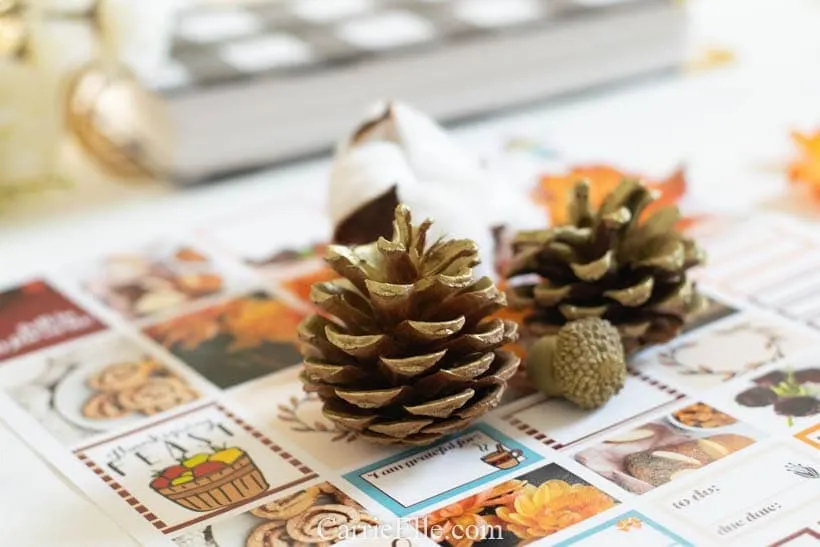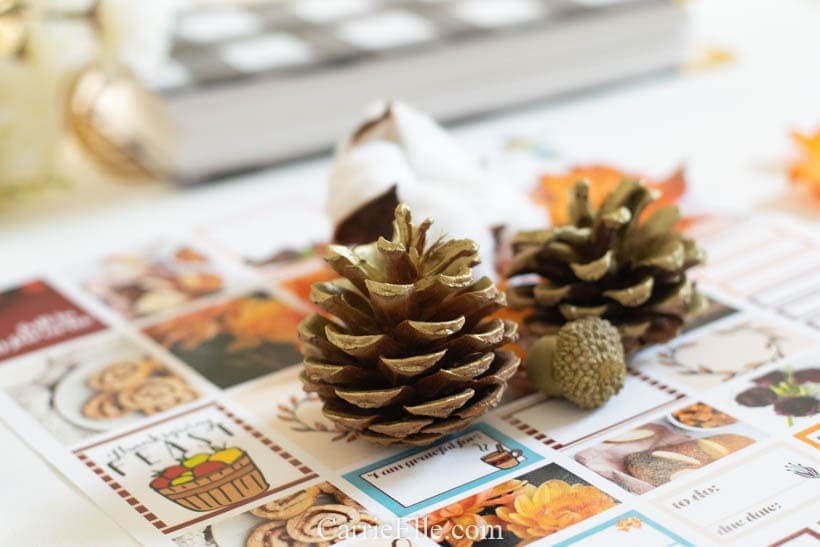 Now on to that meal planning printable!
Free Meal Planning Printable Download
Time for your meal planning printable! Download by clicking the black "download" button below. If you have issues retrieving your files, please email us at [email protected] and we'll get them to you! 🙂 You'll receive both the 8.5×11 and A5 sizes in one download.