Raise your hand if you could use a little meal planning help, inspiration, guidance or support.
I've totally been there.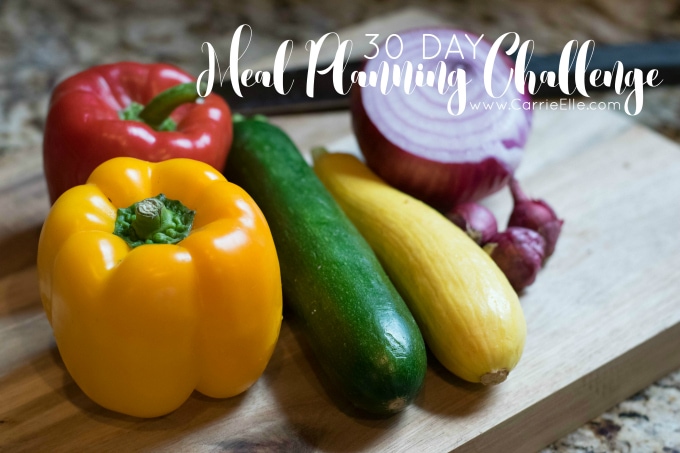 I have something that I hope some of you may be able to use. Maybe, this will even make your life easier, less stressful, and healthier. And on top of that…you might save money, too (in some cases, a lot of money). I've designed a 30 Day Meal Planning Challenge for those of you who could use some help, inspiration, and guidance when it comes to meal planning.
There are people in this world who naturally and consistently plan their meals and that's just the way they are. They don't need help. This is some sort of inborn skill they have, and I have these people in my life. Is this you? Cheers, woman. I salute you!
But then are people like me (or at least, me a few years ago – before I saw the Meal Planning Light, y'all). People who don't even realize meal planning is a thing. People who impulse buy their way through the grocery store, eat out way too often because they don't have the time, energy or inspiration to cook at night, and people who end up throwing away a bunch of produce each week because they didn't end up using it after all.
Is any of this sounding familiar?
I was totally that girl. And sometimes? I still am.
But most weeks, we meal plan, shop for our dinners, and even actually stick to the week's menu (not every night, every week…but as I'll teach you, that's okay – you don't need to be perfect at meal planning to reap its benefits!).
Here's how I feel when I meal plan:
Less stressed out
Healthier
More connected to my family (we eat at the dinner table almost every night)
More in control of my money (try grocery shopping for a menu and you'll see what I mean)
I want to encourage you to feel the same way.
My 30 Day Meal Planning Challenge is free. Here's what you'll get:
Emails with helpful videos, tips and "homework" to help you get dinner under control
A private Facebook group for support, community, tips, recipes and more
Free printable tools to help you get organized and plan better
Access to exclusive content for Challenge Members, including free meal plans (because sometimes, you just want someone to tell you what to eat, right?!)
By the end of the 30 days, you'll have an entire month's worth of meals planned out and the tools you need to stay on top of meal planning (once you start, you'll never want to go back to the chaos and expense that comes from not meal planning).
Are you in? You can sign up below. (If you're signing up before June 1st, 2016, please not that you'll receive your first email on June 1st, which is when I'm launching this challenge…if you sign up after, you should receive your first email right away!).
Questions? We'll be able to communicate directly via email and/or the Facebook group, but I will also answer any questions or comments you leave here, so don't be shy!