Just in time for March and the most rainbow-y holiday of the year, this printable weekly meal planner template for March is available to download! This cute meal planner is available as an 8.5×11 and as an A5 planner insert, and it's ready for your to get your meal plan on.
This cute little design brings bright colors and a fully functional design to your planner. And, side note: my horse is from Ireland, so St. Patrick's Day is his unofficial birthday (he has an official birthday, of course, but when his registration papers were lost, so was his birthday…so I've had to improvise). He'll be 23 this year. TWENTY. THREE. Y'all, he's been in my life since he was seven. What a blessing he has been (although my back might disagree, it still hasn't recovered from my fall over five months ago…).
Printable Weekly Meal Planner for March in 8.5×11 and A5
Here are a few St. Paddy's day posts I think you might like to assist with your meal plan!
St. Patrick's Day Meal Planning Help
This collection of green food is perfect for St. Patrick's day. And BONUS, these are healthy, whole foods recipes.
Here is a collection of food (not necessarily healthy food!), crafts, and decorations that you can make with the kids (all inspired by St. Patrick's Day!).
If you want a printable meal planner that is rainbow but not necessarily St. Patrick's Day themed, here's a bright and colorful rainbow meal planning page for you.
Also, if you're getting tired of printing out new pages each week (I know…they're cute, but wouldn't it be nice if they were printed for you and had a perforated grocery list you could rip off?), be sure to check out my Meal Planners.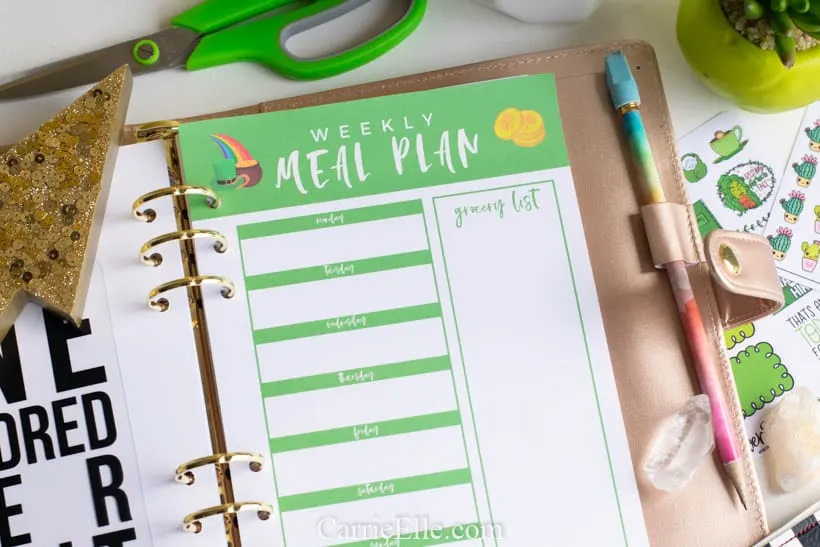 Don't forget this March-inspired printable weekly meal planner is part of a larger set – we have a new one for each month! You can get last month's here.
Click on the black and white download button below to get your copy. You'll get a file with both the 8.5×11 and the A5 version. Just print off the one you need! 🙂 If you have any trouble downloading, email us and we will send you the file.


If you are looking for more free printables, be sure to check out my huge collection of freebies here!
If you need recipe ideas, here's my collection of (mostly) healthy recipes.
Happy Meal Planning!