It's time for another vision board template! This time I've put together a printable vision board template for abundance – it's loosely guided, but has lots of room for you to inject your own creativity and make it your own. It's also black and white, making it printer-friendly.
Printable Vision Board Template for Abundance
A few years ago, I wrote a book about vision boards called Make Anything Happen. This book is a great way to get started – it takes you through the entire process of creating an effective vision board, including setting goals and seeing them through. Plus, this vision board book is designed for you to write in it…so it makes the whole process fun and interactive. I also teach a lot of vision board classes, and that is what inspires a lot of the vision board content for this blog – I make things people ask for. And people always ask for help with money!
Which brings me to the first thing I want to quickly address…
What does abundance really mean?
To me. abundance means that I have enough. It means that I have food on my table, health, financial stability, and (in my case!), a horse to ride. 🙂 For many people it means money. It means money to me, too! But I see abundance more holistically that I used to. It's not just money – it's abundance of the things that I need and love in my life. Including love! Abundance can mean love, too.
So, as you work on this vision board template and are developing your own manifestation techniques, don't limit yourself to creating an abundance board that is just about money. Let yourself accept abundance in all areas of your life (side note: vision boards are really specific and goal-driven, but the real secret is to create them and let the universe work its magic as you let go of expectations regarding how those goals will be realized…but I'll save that for another blog post!).
Even though I just said to not limit this vision board to just money…I do believe in being really specific, and if it's money you are after (no judgement here, I believe money is good), then here are some really specific tools to help you as you are manifesting wealth: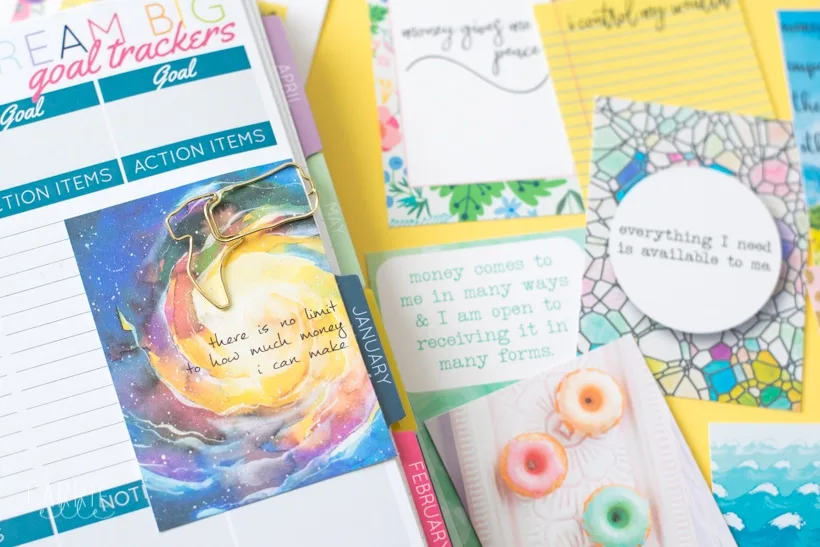 How to use this Abudance Mindset Vision Board Template
Use this gabundance vision board template however it makes you happy! 🙂 I do have some recommedations though.
Choose your paper wisely! I printed on card stock and used these pastel Sharpies to decorate. If I were going to punch holes in this or fold it and put it in my planner, I would have used regular paper (although I am a paper snob…here is my favorite printer paper, every time I print something for someone else – and I do mean every time! – they tell me how nice my paper is, ha)
I made it colorful and cheerful so I'd want to look at it! You can make yours reflect your personality. And if you're not sure how to get started, map it out on a blank piece of paper first. Or copy this one, and swap out the words/colors/goals for your own!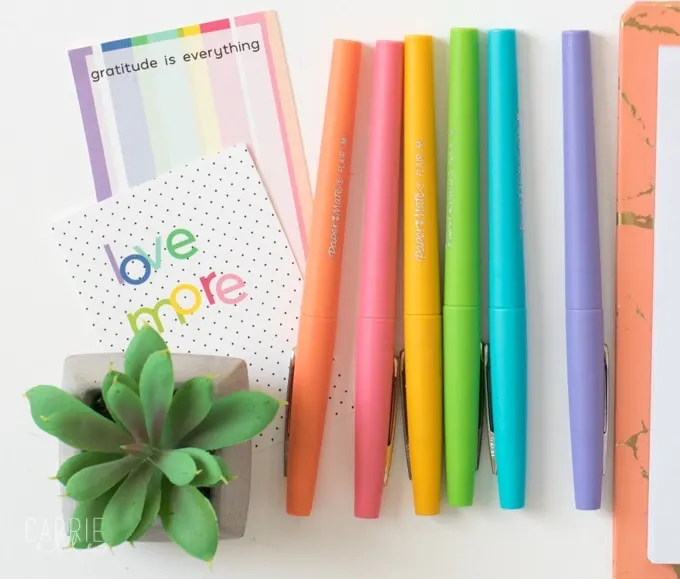 I added stickers from my neverending sticker collection and a money affirmation card from my blog.
When you're not sure what to include, add an inspirational quote! If you're looking for quotes, some good keywords to search for are, "quotes about attracting abundance," "positive money quotes," and "vision board inspirational quotes."
There are no rules about vision boards, but there are some general guidelines I always recommend – keep it specific, be open to creative outcomes, and check in with it regularly. The rest will fall into place!
Vision Board Inspiration
A vision board works on the law of attraction, and it should be something that inspires you and motivates you (your vision board should attract you! It should resonate with your and feel like you). I like to attach a real plan with goals to mine, athough the act of just putting those visions down can be very powerful on its own.
If you're looking for vision board examples and inspo, you can also take a look at these posts:
Goal Setting Vision Board (pictured below – use this printable to map out individual goals – it's really useful!)
Vision Board Quotes (here are some of my favorite quotes for a vision board, in a cute printable format)
Vision Board Topics (this post shares a ton of topics you can create vision boards for)
Printable Vision Board Kit (pictured below – this kit come with quotes, templates, and more for an easy and guided DIY dream board)
You can find all of my vision board content here.
Vision Board for Abundance Download
You can print out your abundance vision board template here or by clicking on the black and white "download" button below. If you have any trouble shoot me an email.