Halloween is upon us, and if you're anything like me, you are going to make your kids a Halloween costume that they probably won't want to wear because they'll be begging for something they saw on a rack in the Halloween section of Walmart. With that in mind, these easy no-sew DIY Halloween costumes for kids are pretty straightforward and won't take up a ton of your time to make. And bonus, they are all super cute!
Easy No-Sew DIY Halloween Costumes for Kids
If your kids are little and you haven't yet experienced the joy of making them a costume only for them to refuse to wear it, lucky you! Out of the costumes I am sharing with you today, the only one that actually made it from inception to trick-or-treating is the Power Rangers costume. HOWEVER. Even though they didn't make a trick-or-treating appearance, all of these costumes ended up being used year-round for dress-up. In fact, some of these costumes stuck around for years (Power Rangers and Leia and Link, oh my!)…and as you'll see, they're made with tape!
I made this no-sew Princess Leia costume with a bed sheet I picked up at Walmart for a few dollars! It was easy to make, and my daughter wore it to Comic Con (which honestly, I forgot they went to until I re-read the blog post). This costume stayed in rotation for years during the princess dress phase. There is no sewing involved, but the fabric tape is sturdy. Your little Leia will look adorable in this.
You can buy a Princess Leia costume here (yeah, I got you! I'll provide an Buy-It-Yourself version for each one of these, too).
If you have a kiddo in a Zelda phase (is this something they all go through?), you are probably familiar with Link from Breath of the Wild. He is pretty cool, actually. I'm a fan. My kids were super fans, and we made Claire this DIY Link Costume based on the Breath of the Wild Link. Most of the pieces of this costume I picked up at Walmart or Amazon.
You'll need to let it sit for 24 hours so the puffy paint can dry (if you're in a pinch, use a white fabric marker instead). Bonus for this costume? The boots and leggings can be worn again. And in our case, Claire wore the Link tunic to school all the time!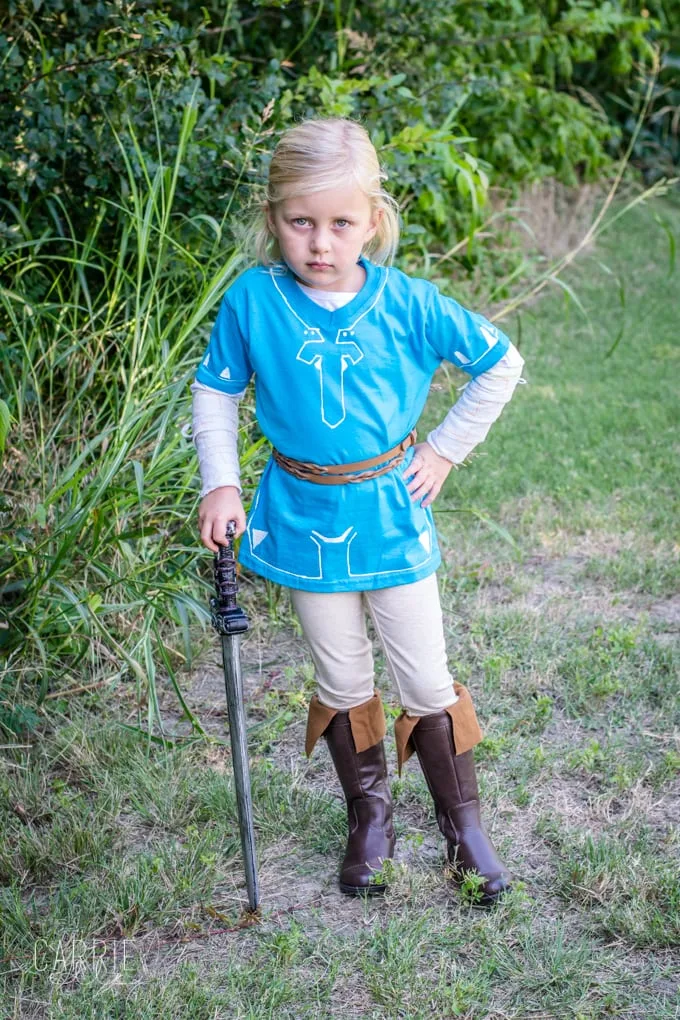 Order a Link costume here (the homeade one is cuter, but the store bought version has point ears).
There was a strong Power Rangers phase in this house. I made the kids these no-sew Samurai Power Rangers costumes using t-shirts from Walmart and leggings we already had. They l-o-v-e-d these costumes. They held up surprisingly well, too – the kids played with these until they outgrew the shirts.
Here is a Power Rangers costume you can buy online.
Y'all. This one kills me! It was so precious. It's been featured all across the internets. Claire wore it well. I made it right after we saw Frozen in theaters (it was her first movie theater experience). This simple no-sew Elsa costume was super cheap to make and you can use some creative freedom here and still end up with the desired Elsa look!
We made this easy no-sew Care Bears costume based on the bear I most relate to, Grumpy Bear. I am also a huge fan of Tenderhear, Cheer Bear, and Good Luck Bear. But Grumpy has a special place in my heart, and when Netflix asked me to create a Care Bear costume for the release of Care Bears on Netflix, I chose Grumpy Bear!
This one is adorable, and it's great for cold weather trick-or-treating because it's made with a fuzzy onesie!
Or, get a Grumpy Bear costume here.
Do you have a little Stormtrooper? This DIY Stormtrooper costume comes together quickly and inexpensively. It's extra fun because I used glow-in-the-dark tape, and the kids loved it! (also, scroll down on this post for a picture of Dog Vader in his homemade Darth Vader dog costume).
Buy a Stormtrooper costume here.
Have you been singing "peaches, peaches, peaches peaches peaches…" like the rest of us? If you've got a Peach in the house, this no-sew Princess Peach costume is a lot of fun to make and leaves room for interpretation (you can pick out your favorite dress, jewels, etc. and still look like Peach!).
You can buy a Princess Peach costume here (and not gonna lie, it's pretty darn cute).
Happy costume making! <3