As you may know, we are huge Frozen fans around here. HUGE. I could *probably* recite most of the movie for you, if you asked. I've been looking for an Elsa costume for Claire, to no avail. Apparently, we are not the only Frozen fans, and Elsa costumes are a hot commodity. As I was lying in bed a few weeks ago, I thought to myself, "Surely I can make her a costume."
Last Halloween, I made the kids Power Ranger costumes using tape. No sewing involved, cheap, and fun to wear. I decided I'd do the same thing with a Frozen costume.
Here's how I made Claire a no-sew Elsa costume out of fabric, a white t-shirt, and some tape!
The entire project cost me less than $15 and took less than 30 minutes to complete. Here's what I used and how I made it (this post contains affiliate links).
Materials:
Long-sleeved, white t-shirt (I got one on clearance at Target for $1.50)
Scissors
Blue fabric (I needed less than a yard of fabric…you'll want it to wrap 1.5x around your child, under their armpits) $3.50
Blue tulle (I used half a yard)
Silver duct tape (I used a small roll of the silver Duck Brand tape – for a larger child, you might use the full-size roll)
Optional: fabric glue (I would do this next time to attach the skirt to the shirt)
Pictured, but I didn't end up using: spray adhesive and glitter – word to the wise: don't use this on your tulle. Just trust me.
Here's how I made it (and a few changes I would make if I did it again, which I likely will).
1. Measure your child. This fabric worked out perfectly for us. I measured 1.5x around her, right under her armpits, giving a little extra room (tape is not stretchy, and remember you will need to get this over your child's head!).
2. The bottom of the fabric was a little ragged, so I used tape to make a "hem" – I just folded it in half around the bottom.
3. I also added a piece of tape along the edge of the fabric (lengthwise) that would be exposed once I wrapped it around her.
4. Wrap the fabric around the shirt about an inch below the armpits. I centered the end of the fabric in the front, but next time I'd move it to the side as Elsa's dress has more of a slit in the side than the front (also, it kind of looks like a kimono from from the front, which is cute but not quite the look I was going for).
5. Tape the skirt piece to the shirt. Start at the beginning of the fabric and tape until you have taped the whole thing down to the shirt (the skirt part wraps around the child 1.5x, and all of that needs to be taped to the shirt – not just the top/outside piece – you'll see what I mean when you start). Next time, I would actually use fabric glue for this step, and then cover it with a piece of silver tape. I think it would hold up better this way – the fabric I used was kind of heavy, and thicker tape or fabric glue would have held it up better…but I didn't like the look of the thicker tape on Claire, because she's so tiny.
6. Tape your tulle to the back, taping over the line you've already created when taping the skirt to the shirt, for a "cape."
And that's it!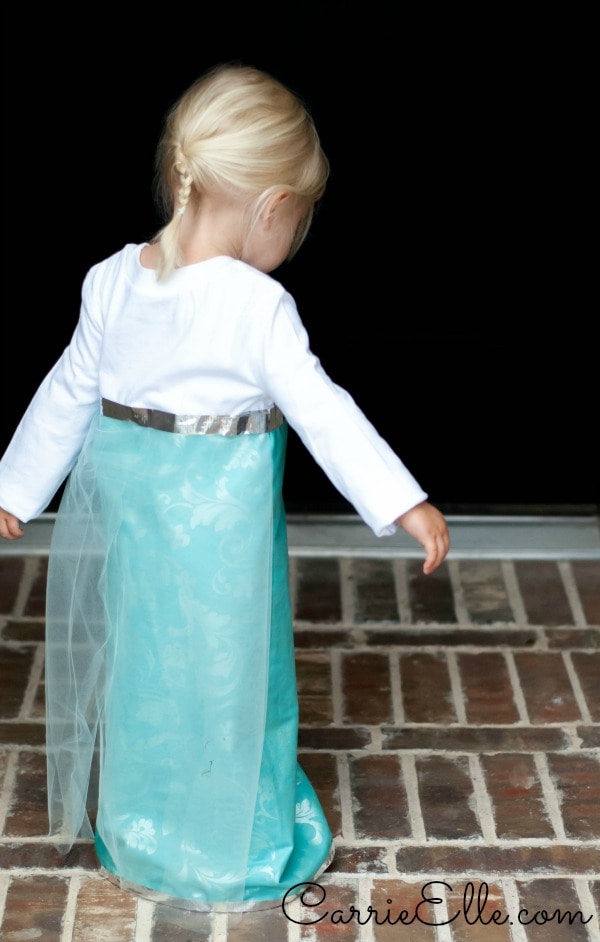 This no-sew Elsa costume was really easy to make, inexpensive, and fun for both of us. And you don't even need to know how to sew.
And if you don't want to make one? You can buy one. We got this Elsa costume as a gift and Claire does like to wear it!
Follow us on Facebook for more easy DIY projects, meal planning help, and free printables!
Pin it for later:
Here are some more DIY costumes you might like: