This past weekend, my husband took the kids to Comic-Con in Dallas. Both kids love Star Wars and Minecraft, and as I was at a blogging conference for the day, he loaded up the kids and joined some friends at Comic-Con (and for the record, he says he does not recommend taking young kids unless they love long lines and crowds, so…).
As you are probably aware, the next Star Wars movie comes out in December (guess what I'll be doing on midnight of December 18th)? So for the last several months, I've been lying in bed awake at night thinking of how I could make a super-simple, no-sew DIY Princess Leia costume for Claire. With Comic-Con on the horizon, I finally stepped up to the plate last week and scrapped this little Princess Leia dress together in less than 30 minutes.
How to Make a DIY Princess Leia Costume (NO sewing necessary!)
This costume cost me about $20 to make, and that was because I bought a new white sheet that cost almost $9. If I had an old white sheet, I would have used that instead – and this costume would have cost me closer to $10. To make this costume you'll need:
Fold your sheet in half. Have the child (or grown-up!) lie on the sheet with the fold right at her neck.
I used a pencil to trace a dress shape around Claire. I made the sleeves baggy and went several inches below her feet because the top of Leia's dress is kind of loose and billowy and I needed a little extra length for that. You'll be folding all of the edges of the dress, so keep that in mind, too. I actually just drew one side, cut the one side, and then folded it lengthwise and traced it on the other side to make sure it matched.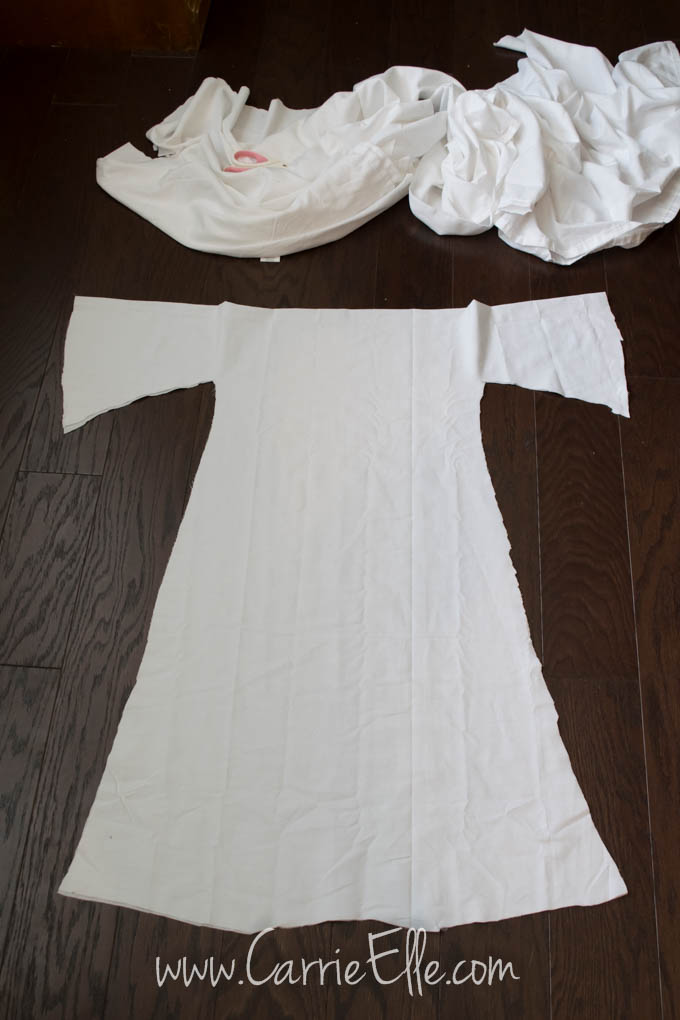 Next time, I'd leave a little more room in the armpits. Cut out a hole for the head. I cut mine a little too big, but I ended up using my white tape to fix that (more on that later).
Now you're ready to start joining the edges. I believe proper sewing terminology refers to this step as hemming, but there's no proper sewing go on here. This is where you'll need your adhesive fabric tape. This stuff is very simple to use, but it's *super* sticky and there is a bit of a learning curve. I completely recommend practicing on some scraps of fabric before you start on the actual dress. You won't regret the five minutes you spend playing with this stuff before you start using it on the dress, I promise! I started with the sleeves. Place the tape around the edges (I did a few inches at a time) and fold it over to adhere it to the inside of the fabric. This gives you your "clean" edge.
I did the sides of the dress next – a little trickier, since you'll need to fold both edges to the inside and adhere them to each others. Pins would be really helpful, but I managed without any. You'll do the bottom of the dress like you did the sleeves. You can also use the tape on the neckline. Because I cute the neckline too wide, I used tape to help close off some of the opening and also to give it a little bit more of a turtleneck look.
I tried using some hologram tape for a belt, but in the end I chose to go with a ribbon. Place it around the waist and then pull the dress up a bit so it poofs out over the belt.
Leia wore white boots and is famous for carrying a blaster when she wore this dress. We didn't have white boots so we went with gold sandals instead. And of course we had a blaster, so, that part wasn't a problem.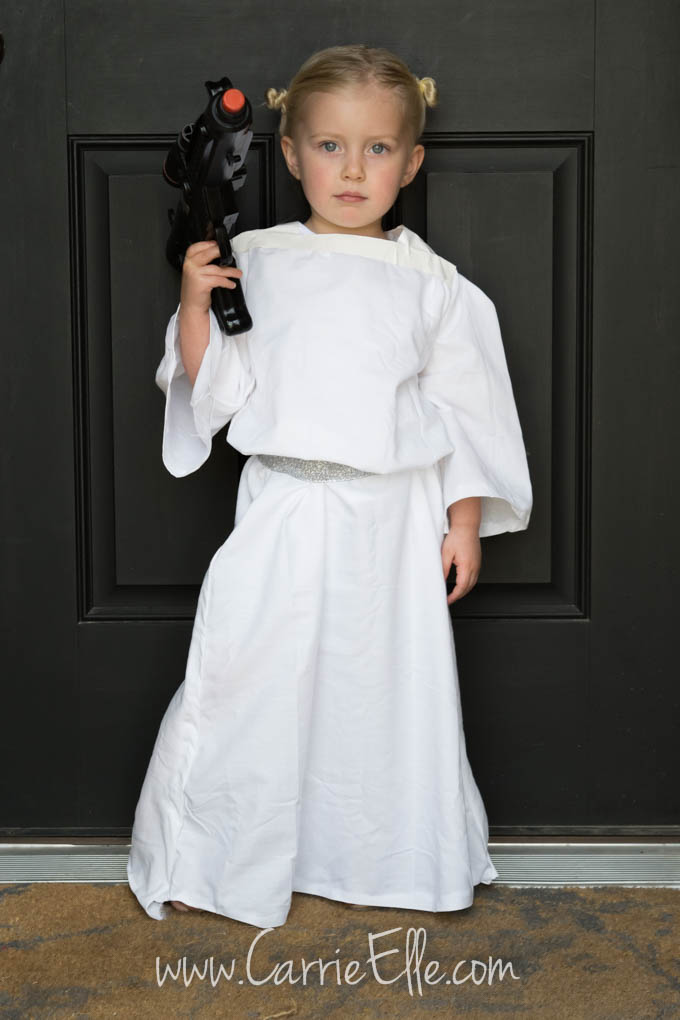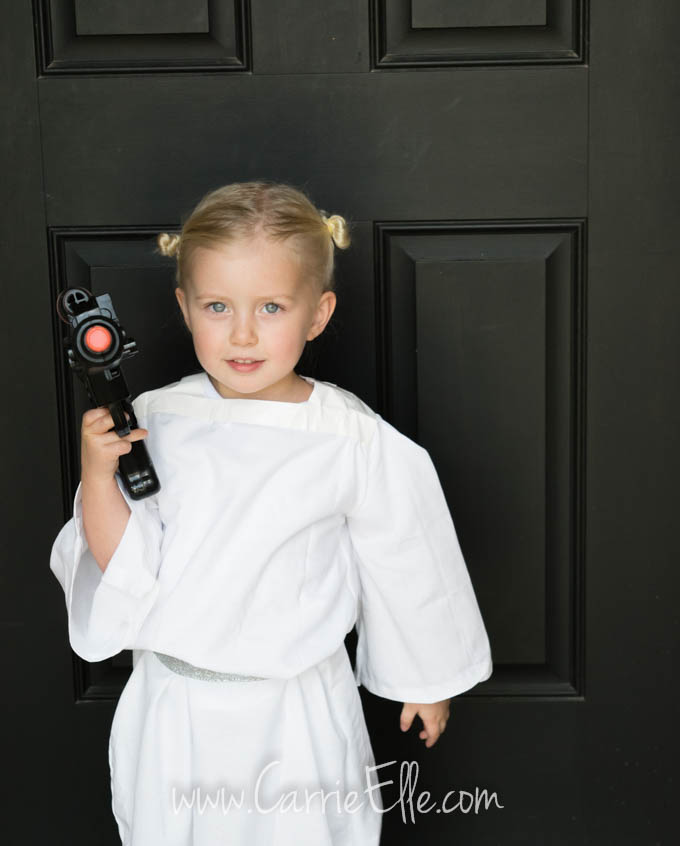 It's as simple (and inexpensive, and as cute!) as that. Let me know if you have questions! 🙂
Or? You can just buy a Princess Leia costume. Ain't no shame in your game if you do (this year, my kids are *asking* for store-bought costume…WHAT!).
Find me on Facebook for easy recipes, free printables, super simple kid-friendly crafts, and things to do in Dallas. I'd love to have you join me over there.
You can find my other no-sew DIY costumes for kids here:
Easy No-Sew Care Bear Costume (GRUMPY Bear!)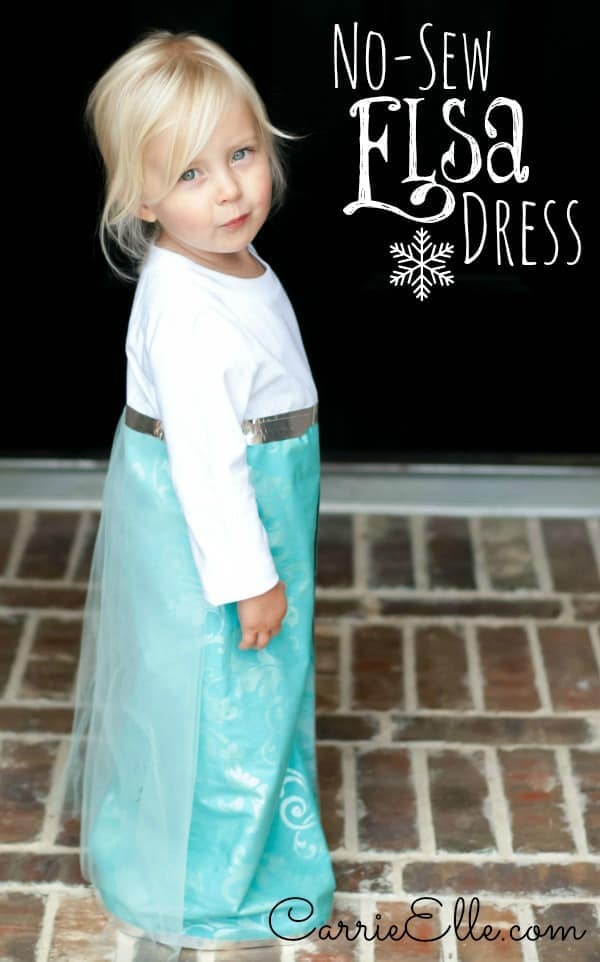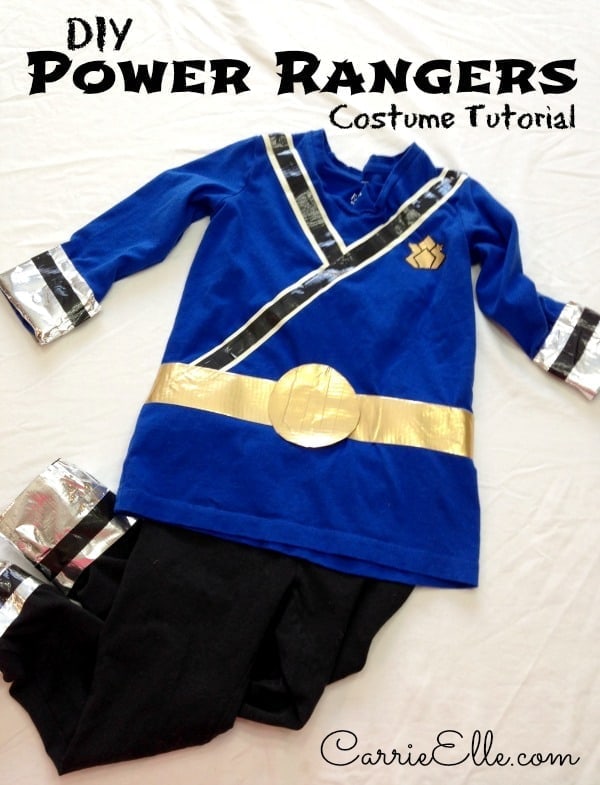 No-Sew Power Rangers Costumes
For more Star Wars fun, follow my Star Wars Pinterest board here: