So, you may know that I started Weight Watchers last week (you can read about my first week here). A few things have changed since I originally joined five years ago, but one that hasn't changed? I don't like dieting. And as much as I want to say things like, "Oh, I'm making a lifestyle change!" let's just call it what it really is…a diet. And diets suck.
But losing weight doesn't suck…it's actually awesome, when you see the results.
This time around, I'm facing new challenges. Aside from the FORTY POUNDS I need to lose, we're also at a point in our lives where the kids have activites in the evenings and our own schedules are busy. And I still don't like cooking. So, the crock pot is a lifesaver and something we lean on whenever we can. The new challenge? Finding Weight Watchers-friendly crock pot recipes that the whole family can eat (picky kids here).
So, I did some work and put together a list of Weight Watchers crock pot recipes (because I KNOW I am not the only one in this situation). I hope you are able to find something you can use (you can find over 200 Weight Watchers crock pot recipes through the links below).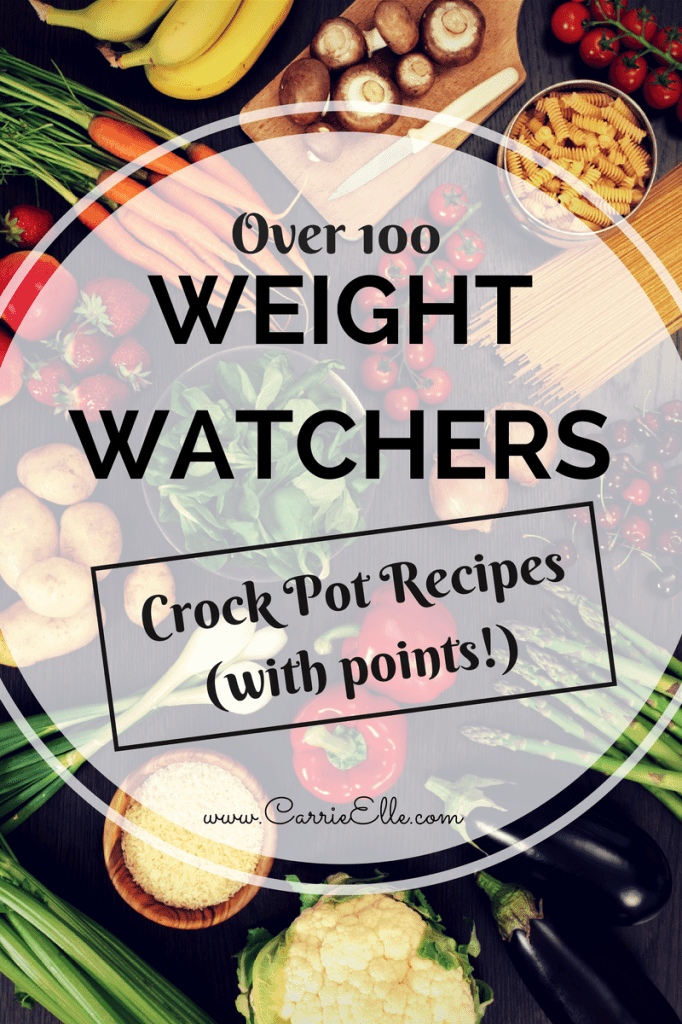 This post contains affiliate links.
***UPDATE*** – Many of you have asked if these are the new SmartPoints (as of January 2016). These are not SmartPoints, unless the original recipe creators have updated their recipes. My recommendation is to run these recipes through your WW recipe calculator for the updated points. I have an updated post, with SmartPoints calculated, here.
3-7 Points – Four Different Weight Watchers Crock Pot Recipes
3-8 Points – 10 Weight Watchers Recipes (not all crock pot, but they all look delicious)
4 Points – Weight Watchers Potato Soup
5 Points – Crock Pot Italian Chicken (this entire website is full of Weight Watchers recipes!)
6 Points – Crock Pot Teriyaki Chicken
6 Points – Weight Watchers Cherry Cobbler
9 Points – Clow Cooker Pasta Primavera
100 Weight Watchers-Friendly Crock Pot Recipes
Under 10 Points Each – 3 Weight Watchers Crock Pot Recipes
More Weight Watchers Crock Pot Recipes than I could count
Weight Watchers recipe book that has bunches of quick recipes
And for Weight Watcher recipes in general, here's a post I found that introduces readers to 8 blogs that regularly share Weight Watchers recipes.
And this is NOT a crock pot recipe…but it's a SUPER delicious, easy-to-make, incredibly healthy (and filling!) Green Smoothie Recipe that I think you will love. Totally worth checking out…and my smoothie of choice!
Not Weight Watchers, but I've had a lot of success doing the 21 Day Fix…you can see my 21 Day Fix results (and more crock pot recipes!) here.
If you're looking for a crock pot, here's the one I use: Crock Pot
AND…be sure to check out my meal planners here – meal planning is SO IMPORTANT when trying to get healthy food on the table. If you need to get on track with your meal planning, start here!
Find me on Facebook for easy recipes, free printables, super simple kid-friendly crafts, and things to do in Dallas. I'd love to have you join me over there!