Contributor Chellie (who blogs at her stunningly beautiful food blog, Art From My Table) is sharing this fantastic Weight Watchers Crock Pot Turkey Chili with us today…and just in time for sweater season!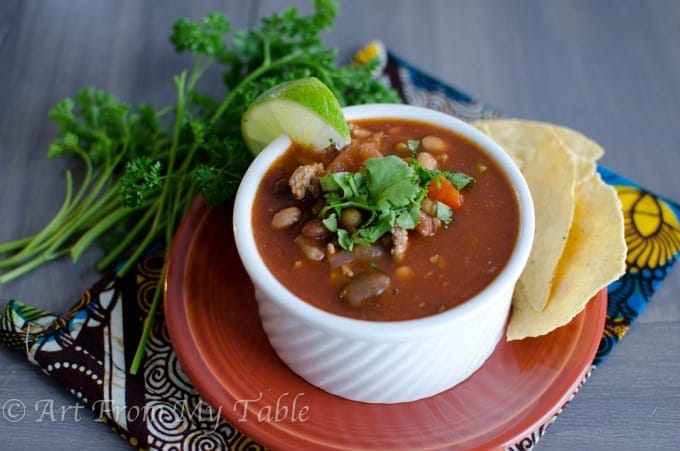 Oh, the joys of the crock pot! I seriously couldn't survive fall (or winter, or spring, or summer, for that matter) without mine. I remember shopping for all kinds of things to fill my first college apartment. My mom took me to Target to buy all of those things we never have to think about as kids: a silverware holder, actual silverware, a baking sheet, a broom and dust pan, cleaning supplies, and…a crock pot. I thought it was crazy, but my mom insisted. It sat in my pantry untouched for years, and moved to about 6 (YES, six) different apartments with me, and now I absolutely can not live without it! It's one of my favorite kitchen appliances, no question. I guess our parents really are always right…
The beauty of this chili is simplicity. After a few minutes of prep and sauteing, then just throw it in the crock pot and voila! A meal for the entire family…and then some. And let's not forget the smell! I love coming home to a house filled with the aromas of a home cooked meal, especially if I've had a long day at work. You just can't beat it!
Plus, this is a freezable meal! I like to separate individual portions into a small Ziploc bag in case I'm eating alone or taking it with me to work (does anyone else forget their Tupperware everywhere they go? Ugh, I do!) Make sure to flatten the Ziploc and squeeze out all the air to prevent spoilage, then write your expiration date on top (I typically date 3 months out for all soups and chilis). Using freezer bags also allows you to stack leftovers, which saves tons of space compared to freezable containers. Hey, if your freezer's like mine, every little inch counts!
Serves 8-10
Weight Watchers Points: per recipe 53; per serving 7.
Crock Pot Turkey Chili
Ingredients
1

lb

lean ground turkey

1

cup

onion

chopped

4

cloves

garlic

pressed

1

cup

yellow pepper

chopped

1

cup

orange pepper

chopped

1

cup

red pepper

chopped

1 4

oz

can mild chopped green chilis

2

cups

navy beans

2

cups

pinto beans

2

cups

kidney beans

2

cups

Turkey broth

can use chicken or vegetable

2 15

oz

cans tomato sauce

all natural, no sugar

1

Tbs

chili powder

1

tsp

cumin

1

tsp

oregano

Cilantro for garnish
Instructions
Sautee onions until translucent, about 5 minutes.

Add ground turkey, and brown until cooked through.

Add garlic, stir until fragrant, about 30 seconds.

Transfer to slow cooker.

Add the remaining ingredients and stir to combine.

Cook on low for 6-8 hours or high for 4-6 hours.

Serve garnished with cilantro.
Since we're talking slow cookers, this is my favorite slow cooker. I like that it automatically switches to the warm setting when it's finished cooking.
If you love recipes, head over to Art From My Table , and sign up to receive FREE recipes delivered to your mailbox, plus, you'll get my new eCookbook!
Enjoy other delicious Weight Watchers Crock Pot Recipes like this one by clicking the photo below: