Today I have something so fun to share with you! Printable The Office quotes planner stickers! If you love The Office you will not want to miss out on these gorgeous printable office quotes planner stickers.
They add a cute little flair to any layout you are planning for the week or month. Each of these unique printable panner stickers for The Office will instantly make you think of your favorite moments from the show.
I am sure I don't have to tell you that The Office is pretty much a cult. If you love it…you LOVE it…and these printable The Office quotes planner stickers will help you show off your love for the show.
Printable The Office Quotes Planner Stickers
I love The Office, just like most of the rest of the world. It's been a rough couple of months since the switch from Netflix so if you are needing an extra dose of fun Office memorabilia, I don't blame you and I've got you covered!
How to use make planner stickers for The Office:
These printable planner stickers for The Office are super easy to make. You'll need a printer, some printable sticker sheets, and the download for Printable The Office Planner Stickers. The download will open and these adorable The Office quotes stickers are a full sheet that you can print on any printer. Each sheet prints out on whatever type of printable sticker paper you like. You can pick it up on Amazon, at Walmart or Target, etc.
After you've printed the stickers you can just cut them out with some scissors and add them to your planner pages. Just peel and stick! Each one is cute and unique and adds a touch of whimsy to any page. You can also use these printable office quotes planner stickers in other areas. Use them to decorate your space in whatever way you like!
Why make your own stickers?
Shopping for stickers can be kind of irritating. They're pricey for what they are and if you are using them in a weekly planner you probably only get to look at them for one week before they're buried and behind you!
It's a lot more cost effective to print your own stickers! Printable sticker sheets are cheap online and you can cut out your stickers when you are ready to use them. It's a win win!
These printable The Office quotes planner stickers are awesome because you can always print as many as you need! You don't have to worry about making the perfect layout and then never being able to duplicate it because you are out of certain stickers…just print new sheets.
Another reason to print these stickers is to share them with a friend. If you know someone who loves The Office these quotes are sure to cheer them up and make them so happy!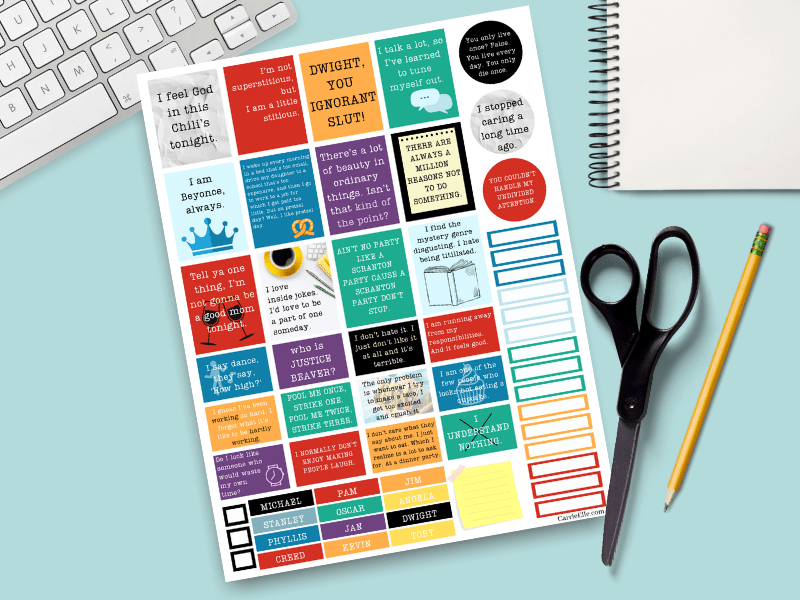 Looking for more printable planner goodies?
Here are some other great printables that will help you spice up your planner pages! If you like printable planners you can't go wrong with all of these freebies. You can also hop on over to my Etsy shop to see all the great planners and products I have for sale if you don't feel like printing your own!
How do I download these printable Office planner stickers?
Just click on the big black box below that says Download! The download will automatically save to wherever you computer stores downloads or recent files and then you can just click on the file to open the pdf. After you open the pdf just print as many copies as you like and make sure your printer is loaded up with printable sticker paper!