Welcome, Hamilton fans! You're in the right place for all things Hamilton. I made these printable Hamilton planner stickers to celebrate the release of Hamilton on Disney+ and I hope you'll love using them as much as I loved making them (truly, it was so fun to make these!).
If you're as obsessed as Hamilton as we are (my whole family loves it), you might also want to check out these Hamilton party printables. I made these for my family watch party, but we'll probably use them again if my daughter ever has the Hamilton-themed birthday party she's been asking for.
How to make planner stickers
New to planner stickers? Start here! In that post I share several different ways to make your own planner stickers. The short story is, you use sticker paper to print your stickers, and some scissors to cut them out. In the post about how to make your own, I touch on some other options and "tools of the trade" you might be interested in. But all you need to get started is sticker paper, scissors, and a few minutes to cut them out.
I prefer using full sheet labels, like these, for my stickers. It's easier to peel than traditional sticker paper, which doesn't have the slits in the back for peeling.
How to use planner stickers in your planner
If you're new to planner stickers, it can be challenging to figure out how to best use them. I like to write my week down in my planner first and then go back and use stickers. Other people like to put the stickers down first and then go back and fill in all their appointments, etc. It just depends on your style (and it might evolve as you go).
Either way, don't forget that using your planner is supposed to make you feel better and more organized…not stress you out! So don't get lost in finding perfection with your sticker jobs.
A lot of people like to use these stickers for their scrapbook or Memory Planner. If you're new to memory planning, or have never heard of it before, here's a post all about Memory Planners.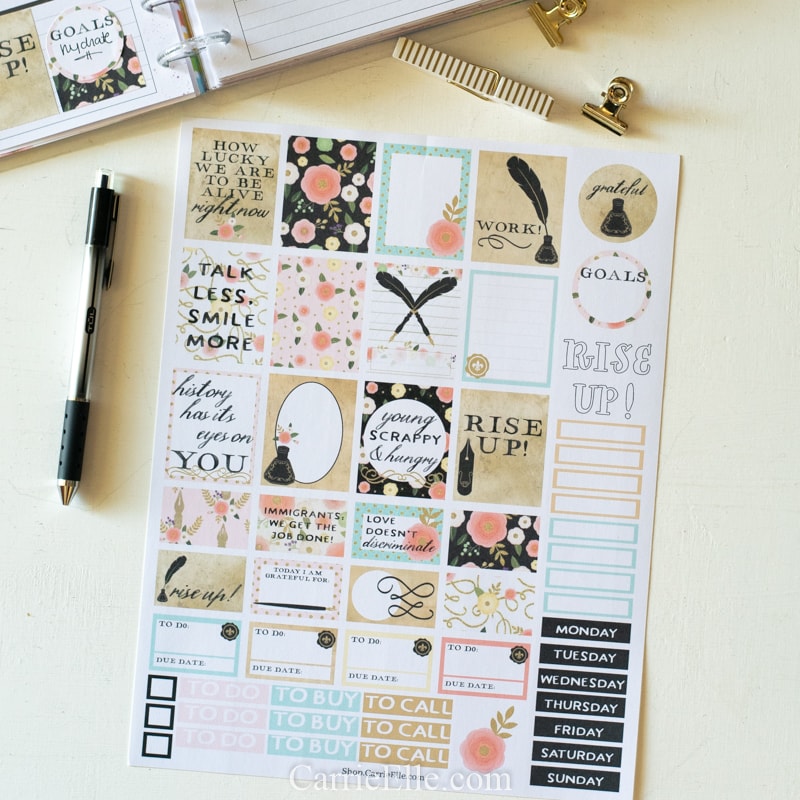 Where to find more printable planner stickers
We have tons (and tons!) of printable planner stickers for FREE on the blog – you can see them all here. We also have a huge collection of exclusive printable planner stickers in the Printable Club – you can see all of those here.
One set of planner stickers you won't want to miss are these gorgeous The Office Quotes planner stickers! Get them here!
You can download your printable Hamilton planner stickers below. If you have any trouble, let me know and I will get you the file. Enjoy!