Are you obsessed with The Queen's Gambit?! If not, you are totally missing out! These printable Queens Gambit planner stickers are so fun and cute. Inspired by the Netflix Show The Queen's Gambit!
For those of you who already know, The Queen's Gambit has kind of become an obsession for a lot of folks. It was a new show added to Netflix in 2020 and it follows the struggles (and triumphs) of a cold war era orphan…who also happens to be a chess prodigy.
I know, I know, it doesn't sound that exciting but it really is! This inspiring story follows Beth as she goes on to become the greatest chess player in the world. I'll bet this is the first time so many people have been utterly enthralled by chess!
Printable Queens Gambit Planner Stickers
The great thing about these queens gambit planner stickers is that you can use them on other stuff too! If you don't like to put stickers in your planner (again…missing out) you can always use these printable Queen's Gambit planner stickers on your favorite water bottles, journals, cards, gift wrap, and more!
If you have someone in your life who is obsessed with The Queen's Gambit you'll want to have this download on hand to share with them. It's super easy to make these stickers, read on to learn how!
How to make Printable Queen's Gambit Planner Stickers:
It's super easy to make these planner stickers that are inspired by The Queen's Gambit. If you've never made any of my planner stickers before I'll walk you through the process.
You'll need some printable sticker paper. You can also use printable vinyl if you want to make these waterproof printable queens gambit planner stickers to use on things besides your planner! Along with printable sticker paper you'll also need some scissors and the download which you can get by clicking right here or by clicking on the big black "download" box at the bottom of the post!
Why make your own queens gambit planner stickers?
Truth be told, I love making custom planner accessories. I'll link more of my favorites below, but another good reason (apart from it being good fun) is that it's cheaper! Buying stickers for your planner can get costly and considering we only see those pages for a few days or weeks each year it's kind of a waste.
Another reason I'd suggest making your own printable queen's gambit planner stickers is because you can't find them anywhere else. The show is still so new that a lot of places aren't carrying merchandise for it yet. Planner stickers are probably not something that would ever be released anyway!
Finally, if you find something you like in stores it can be really difficult to get your hands on it once it's gone out of stock. In this case, you can make as many of these printable Queens Gambit planner stickers as you like / need. No stress.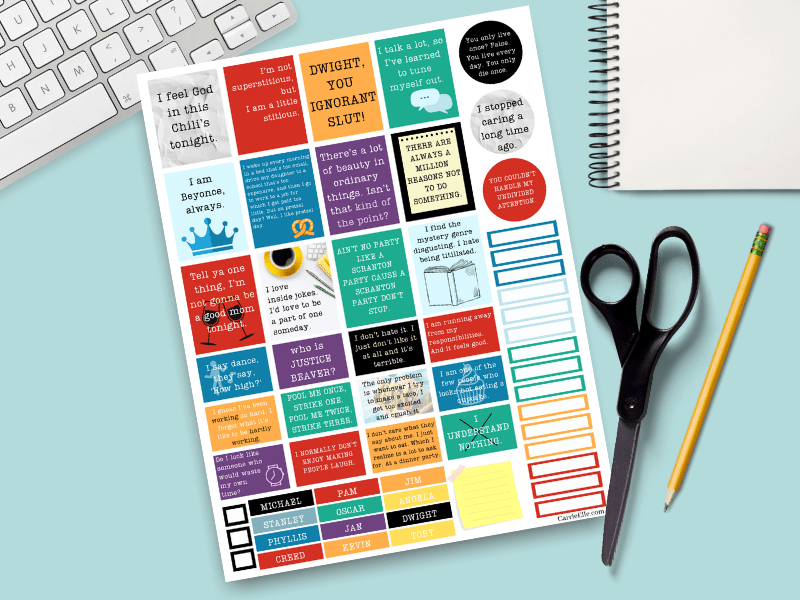 Do you have other printable planner stickers I can make?
You know it! If you like making printable planner stickers you are in the right place. I have tons of free options here on the blog and there are even more gorgeous choices in my Etsy shop. Check them all out below, any fans of The Office out there? You won't want to miss out on these adorable planner stickers inspired by The Office quotes!
How do I download these printable Queen's Gambit planner stickers?
Just click on the big black box below that says Download! The download will automatically save to wherever you computer stores downloads or recent files and then you can just click on the file to open the pdf.
After you open the pdf just print as many copies as you like and make sure your printer is loaded up with printable sticker paper!