I've been working hard on planner stickers for y'all. These printable back-to-school planner stickers are some of my favorites. They are SO fun (and they were fun to make, too!).
Also, can we just talk about how awesome planner stickers are? Please? Just for a second?
I have SO MUCH FUN with them. In fact I've been using my day planner as a memory planner (weird name, cool thing). I've been sharing my layout every week over on my shop's IG page (check out my stories or "Perpetual Planner" highlights to see each week's layout).
Of course, buying planner stickers is expensive. Which apparently doesn't stop me. BUT. I buy fewer now than I used to. This is mostly because of my budget (that meaning, I have one) and also because I like to make my own.
Printable Back-to-School Planner Stickers
You can make your own, too. Here's a whole article about how to print your own planner stickers. It should be super helpful if you're just getting started!
You can buy printable planner sticker files on Etsy (this is a great place to start if you have something really specific in mind). You can also find a bunch of them for free with the help of Google. And, you can search "planner stickers" in the search bar on this blog and see what freebies I've got for you, too!
These back-to-school planner stickers are colorful and cute, and you'll want to use them all year long.
And you totally can! Print out as many copies as you'd like. You can use any sticker paper – here's a cheap one on Amazon that I have used before.
These stickers are great for your day planner or academic planner, a lesson planner, or a monthly calendar. And my hope was that they could be used by grown-ups, teachers, AND kids…so I really hope you love them!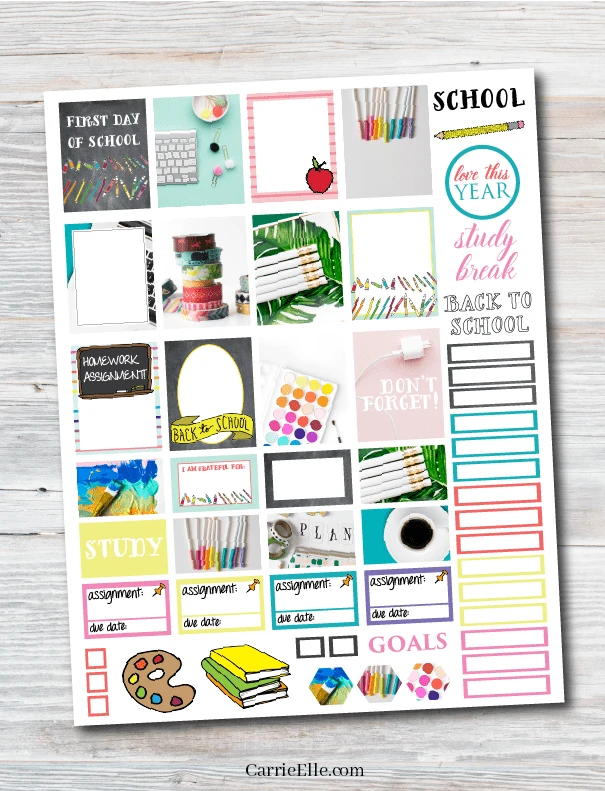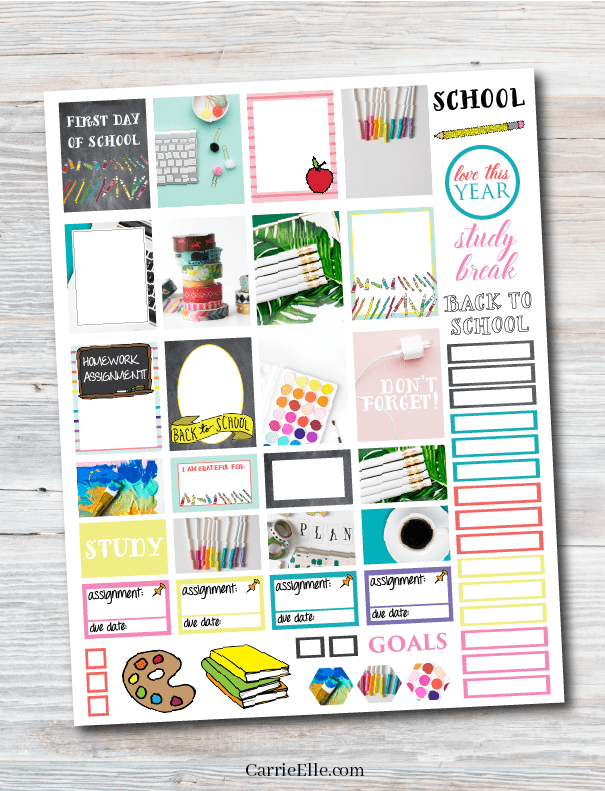 Download your printable planner stickers below.


And while you're here (and because I know you love printables!) – have you joined the Carrie Elle Printable Club? You get all of my shop's printables – everything I've already made, and everything that is created over the next year – for one price. It includes hundreds of dollars worth of downloads…and I release several new ones each month! I also add all of my blog printables to it each month, so you can find them all in one place (without any ads).
Use code BLOGPRINTABLECLUB for 30% off your annual Printable Club membership.