Hello, planner people! I've got a new set of stickers for you today and they might be some of my favorites. I'm really happy with how the colors came out on these printable spring planner stickers, and I think you will be too!
Printable Spring Planner Stickers
How do I make my own planner stickers?
The most common way people use these stickers is by printing them out on sticker paper and cutting them out by hand. Pro tip: these full sheet labels are cheaper and easier to use than "regular" sticker paper.
Another option you have is using a cutting tool like a Cricut or a Silhouette Cameo to create peel-off stickers, just like you'd buy. There is a bit of a learning curve with these machines, and they can be kind of pricey, but once you learn how to use them you will all the stickers you ever need! There are lots of tutorials on YouTube for how to use them.
Here is a post about how to make your own planner stickers – I go into a lot of detail here and talk about a few different methods.
How do I decorate with planner stickers?
You can use these to decorate your planner or in a more functional way. The boxes are perfect for writing in important events and things to remmeber.
If you need some inspiration, be sure to follow my shop account on Instagram and look at my "Perpetual Planner" story highlights…I show pretty much every weekly layout here!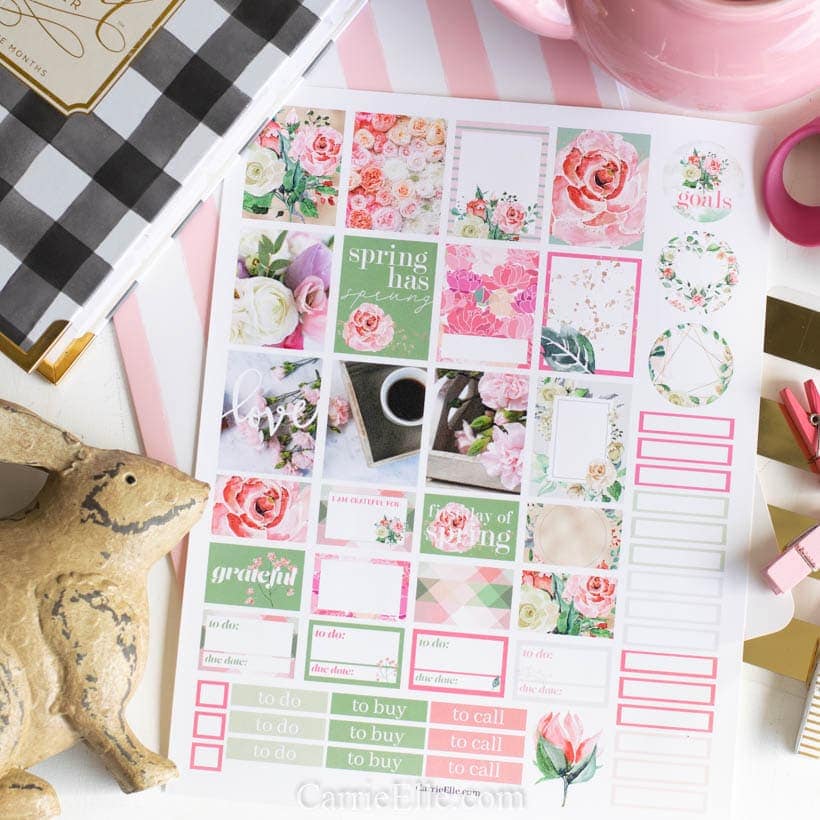 Where can I get free planner stickers?
Here! I have tons of free printable planner stickers available. Along with these fun printable spring planner stickers, here are some others you might want to add to your collection:
Now on to this cute set of spring planner stickers! Download below. The password is SPRINGPLANNER. Of course, if you have any trouble at all, email me or let me know in the Facebook group (I often upload files directly to the group anyway – AND I always have a special shop discount in there if you're looking to save!).

Happy planning!