Fall is almost here and it's time to start thinking about all those yummy pumpkin treats. While you may think that many of those treats are off limits, you'd be wrong. Whether you love pumpkin pancakes or pumpkin cheesecake, you can enjoy your favorite fall treats while stick to the 21 Day Fix plan. Let's take a closer look at some delicious 21 Day Fix pumpkin ideas.
Pumpkin Overnight Oats – With added protein and made from fresh pumpkin puree, these are an amazing way to start your day! 1 yellow, 1/4 purple, 1/2 red
Protein Pumpkin Pancakes – What's better than a stack of fluffy, delicious pumpkin pancakes on a fall morning? If you'd love to enjoy this delicious fall breakfast without all the guilt, make these. With a base of oat flour and pumpkin puree, these pumpkin spice flavored pancakes are going to make you very happy. This recipe contains 1 yellow, 1 red, and a ¼ purple.
Pumpkin Breakfast Cookies – So tasty…the whole family (and all your holiday guests) will love these. 1 yellow treat swap
Peanut Butter Pumpkin Protein Shake – This is so good for you…and tasty, too! This recipe uses 1 red, 1 green, and 4 teaspoons.
Pumpkin Oat Cookies – These are delicious and everyone will love them, making them the perfect treat for the office or a party. 1 yellow, 1/4 purple, 2 tsp
Pumpkin Goat Cheese Spread – Need I say more? I'll say it again anyway. Pumpkin and goat cheese spread. 1/8 purple, 1/4 blue, 1 tsp
Clean Pumpkin Pie – Pieeeeeeee. 1 yellow
Mild Pumpkin Salsa – For those of you who don't like it spicy, but want to dress up a little…this is a good salsa alternative (and packed full of healthy nutrients). 1 green
Pin for later!
Pumpkin No Bake Energy Bites – Need a great snack to help you power through your day? This recipe packs a lot of energy into a couple bites. These are perfect for throwing in your purse or keeping your desk drawer at work. Enjoy the delicious pumpkin and spiced flavor and boost your energy levels. Each serving contains 1 purple and ½ blue
Pumpkin Pie in a Mug – Obviously, it's not fall until you've enjoyed some pumpkin pie. This quick and easy recipe allows you to fix up your own personal pumpkin pie to enjoy. It's so flavorful that you'll never miss the crust. This recipe uses 1 purple and a ½ red per serving.
Pumpkin Oatmeal Muffins – Make these ahead of time and enoy them all week long! 1/4 green, 1/2 yellow
Pumpkin Spice Whipped Ricotta – This is the perfect treat! 1 red
Bean-Free Pumpkin Hummus – Don't waste your blues on hummus with this tasty option! 1 yellow, 1 green
Pumpkin Pasta with Spicy Sausage – Pumpkin isn't just for dessert! You'll love this pasta dish. 1 red, 1 green, 2 yellow, 1/2 blue, 1 tsp
Fix-Friendly DIY Pumpkin Spiced Latte – This is healthier AND cheaper than the expensive version you spend all year dreaming about! 1 yellow treat swap, 1 tsp
Chipotle Pumpkin Turkey Chili – For those of you who like it spicy! 2/3 red, 2/3 green, 1/4 purple, 1/2 yellow
Flourless Pumpkin Custard Bars – Not only good for you, but another crowd favorite! 1/6th purple, 1/9th red, 1 TSP, 1 TSP maple syrup
Fall Veggie Tray – Snack on these veggies and get in those greens (don't forget, the olives are blues!)
Pumpkin and Red Lentil Soup – You can even get your pumpkin fix at dinner. This pumpkin and lentil soup will restore your soul after a long day at work. Packed with nutrition and delicious spices, this is a soup you'll want to make several times throughout the fall. Each serving contains 1 ½ yellow.
Pumpkin Cheesecake – Another fall favorite has got to be pumpkin cheesecake. What if you could enjoy your favorite fall dessert without all the fat and calories? This recipe replaces the cream cheese and white flour so that you get a great dessert that you can feel good about eating. This recipe contains 1 red. If you choose to add nuts to the recipe, add a blue.
Chocolate Pumpkin Cups – 1 yellow.
Do you love all the delicious treats that can be made with pumpkin? Don't give them up. With these great recipes, you can enjoy that delicious flavor you love!
Follow me on Facebook for more great 21 Day Fix ideas, plus lots of fun (free!) printables, too!
You can check out my 21 Day Fix trackers here.
Get more great 21 Day Fix recipes by clicking on the pictures below.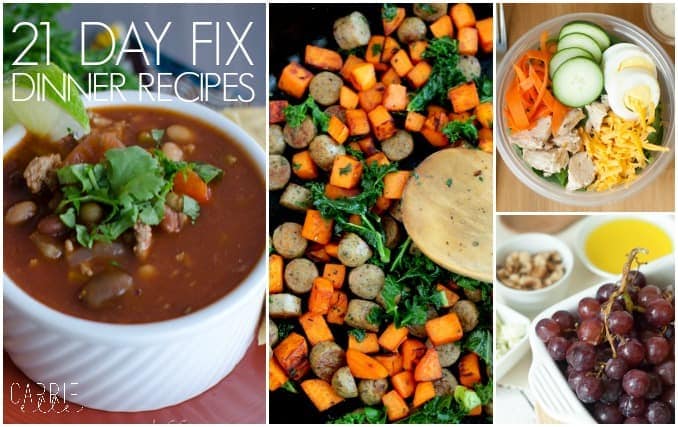 Copyright: fahrwasser / 123RF Stock Photo