Something very exciting happened last week. My seven-year-old buried his nose in a book and did not come up for air until he'd read the whole thing. As a book lover and certified Child Bookworm, this makes me so happy. To keep the momentum rolling, my mom bought him the next five books in the series. And to keep it going through the summer, I made a printable reading log to encourage kids to keep reading during the summer.
I'll probably also bribe my kids with a trip to the frozen yogurt shop for every completed list (or maybe every two lists…turns out my oldest can read faster than I thought!). At the bottom of the list I made a cute little place for the kids to record their favorite book from the list and why they chose it. I think this is fun for the kids (and I like to see what they have to say, too!).
Book Suggestions for Little Kids
Need some new book ideas for the kids? You can follow my children's books Pinterest board here. You can also find a great list of books for kids who love horses here, and fun beach-themed books here. When summer winds down, check out these great back-to-school books. I've also got a collection of books about elections and American's history (all politically neutral and kid-friendly) here. And babies can get in on the fun with these board books that babies will actually be interested in!
The book I mentioned earlier, that my son was reading, was Diary of a Minecraft Zombie, in case you've got a seven-year-old looking for something to read!
I also have a list of book recommendations for second grade boys here.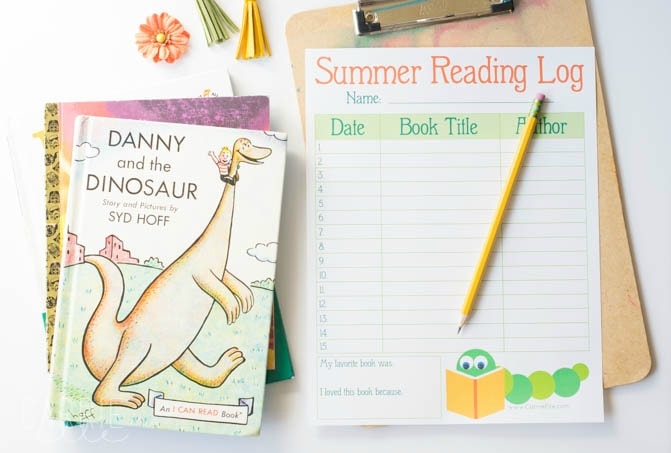 Book Suggestions for Middle Grades
When I originally wrote this post, my kids were 7 and 5. I'm currently updating this as they're 11 and almost 9, and we've got some new favorites to add. These days, graphic novels are all the rage. Both kids are obsessed with the Nathan Hale's Hazardous Tales series. The Lafayette book in particular has been read over and over again.
Other favorite series have been Big Nate the Great and the Percy Jackson series (Percy Jackson being appropriate for readers a little bit older…my fifth grader has read them all!).
You can download your own printable reading log for summer below. If you have any trouble with the files, shoot me an email and I'll send it you.
If you use this printable, I'd love to see it! You can share on FB or IG and tag me at @carrieelleblog.


I'd love to hear about some of your favorite summer reading suggestions for kids!
Be sure to join us on Facebook for free printables and easy recipes.
Here are some related posts that I think you might like: