I'm super excited to be working with a longtime (like, since childhood) favorite of mine – Scholastic! Join me and get your kids excited about summer reading with this fun printable reading wish list – and check out all the other great things taking place with Scholastic, too.
Remember when you were a kid and you'd get those Scholastic order forms at school? Those were probably one of the highlights of elementary school for me. I'd flip through the pages (all three or four of them) forward and backward until the ink had rubbed off my fingers and my thumbs were black. I'd pull out my pencil (with a scented eraser, of course) and circle every. single. horse book. If it was a really magical month, there might be a horse posted or horse stickers (!!!).
If you have kids, you know they STILL bring these home with them. The ordering process is a little different (we order online), but Scholastic continues to bring affordable books on all topics to young kids.
It's summer, though, and if you're like me, things are getting a little lax around the house. The daily reading I planned on implementing? Notsomuch.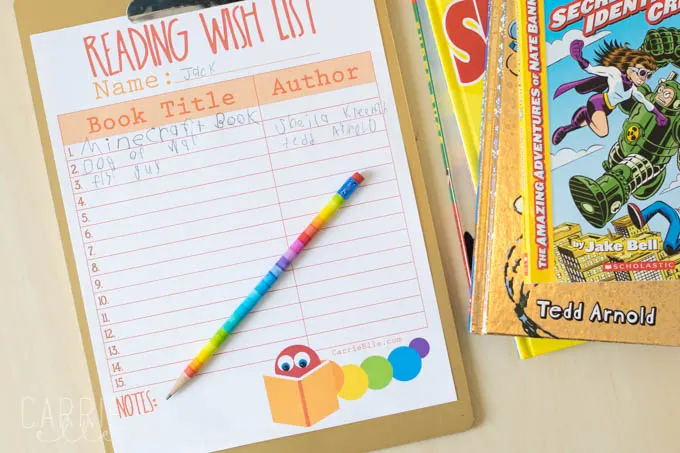 I am lucky, though, that my kids like to read…Jack has a stack of books in his bed (all of them are either Minecraft, World War II and WWII aircraft-related) that he looks at every night.
If your kids need some inspiration to get reading, here are a few things you can do to help your kids be Reading Superheros:
Read to your kids. Here are some booklists I recommend:
Keep track of the books your kids want to read with this fun printable Reading Wish List for kids! Once they've read the books, they can add them to this printable Summer Reading Log.