Nintendo sent us a copy of Mario Sports Superstars to review. All opinions are my own (and, my eight-year-old's). Check out the cute printable Super Mario bookmarks below, all inspired by my favorite video game! This post contains affiliate links.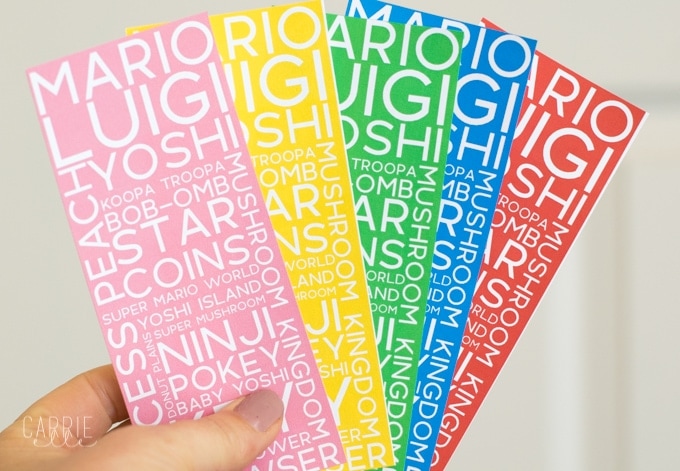 When I was a kid, I LOVED Super Mario Bros. and basically anything associated with it. As an adult, I still love those games – and have been happy to pass the love along to my kids. My son has a 3DS, and I made him download Super Mario World immediately. Of course, he loves it because it's awesome. Also, I love it because when he can't pass a level he passes it over to me and I DOMINATE.
The Nintendo love is strong in this family! The newest obsession is Mario Sports Superstars for 3DS and OMG YOU GUYS IT HAS HORSE RACING.
I told the kids I was done with video games and only ever wanted to play games I already knew (like Mario, Tetris, and Zelda – old school style, y'all). But then I took a gander at Mario Sports Superstars and they had HORSES and I changed my mind.
The new game has soccer, horse racing, baseball, tennis and golf. Players can play alone or take on friends in multi-player games. Of course, in true Mario fashion, it's kid-friendly and full of surprises and super cute characters.
I just want to talk about the horse racing for a second, though, because you can build your own stable of race horses, care for them, and train them for races. I'm pretty sure Claire and I will be fighting over this for months to come.
According to my eight-year-old, the game is "AWESOME!" and I would have to agree.
When my kids aren't playing video games, they're often reading. Just yesterday Claire asked me for a bookmark to mark her place in a chapter book she's attempting. I gave her one of these printable Super Mario Bros. bookmarks, of course!
Download your own below.
You can learn more about Mario Sports Superstars here. You can buy the game for 3DS here.
Here are some other printable bookmarks you might like. Click on the pictures to go to the posts.