Here it is! The final one. I'm sorry it took me so long to get these wrapped up, but hopefully it's in plenty of time for you to use it! This free printable dated December 2022 calendar is here to help you bring in a new month. I'm putting out a new calendar for each month, and December's theme is rainbow pines (can you think of any better way to spruce up your planner?).
Print out this calendar and stick it in a 3-ring binder or hang it on your wall. This is also perfect for a Big Happy Planner!
I normally try to stick to a theme and for me, Christmas is easy…rainbow anything even remotely related to the holidays! But since you might not celebrate the holidays, I also wanted to keep it holiday-neutral. Does that even make sense? Well, no matter the intention, I hope you love these rainbow pine trees!
2022 December Calendar Printable
You can find the other monthly calendars that match with this one here:
If you're new to printables, you can see exactly how I get gorgeous, pro-quality prints every time with my home computer here.
This calendar is designed to print on 8.5″x11″ paper.
Looking for more printable 2022 calendars? You know I got you! Here's what else is available (all free, of course!):
More Free Printables
Want more free printables? You can find all of my printables in one place here.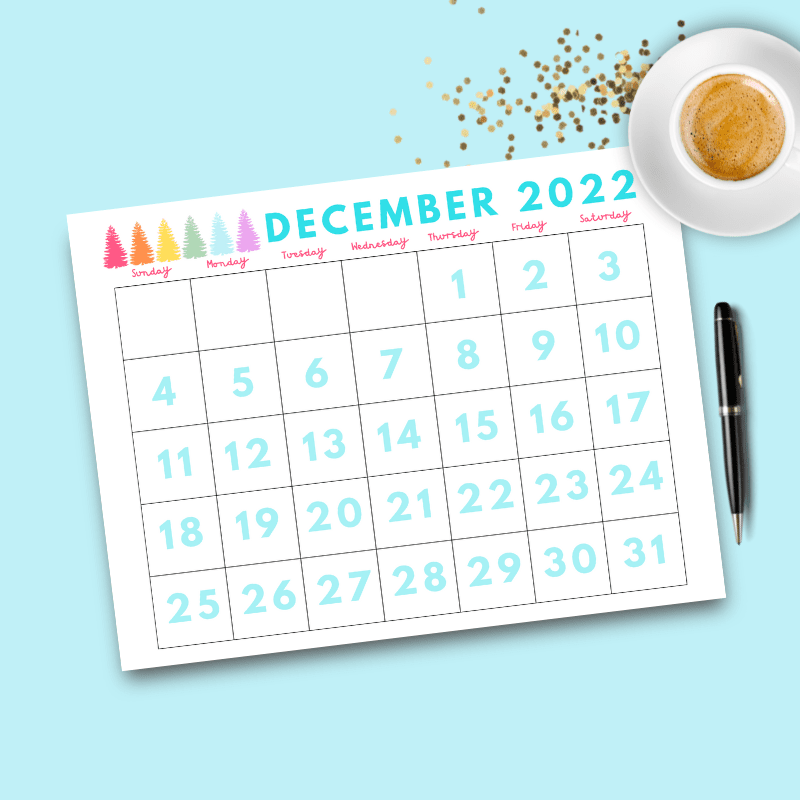 To download this free printable dated December 2022 calendar, just click on the black and white download button below. If you have any trouble with the file, shoot me an email and I will send you the calendar that way! I can't wait to see how you use your calendar! I would love it if you'd tag me on social if you ever share it. Please tag me at @shopcarrieelle so I can see and share. <3
You can also download by clicking here.


Issues with your printable? Email me and I will take care of you!