Happy Monday, you guys! What better way to start off the week than with some organization tips from someone who is actually organized? My friend Crystal from Happily Ever Uncluttered is teaching you how to organize your dresser drawers today.
You may or may not have heard me say in the past that I am a very lazy organizer, meaning that things must be simple for me in order for me to continue using a certain method of organizing. If it isn't easy or doesn't work, then I just won't follow through. Do you have this problem too? The good thing is, once I realize I am not following through, I will go in search of another way to organize the area I am failing at. This has happened in the past with my bathroom cabinets. That's the best part about organizing, it can be changed. Well, about three years ago I happened upon a new way of organizing dresser drawers and today is the day I will share with you how to organize your dresser drawers.
By now, you have probably heard of Marie Kondo and her best selling book The Life-Changing Magic of Tidying Up. This book came out the end of 2014 and has taken the organizing world by storm. In her book she talks about using the vertical method of organizing your clothes. If you haven't read her book and are looking to get more organized, I highly recommend it. In fact, here is an affiliate link for The Life-Changing Magic of Tidying Up: The Japanese Art of Decluttering and Organizing

so you can purchase the book through amazon. (An affiliate link means that I would receive a small amount if you happened to buy the book through this link.) I was so glad to learn I was already on the right track when I read this process in her book.
If you are still laying your clothes on top of one another in your drawers (horizontally), you won't be by the time you finish reading this amazing way of organizing your drawers. Once you see the results of the vertical method, you will go to your dresser drawers and begin working on this new system you have just learned about.
What is The Vertical Method of Organizing?
The vertical method of organizing is when you place your clothing on their side instead of on top of one another.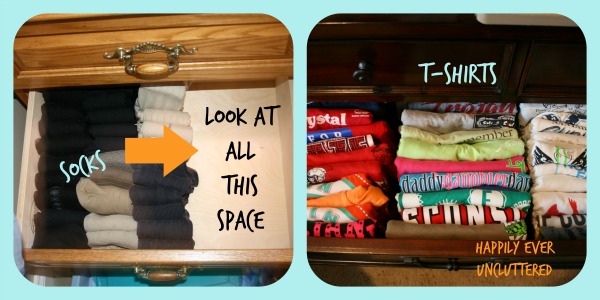 The Benefits
There are so many benefits to using this method, let me give you some of them now.
You can see every item in the drawer without having to move anything.
You will wear more of your clothes instead of the same ones over and over again because you will find clothes you forgot you had.
Organizing your clothes this way will save you time every morning while you are getting ready for your day.
You have nothing to lose and only a clean and more orderly drawer to gain.
No more feelings of frustration when you open your drawers.
Your drawers will now make you Smile.
Making the Change
By using this vertical method you may have to change the way you fold some of your clothes.
When you are putting your clothes back in your drawers, it also makes life easier if they are separated by color.
Putting clothes away may take a couple extra seconds, but it is well worth the extra effort.
When to Make the Change
If you are thinking you don't have time to do this, here is what I suggest. Do it every night this week for 30 mins to an hour while you are watching TV. Divide the number of drawers you need to do by the nights you have available this week and by the end of the week, you will be done.
Once you have done this and love it, be sure to share the love and organization in your husband's and children's drawers as well. The best part is, that if after a month you don't end up loving this method as much as I do, you can always go back to the other, more difficult way you organized your drawers before you were introduced to this way.
Are you following us on Facebook? Join us for helpful organizing tips, free printables, and meal planning help!
You might also like these helpful posts: