When we find a recipe that the whole family will eat, we put it into our meal planning rotation. This super easy crock pot root beer pulled pork has been a favorite for years. It's another recipe that was handed down from my mother-in-law (I love her and all the recipes she has given us!). This recipe is also fantastic for meal prep or feeding a large group – it makes a ton, and there are so many ways to use it!
Crock Pot Root Beer Pulled Pork
First of all, a few notes about this recipe (I always like to start off my recipe posts with notes for other non-cooks like myself!).
You'll want to make sure you use pork loin, not pork tenderloin. Tenderloin doesn't have enough fat and it will not shred or taste the same.
When it's done, it should easily fall apart. If it doesn't pull apart very easily, it needs to stay in the crock pot longer. There's a little bit of a balance here…if you leave it in too long, it could get dry. So keep an eye on it when it gets close. Start it earlier than you think you need to, as you can always use the warming feature of your crock pot if it finishes early. But if it's not cooked long enough, it won't shred properly.
This recipe calls for a 3lb pork loin – you can use a larger one, it will just need to cook longer.
I don't like root beer. In fact, I have probably never even had more than a few sips of root beer in my entire life – I can't stand anything carbonated. But the root beer will obviously lose its fizz, and the way the flavor melds with the pork can't be beat.
Another thing I don't love about root beer: it has a lot of sugar. And this is a blog with (mostly) healthy recipes. But as you'll see if you make this, the pork absorbs and marinates in the root beer…but just some of it. When you remove the pork, you'll have a ton of liquid left in the crock pot. I am not a nutritionist, but this is definitely not the same as drinking a bottle of root beer.
This is a two-ingredient recipe (woohoo!). OK, it's not technically only two ingredients because obviously root beer has many ingredients in it, but you'll only have to handle two items – pork and root beer. So I'm going with two ingredients for the purpose of this post!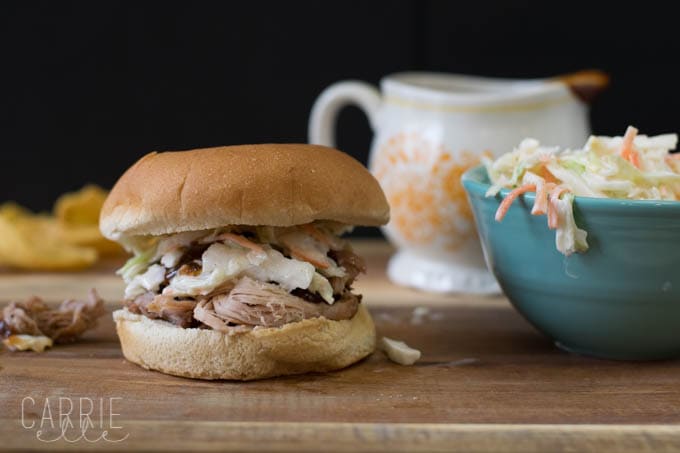 And finally, this recipe cannot be beat for feeding a crowd. Everyone loves this. My kids go crazy for it. And if you're not feeding a crowd, check out some of the ways you can serve this pork:
Serve over salad
Use it to stuff baked potatoes or bell peppers
Use for tacos
Goes great in an omelet or breakfast tacos
Here's what you need to make this recipe:
2 liters Root Beer
3 pound pork loin (not tenderloin)
salt
Crock Pot Root Beer Pulled Pork
This easy crock pot root beer pulled pork recipe is great for feeding a crowd. It's full of flavor and can be used for so many recipes. This is a family-favorite!
Ingredients
2

l

root beer

3

lb

pork loin

salt

to taste
Instructions
Dump Root Beer and pork loin in crock pot. Salt to taste.



Turn on low for 8 hours until internal temperature reaches 190 degrees.

Remove from crock pot and let sit at room temperature for 20-30 minutes. Shred.


Notes
This recipe says it serves 10 people. I estimated each serving to be about 1/2 - 3/4 cup. However, I think it will serve more, depending on how you're using it. The nutrition info reflects 10 servings and doesn't take into account that much of the root beer won't be absorbed. So keep that in mind if you're using the nutritional data.
Did you make this recipe? Share a photo on Instagram or Facebook and tag @carrieelleblog!
Nutrition
Calories:
262
kcal
Carbohydrates:
21
g
Protein:
30
g
Fat:
6
g
Saturated Fat:
2
g
Cholesterol:
86
mg
Sodium:
93
mg
Potassium:
509
mg
Sugar:
21
g
Calcium:
17
mg
Iron:
1
mg
Tried this recipe?
Let us know how it was with a rating and review!
I hope you love it as much as we do! And if you need meal planning help, be sure to sign up for my FREE 30 Day Meal Planning Challenge. You'll get recipes and printables as you go through a self-paced email course with all the tools you need to meal plan successfully!