Today I'm going to share a family favorite recipe that everyone in my house likes…even my picky kids. I first had this Crock Pot Root Beer Pulled Pork not long after moving to Texas, when my mother-in-law made it for a family gathering. It's been a favorite of mine ever since.
My kids love visiting the BBQ restaurant down the road. It's probably their most-requested restaurant. But when we make these pulled pork sandwiches, they're quick to tell us that these are WAY better than any restaurant food we might have. I totally agree.
Here's how to make Crock Pot Root Beer Pulled Pork sandwiches.
Ingredients:
2 liters Root Beer
3 pound pork loin (not tenderloin)
Hamburger buns
Butter (for toasting those buns!)
Coleslaw (recipe below!)
Favorite BBQ Sauce
How to make it:
Dump Root Beer and pork loin in crock pot. Turn on low for 8 hours until internal temperature reaches 190 degrees.
Remove from crock pot and let sit at room temperature for 20-30 minutes. Shred. Serve on toasted, buttered buns with homemade coleslaw and your favorite BBQ sauce.
These go exceptionally well with Fritos.
This is the perfect family dinner (you'll have lots of leftovers), but this also makes a great party food.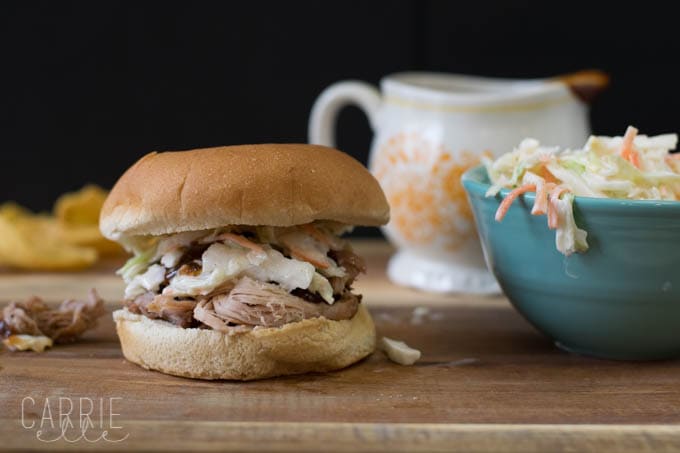 AND…I have a coleslaw recipe for you, too, in case you want to get crazy and make your own!
Sweet & Tangy Coleslaw Ingredients:
1 bag of shredded cabbage and carrots (16-ounce bag)
3/4 cup mayonnaise
2 tablespoons white vinegar
1/2 tablespoon dry mustard
2 teaspoons celery salt
2 tablespoons sugar
1 teaspoon lemon juice
1/2 teaspoon salt
1/2 teaspoon pepper
Place cabbage and carrots in a large bowl. Whisk together remaining ingredients in a smaller bowl, then add to cabbage and carrot mixture. Cover and place in refrigerator for at least 2 hours.
I hope you (and your kids) love it as much as we do! 🙂
If you're looking for another tasty crock pot recipe, I also love this Bacon-Wrapped Crock Pot Chicken. Or, you might check out this book with 1400 crock pot recipes!
Find me on Facebook for easy recipes, free printables, simple crafts, and things to do in Dallas. I'd love to have you join me over there!