Memory Planning is one of those weird terms…I mean, how do you plan for a memory? But that's the term that planner addicts (me! me!) everywhere have started using to describe a new planning craze that I love. Read on to see how I use my Perpetual Planner as a Memory Planner!
What is a Memory Planner?
A Memory Planner is a functional day planner that is used to plan out your day but also record your favorite memories…sorta like a scrapbook. If a Day Planner and a Scrapbook met and got married, their baby would be a Memory Planner. For those of us who love scrapbooking but can't find the time for one more project, this is an easy way to "scrapbook" in the planner you're already using every day to plan your life.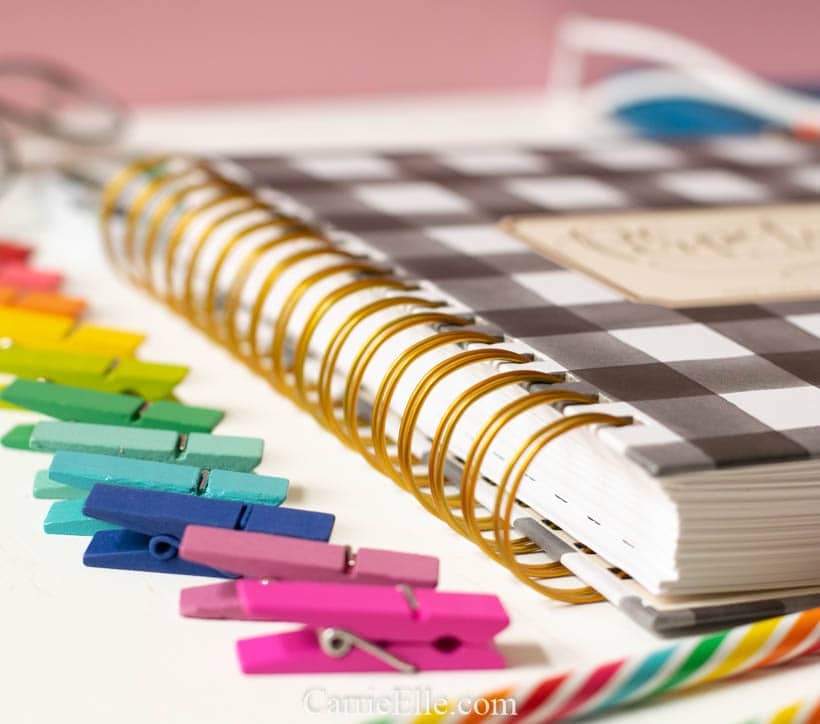 I think the best way to teach this topic is to answer from FAQs.
What type of planner works best for Memory Planning?
Any! There are so many beautiful planners out there. The most important characteristic it needs to have is this: you must love it. It needs to be functional and beautiful and something you'll want to use every day.
I use my Perpetual Planner. I designed this with my friend Ashley from Printable Wisdom. We wanted something sturdy, and pretty, with plenty of room to write, decorate, and plan.
How do you use a Memory Planner?
You'll use a Memory Planner just like you'd use a regular planner. The difference is, you'll come back to it at the end of the day (or week) and jot down some memories or notes about your day.
Here's how I use mine (be sure to follow my shop account on IG – I show every weekly layout in my IG stories!):
I use the monthly calendar pages to map out my big events for the month. I also use this space for priorites and goals for the month. I don't come back to these pages, but you definitely could dress them up with notes and pictures after the month goes on. Actually – it would be super cute to write down a little something in every box that happened that day – I may need to try that next month!
Each week, I sit down and write out my activities for the week on the weekly spread. I typically use a black pen. Throughout the week, I use it exactly as I have always used my planner – to plan things and keep track of my schedule and my life for the week!
At the end of the week, usually on a Sunday night, I sit down with my planner, my ridiculous sticker collection, and my favorite black pen, and I go back and fill in fun things that happened, notes about my days and experiences, books I read, TV I watched, funny things the kids said…whatever feels right.
This is actually a super relaxing, chill time of the week for me. I love it and look forward to it, and I am usually in bed, listening to a podcast and diffusing my favorite oils while I work in my planner – both prettying up the precious week and planning out the next week.
I often decorate with stickers. You don't need stickers, though…you can easily fill it with doodles or just keep it super basic and all text.
The Perpetual Planner has room at the end of each week for notes and journaling, and as you can see I use this differently every week.
How do you include photos in your Memory Planner?
I use the HP Sprocket. This handy little device prints stickers directly from my phone. The color isn't amazing on the photos it prints, but this is the easiest way for me to quickly print photos for my planner. And ultimately, that's what it's all about…keeping it simple so I will actually do it every week!
Where do you get your planner stickers?
Don't get me started on planner stickers because I am obsessed. You can go check out my IG highlights – Planner Stickers – to see all the Etsy shops I buy stickers from.
I also buy a bunch from Amazon (like these cute ones).
But you can also make your own! Here's everything you need to know about making your own planner stickers. I have several free printable planner sticker sets on this site (like this back-to-school set!).
What pens do you use?
Planner pens are definitely a matter of personal preference. Here are four of my very favorite brands, and these have consistently worked well in many different planners on many different types of paper. But all planner paper is not created equal, so you might need to experiment a bit before you find the perfect pen.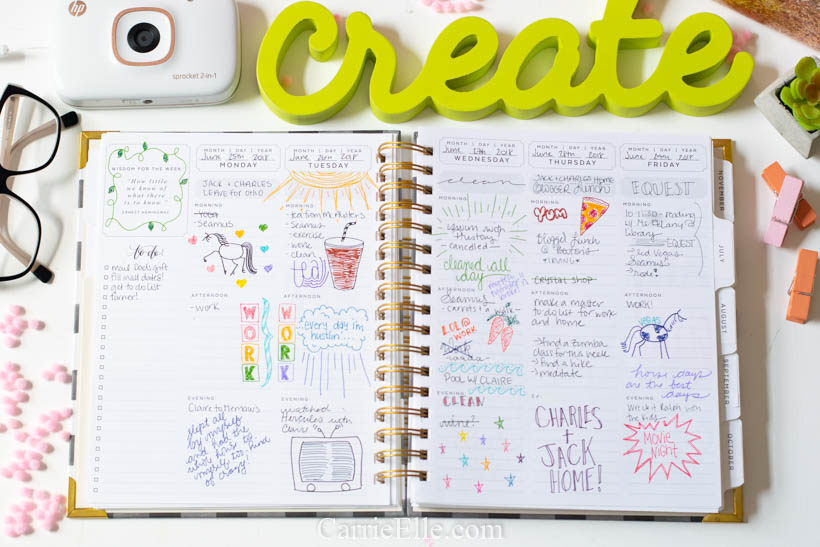 You can get some fun ideas for decorating your planner with doodles and pretty lettering here – no special skills required, I promise!
If you're local to the Dallas area, I'm teaching a class on how to use your planner as a Memory Planner at the Pinners Conference in September. I'd love to have you join me!
What questions do you have? Let me know in the comments below – or find me on Facebook or Instagram – and I'll be happy to answer them for you!
You also might like the fun planner posts below: