This shop has been compensated by Collective Bias, Inc. and its advertiser. All opinions are mine alone. #PowerToThePen #PilotYourLife #CollectiveBias
I'm pretty sure I decorated my first planner when I was 16. My grandmother gave me $100 for back-to-school shopping that year, and after spending much of it at Contempo and Wet Seal, I went into the office supply store and bought my first "official" planner. It had a green leather cover and the inside was full of my plans, notes, and doodles.
Mostly, I did this while I was on the phone with a friend or trying to keep awake during math class.
I want to share with you some easy handlettering for planners that anyone can do – no pretty handwriting necessary! All you need is a nice set of pens, a planner, and maybe a pencil and a notebook to practice in a bit.
Today, I'm much more intentional about decorating my planner. My planner needs to be functional. There needs to be room to make changes. And it's also become a creative outlet of sorts.
Easy Hand Lettering for Planners
If you follow my shop's Instagram page, you've likely seen me talk about these G2® Pens by Pilot Pen. I've been using them for years, and they are fantastic. These G2 pens have a super smooth writing gel ink – they don't skip, drag and blotch like other gel pens I've used. That's probably why these are the top selling gel pens in America! And no joke…I have these pens in every single color they come in. My G2 collection is very complete. Some might even say obsessive.
I bought my latest batch (they have new colors and I needed them) at Target in the pen aisle. Right now, you can use this coupon to save on any G2® Pens by Pilot Pen at Target.
So once you have your pretty G2 pens (all those colors, y'all…), all you need is your planner!
I usually write everything for the week in black pen. This week, though, I used purple for anything related to Claire and blue for anything related to Jack. That helped me be able to quickly look at the day and know what I needed to do for each kid.
I used some cute hand lettering and rainbow colors to brighten up the rest of the space.
Here's how to create pretty hand lettering in your planner, even if you have terrible handwriting.
First…practice! I promise you, the more you practice, the prettier it will get. I will sometimes write in pencil first. Then I go over it in pen (using this chance to "pretty up" the pencil writing). Then I erase the pencil and fill in any color.
I use a blank dotted grid journal to practice. I use the dots as guidelines.
Don't be afraid to use pencil in your planner first and then go back and erase it. I actually plan on keeping this planner as a scrapbook/journal for this past year, so I like to make it pretty. It's a fun keepsake – and spending some time making it pretty is a nice way to unwind (without a screen!) on the weekends.
Fill in the left side of the letter. This is my #1 trip for faking cute lettering skills.
I filled in the left side of the letters in each of these words – and they all came out looking a little bit different. You can fill this in with black, a color, or a simple design (stripes and polka dots are my favorites, because they're easy).
You can also fill in the left and right sides of the letter for added effect. Be sure to leave enough room between letters to do this.
Add doodles. My doodling skills are elementary, at best. But squiggles, cute "conversation bubbles," polka dots, stripes and flowers are something we can all do.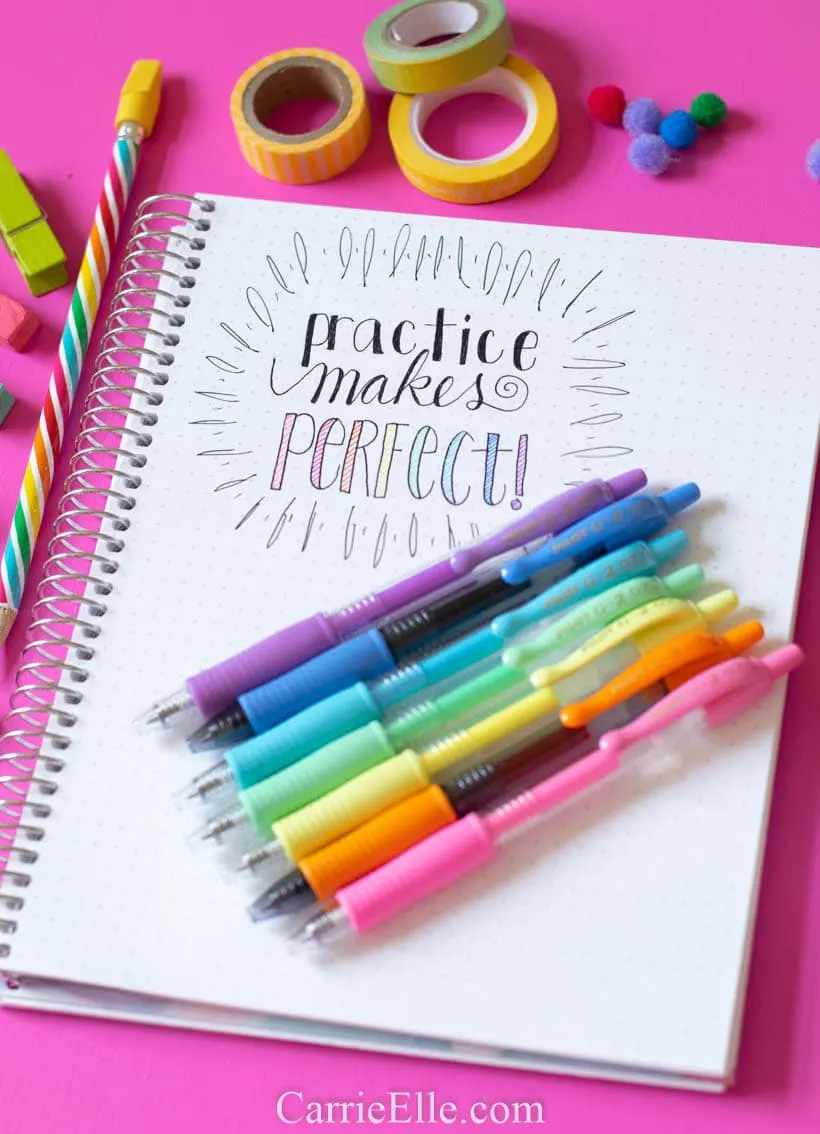 Add doodles or notes about your day in the blank spaces.
Most importantly – don't stress. It doesn't have to be perfect. The more you practice, the better it will get…but the important thing is for your planner to be functional and something you enjoy using. Don't let your quest for perfect letters take away from that!
You can find G2® Pens by Pilot Pen at Target. Use this coupon to save $.75!