When I was a kid, my family always had dinner at a local Chinese restaurant in Vista, CA, called The Golden Dragon. I lived for this restaurant. I always got a Shirley Temple, which is hilarious because I hate – and always have hated – carbonated drinks. I'd get it for the cherry and let it go flat before pretending to sip on it. But mostly, I loved their wonton soup. It was loaded with big fat wontons, chicken, beef, water chestnuts, carrots, green onions, and bok choy (of which I only ate the wontons, before passing the bowl to my mom to finish the rest). This Instant Pot Potsticker Soup reminds me of that wonton soup – full of veggies and flavor, but made super simply in the Instant Pot with Trader Joe's Potstickers.
Instant Pot Potsticker Soup
Also, if you're new here, welcome to Trader Joe's Week! I've created a collection of 7 dinner recipes using some of Trader Joe's most popular items. If you don't have a TJ's near you, don't worry – I've got alternate ingredient suggestions for you. You can still make this recipe! Also, I'd love to have you join me for my Meal Plan Challenge if you could use some meal planning help. Just click on the link below for more info and to sign up (it's free!).
You probably noticed that the story I shared was about wonton soup, but the recipe I'm sharing is potsticker soup. The reason I went with potstickers was simple…my eight-year-old loves them! The Trader Joe's potstickers are similar to wontons, but the labeling calls them by three names: potstickers, gyoza, and dumplings (not wontons at all!). They also sell wontons at Trader Joe's, and I think you could use those if you prefer (although I haven't tried it yet).
What does potsticker soup taste like?
This Instant Pot Potsticker Soup tastes a lot like the wonton soup I remember, although I didn't add any extra meat to it and I removed the water chestnuts. The reason I removed the water chestnuts is simply because TJ's doesn't carry water chestnuts! You can add them in if you like them, or leave them out as I did here.
Is Potsticker Soup good for Weight Watchers?
Yep! Turns out this soup is only 3 WW points per serving (a serving being about 2 cups and including 3 potstickers). That's 3 points for each plan – purple, blue, and green!
Here are the ingredients you'll need to make this recipe (with some comments on substitutions):
Extra virgin olive oil
1 cup carrots, sliced into medallions
2 garlic cloves, minced
1 teaspoon fresh ginger, minced
3 shallots, sliced (you could also use green onions or regular onions)
1 cup mushrooms, sliced (TJ's actually sells pre-sliced mushrooms, although I sliced my own since it was cheaper and I only like them when they're extra thin so I wanted to slice myself)
1 bag baby bok choy (about 3 pieces, with the white parts chopped and the leaves set aside)
6 cups chicken broth
1 bag Trader Joe's Chicken Gyoza Potstickers (alternately, any brand of frozen poststickers will do…you're looking for about 16 ounces, or 20 potstickes)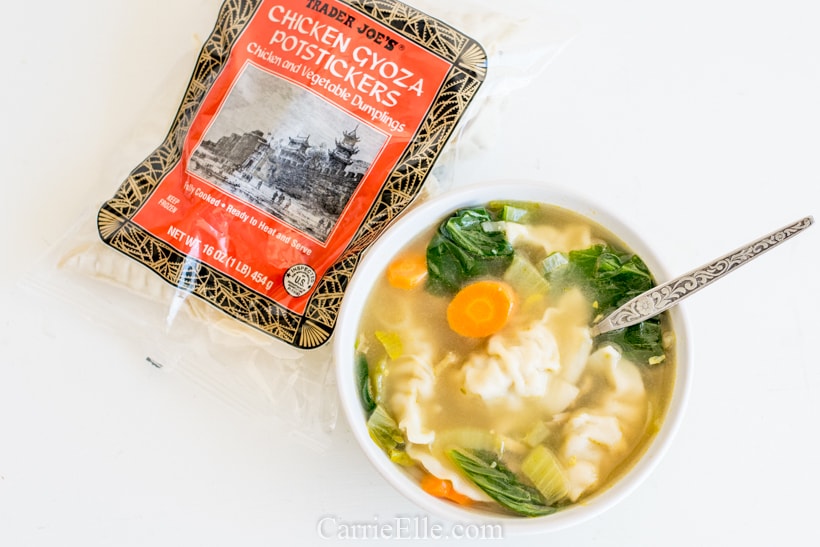 This recipe was made using a 6qt Instant Pot. If your pot is larger, you'll need to adjust accordingly. Also, altitude can affect your cook time – here's a really helpful post about how to adjust your pot for altitude.
Another thing to note: you're going to set your Instant Pot to zero minutes on high pressure. Yep, zero! We are going to let it come to pressure, but not stay there for any time. So you want to watch it and make sure you release the pressure as soon as it comes to pressure. If you cook it at pressure for even a couple minutes or let the pressure release naturally, the potstickers will be soggy (I had to test this recipe a bunch to get it right…I was afraid "0" wouldn't be enough time, but it's actually what you need to do).
Instant Pot Potsticker Soup
This Instant Pot Potsticker Soup uses frozen potstickers from Trader Joe's. It's full of flavor and packed with veggies. And because you make it in the Instant Pot, it's a quick and easy dinner idea!
Ingredients
1

tbsp

extra virgin olive oil

1

c

carrots

sliced into medallions

1

tsp

garlic

minced (about 2 cloves)

1

tsp

ginger

fresh, minced

3

shallots

sliced

1

c

mushrooms

sliced

3

baby bok choy

white parts chopped, green leaves removed and set aside

6

c

chicken broth

16

oz

potstickers

frozen

salt and pepper

to taste
Instructions
Turn Instant pot on to saute'. Add oil and let it heat. Add carrots, shallots, garlic and ginger. Season with salt and pepper, if desired. Saute' until tender and onions start to be translucent. Turn off Instant pot.

Add mushrooms and the white part of the bok choy. Toss with ingredients in pot until everything is lightly coated in oil.

Add chicken broth and frozen wontons.

Cover the pot and lock lid in place. Make sure it is in the 'sealed' position. Set manual pressure for 0 minutes (yes, zero!). When done, do a quick release of the pressure by carefully turning the knob to vent and allow steam to escape.

Add green bok choy leaves and stir gently to mix leaves in until lightly wilted.
Notes
Serving size is about 2 cups and includes 3 potstickers.
Weight Watchers Points (1 serving = 2 cups, including 3 potstickers)
Purple plan: 3 points
Green plan: 3 points
Blue plan: 3 points
Have you made this recipe? Take a picture and share on Instagram or Facebook and tag @carrieelleblog!
Nutrition
Calories:
270
kcal
Carbohydrates:
39
g
Protein:
11
g
Fat:
9
g
Saturated Fat:
2
g
Cholesterol:
3
mg
Sodium:
476
mg
Potassium:
364
mg
Fiber:
4
g
Sugar:
7
g
Vitamin A:
6078
IU
Vitamin C:
36
mg
Calcium:
110
mg
Iron:
2
mg
Tried this recipe?
Let us know how it was with a rating and review!
I hope you guys love this recipe as much as I do! It's such a delicious way to eat these popular Trader Joe's gyoza potstickers -it feels a little fancy to make this pretty soup, but I promise it's totally easy!
Be sure to take a look at all of the other Trader Joe's Week Recipes and Meal Plan here.