Lately, I've see a lot of funny memes about hand sanitizers and soap being sold out at stores and people wondering if anyone ever washed their hands before. I like to believe that we were all washing our hands at appropriate times before this health scare was ever a thing, but the truth is not that we're just learning to wash our hands…it's that now we are hopefully washing them a lot more often. Double your handwashing efforts, double your soap usage. But as someone who just traveled by plane twice in the last two weeks, I can tell you for certain that some people have not got the message. These Wash Your Hands printables serve as reminders and I hope you'll use them where you need them the most, be it your kids' bathroom (ahem, I am talking to you, my little spawn), your office, a school you work at, or even a restaurant…let's get people to wash those hands, y'all.
Wash Your Hands Printables for Home, Schools, and Offices
I traveled to California in February, and then less than two weeks later went to Colorado. It was interesting to see how things changed just in those two weeks. In February, we weren't really taking this thing too seriously. In early March, though, I flew home from Denver to Dallas on a Friday morning on a half-full plane, which never happens. And my friend flying home to San Diego had the same experience. I am also happy to say that there were literally lines to wash my hands in the airport bathroom, in Denver and Dallas…and again, not because people weren't washing their hands before (I hope, anyway), but because people were washing with a lot more diligence than in the past.
But here's the thing! It's not enough to just wash your hands after you go the bathroom. It's all those other times you're not thinking about – we touch a lot of things and come into contact with a lot of people throughout the day!
And while I'm on the topic, I'm really not afraid of getting this virus – or any others, like the flu. The flu is miserable and I never, ever want to have it again. BUT. My real concern is not getting it myself, but passing it on to someone who is at risk (like grandparents or my pregnant sister).
Cute "Wash Your Hands" Printable for Office
If you work in a community setting with others, stick these printables anywhere a reminder is needed. In the bathroom, yes, but also by doors, over the coffee maker, on the fridge, near the conference room…anywhere people are touching things.
Wash Your Hands Printables for Schools
Got a lot of kids coming and going (not to mention the other teachers)? Stick your favorite reminder by the entrance to the classroom, in the staff lounge, in the lunch line…wherever you need a reminder.
Wash Your Hands Printables for Bathrooms
A few years ago, I made these cute, bright bathroom printables for my own bathroom. One of them is a "wash your hands" reminder, because honestly, I don't need a global pandemic to get on to my kids about washing their hands. I'm always getting on to them about keeping their hands clean (the flu is my real concern, it's going around like crazy this year). This is just a cute, extra reminder.
I've uploaded these all separately so you can download the one(s) you want. Below each picture is a "download" button. Click on the download button to download the "wash your hands" printable in the photo above,
You can download the "Was Your Hands for at least 20 seconds" printable below:


Download the "please wash your hands" colorful rainbow bubbles printable below: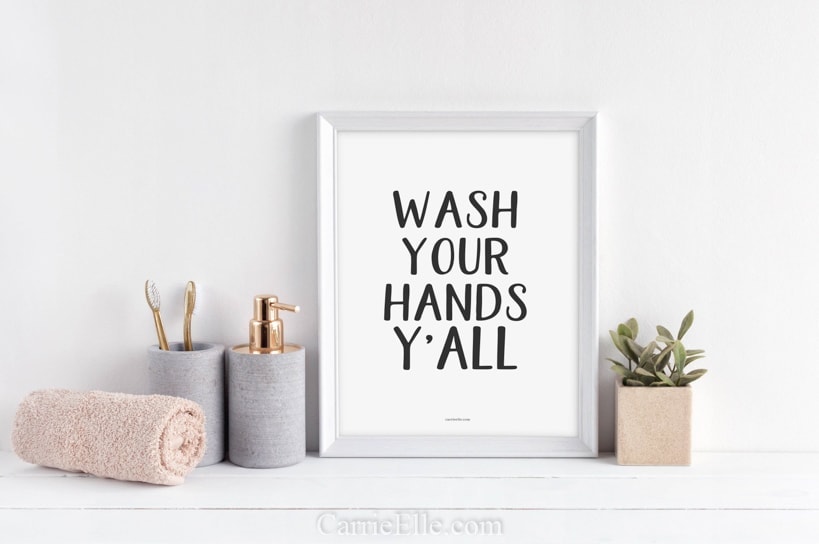 Get the "Wash Your Hands Y'all" printable below:


Download the "wash your hands" printable below:


You can also find some hand washing reminders in this collection of brightly colored bathroom printables.
SO. I hope (know!) we are all doing the best we can to nip this thing in the bud and also keep the flu away from our families. A gentle reminder to wash your hands is a good thing. I hope you will find use for these printables!