The longer I live in Texas, the more I love it. And the longer I live here, the more I realize how truly little of Texas I have seen. I mean, Texas is huge, y'all. You know that. But when you actually get out and explore this ginormous state, you realize how much there is to it. Last week, Charles and I visited San Saba, TX, which is a little town I'd never heard of before in beautiful Texas hill country.
We visited San Saba on a media tour, as guests of Visit San Saba. All opinions are my own. If you'd like to see more photos and video of my trip, you can find it in my Instagram Travel Stories.
Where is San Saba, Texas?
Located in the very north of Hill Country, San Saba is an easy (and pretty) three and a half hour drive from Dallas. It's closer than Fredericksburg, which makes it ideal for a one night getaway (we left on a Tuesday morning, got there in time for lunch, and came home after lunch the next day). It's also the pecan capitol of the world, and that is no joke! Get ready to eat some pecans.
It's a little over an hour from San Saba to Fredericksburg, so if you want to stay in San Saba for a couple of nights and spend a day in Fredericksburg, it's very doable.
What is there to do in San Saba?
If I had to describe San Saba in three words, it would be these: friendly, pretty, quiet – and in that order. The people here are the nicest. One of the benefits of traveling with Charles is that he talks to everyone (I'm quiet and like to observe – but Charles doesn't know a stranger). We met so many locals, and they all told us the same thing – they love their town. We felt so welcomed by everyone we met.
Several times when we were there, I mentioned that it felt like Fredericksburg, but without the crowds. You have similar gorgeous scenery, a couple of great wineries, some good restaurants, and some fun shops downtown…but you avoid all the crowds of Fredericksburg. If you want to get away for a night and enjoy the amenities hill country has to offer, but don't want to deal with all the people, this is a wonderful alternative (and, like I mentioned, it's closer to Dallas, which makes it easier to get to).
Here are some of the things we did in San Saba:
Visit the Wedding Oak. This gorgeous old Oak tree is a short drive outside of town and is over 400 years old. It's incredible. It's surrounded by idyllic Texas pastures and also right next to the oldest suspension bridge in Texas!
You can't drive on the Beveridge Bridge, but you can walk it (make sure you jump up and down on it and feel it sway…if you're brave enough. I kind of hated it when Charles did it while I was on the bridge!). It happens that there is another suspension bridge around town that you can drive on, called Regency Bridge…we did this on the way home. It's kind of fun because it takes you through some dirt roads and backcountry that you wouldn't normally see.
Stroll through San Saba River Nature Park. This pretty park has some beautiful paved trails for walking, as well as several nature lookout areas and a pretty river running through it. History buffs will appreciate a giant earth oven (!!!) from the Native American days as well as remnants of a water mill from the town's early days.
Across the street is Mill Pond Park, another pretty park with some trails, running water, and a place to swim.
And! San Saba is home to the only 100% marble church in Texas! How cool is that? I wanted to see it, so we drove by on our way out of town. It was so pretty I got out of the car to get some photos and someone happened to be inside and see me taking pictures, so he invited us in to see the inside. I think old churches are so cool. It was really fun to see the inside.
Is there a San Saba winery?
Yes! We visited two wineries in San Saba – Wedding Oak Winery and Old Man Scary Cellars. Both are located next door to each other.
If you're planning a trip and want to hit the wineries, be sure to check their hours. We were there on a Tuesday and not everything was open.
We did a wine tasting at Wedding Oak Winery and even got a tour of where they make their wines. My favorite was the Sangiovese (I'm actually drinking a glass from the bottle we bought as I write this). The people here were so nice…and there was a really awesome shaded patio to sit on. This would be a great place to spend a few hours!
We also had a tasting at Old Man Scary Cellars, which has a super hip and fun vibe (and more great wines!).
And if you like beer…read on.
Are there any good San Saba restaurants?
There are several options to choose from! Again, check hours…Youngs Burritos and BBQ joint was closed on Tuesday, but we ate at a couple other places you need to know about!
We arrived in time for lunch at Oliver & Co., which is downstairs in the Dofflemeyer Hotel (where we stayed). This is a great place for sandwiches and coffee or tea. I had the four cheese panini.
Our first night, we had dinne at Bar D Brewhouse. You'll find lots of comfort food options here, plus some really delicious chips and queso. Charles got a burger and I had the BLT (I'm kind of a BLT connoisseur and this one was first rate). Also, you can get a massive flight of home-brewed beer. Seriously, SO MUCH BEER. And such a great deal – I think it was like $13?
For breakfast the next day we headed to Bread to Dough Bakery. You guys. GO HERE. We ordered breakfast biscuits, stuffed with cheese and bacon and an egg. We also loaded up on a wide variety of homemade pastries to take home with us. You'll love the beautiful interior, where every detail has been attended to. And the food? So good. Get a pastry for the road trip home!
Grab a coffee (or tea) at Alamo Pecan & Coffee. This is also a great place to stock up on pecan-themed gifts for yourself or others (fudge! oils! gift baskets! pecan brittle!). Get a praline while you're there – you can thank me later!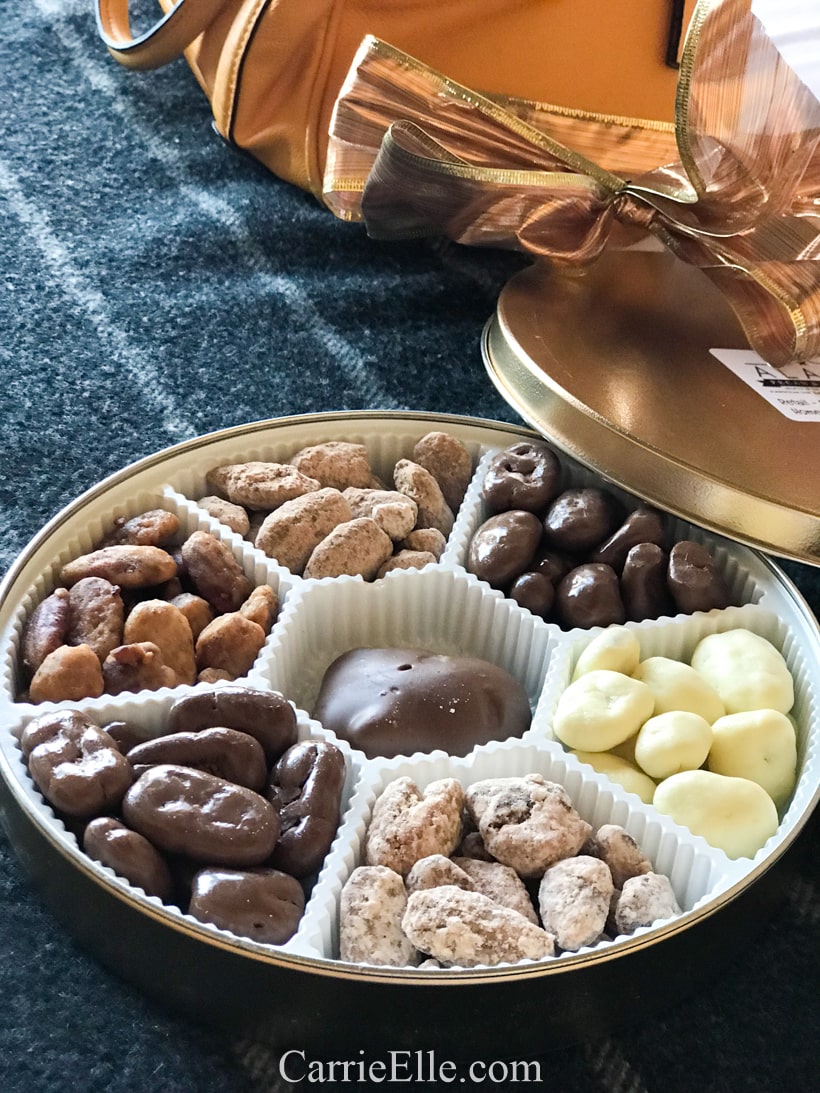 Is there shopping in San Saba?
The downtown area has a collection of adorable boutiques. If I had to pick a favorite shop, it would probably be Harry's Boots, a western wear shop that's been in business since 1939. If you want to buy some new boots, here's your store (they also have several rooms full of women's and men's clothing, plus a bunch of cute stuff for kids).
A few other cute places to check out: J.C. Campbell & Company Mercantile, Madeleine & Me, San Saba Olive Oil, The Purple Chandelier, and San Saba Soap Company (all within easy walking distance from the Dofflemeyer Hotel).
What are the best places to stay in San Saba?
We stayed at the Dofflemeyer Hotel. This gorgeous little boutique hotel is right between the wineries and the shops, and within walking distance to all of the restaurants I've mentioned here. The rooms are modern but bursting with hill country charm, and the bed was so comfortable I wanted to take it home with me. The Dofflemeyer also has a really nice little patio with plenty of places to sit in the shade. If you want to buy a bottle of wine at one of the wineries, this would be a great place to enjoy it as the town slows down for the evening (bring a bottle opener or have them open it before you leave the tasting room!).
This is getting long but I want to end with one last thought…
I truly think I found the Friendliest Town in Texas. The people were so nice and so in love with their town – which in turn made me love it even more. I would go back, and likely will with a couple of friends. It's a great place for a girls' trip or a romantic getaway. The proximity to Dallas can't be beat, and I love that we were able to sneak away for 24 hours but feel like we were in a completely different part of Texas.
I also love that I feel like I've explored one more place in this beautiful state I call home!
Have you been to San Saba, or are you planning a trip? If you have any questions let me know in the comments and I will do my best to answer you or get you the answer you need!
Looking for some other Texas travel destinations? Here you go!