I feel like my kids have hit the ages where travel is fun.
I was always that pre-mom that said, "Kids won't slow me down!" when talking about my travel dreams. But then I had kids and my reality was a lot different than what I had expected it to be.
I'm excited to partner with Carnival Cruise Line on this cruising series. All opinions and experiences are my own.
Boooo reality, right? That might not be the case for you – but I struggled! At this point, though, I kind of feel like we've entered this glorious life stage where the kids get as excited about going somewhere new as we do, and that is so much fun.
I mean, we literally counted down the days to our most recent cruise. We were all so excited! But if you've never cruised with kids before, it can look a lot different than an adults-only trip. Today I'm sharing my best tips for taking a carnival cruise with kids – what to do, where to eat, what to expect in your stateroom – and then some!
Carnival Cruise with Kids
The great thing about Carnival is that they are totally family-friendly. From the second you walk on the ship (actually, enter the terminal), friendly crew members are welcoming everyone…and that includes the littlest cruisers!
You'll notice my kids have green wristbands in all of these pictures. All kids (I think under the age of 16?) are required to wear these while onboard. Your child will get their wristband on the first day of the cruise.
Here are some things we really loved about our experience (which was onboard the Carnival Breeze…but you can expect a similar experience on any Carnival ship).
Kid-friendly dining: Of course, there are tons of family-friendly places to eat. The buffet on the Lido deck is full of kid-friendly fare. But we chose to eat in our assigned restaurant (Blush) most nights. On our first night, Claire was a little wary of the menu. Our fantastic waiter brought her macaroni and cheese and chicken tenders, neither of which was on the menu. And then he asked if she wanted the same thing the next night (she did!).
We found this level of service extended across all aspects of our trip, but if you have kids you know how much work goes into feeding them…having Claire's needs (ahem, pickiness) accommodated just made dinner so much easier, you know?
We also took the kids with us to Cucina del Capitano, the Italian restaurant onboard.
I probably wouldn't have taken them to the steakhouse (we didn't see any kids when we were eating there), but older, non-picky kids who can appreciate a good steak might enjoy it (you have to pay extra for the steakhouse though).
Onboard activities: If you saw my Carnival Breeze photo tour. you know there were tons of activities for the kids. Between the rope course, mini golf, basketball court, arcade, fmovie theater (movies cost extra, but there are movies every night at sea for free by the pool), the candy shop, and planned activities, your kids will be entertained.
My mom and mother-in-law were with us on this trip, which meant they took the grandkids for us a couple of times. My mom took them to bingo. My mother-in-law took them to see a magician. There were tons of activities, every day, that the kids could participate in.
Childcare: Carnival cruises have onboard daytime childcare for kids ages 2-11 at Camp Ocean. Use your first day at sea to get the kids signed up (the process takes about 15 minutes per kid). There's a schedule of daily activities so you and the kids will know what to expect each day.
Kids are grouped together by age and activities run all day. Meals are even served on some days!
Evening camp is also available, but at a cost. This is good to know if you'd like an adults-only evening at the steakhouse…you can totally drop the kids off and enjoy your time, worry-free! Evening activities run until 1 AM (on some nights), provide dinner, and give kids a chance to party, too!
Seuss at Sea: One of our highlights of the trip was taking the kids to a special Seuss at Sea Geen Eggs and Ham breakfast celebration! Not only did the Cat in the Hat show up, but the Grinch made an appearance, too (we were traveling at Christmas time).
Many of the Seuss at Sea activities are free. The Green Eggs and Ham breakfast is an additional cost ($5 per person, I believe), but it was such a cool experience – totally worth it! Reservations are required and I recommend making them before your trip (they were turning people away from the breakfast we attended).
And don't judge, but this Fruit Loops French Toast? This was *my* breakfast.
Movies and tech: OK, so what about when it's time for bed and everyone is chilling in the stateroom? What to do?
We did not let the kids bring any tablets or devices on this trip, so they didn't get to do much tech outside of some video games in Camp Ocean. Wifi wasn't very good, so keep that in mind if you're bringing a device…load any movies onto the device before you come. Streaming will be impossible.
There is TV onboard though, and at night we'd all hang out and watch a movie or some cartoons before bed.
Sleeping and stateroom arrangements: Our stateroom had a king-size bed and a couch that turned into a bed with a pulldown bed above it. Bunk beds!
The bathroom has a shower (no bath). You might think about bringing an inflatable bath if you have a baby.
If you're bringing a baby, you can request a crib at no charge.
Excursions and port days with kids: The last time we cruised with the kids, they were too young for most excursions. Be sure to check age requirements and also travel time involved if you have really little ones. Our trip to Tulum, for example, required a 45-minute boat ride followed by an hour and fifteen-minute bus ride, each way, to reach our destination. That would be tough with a baby or toddler, for sure!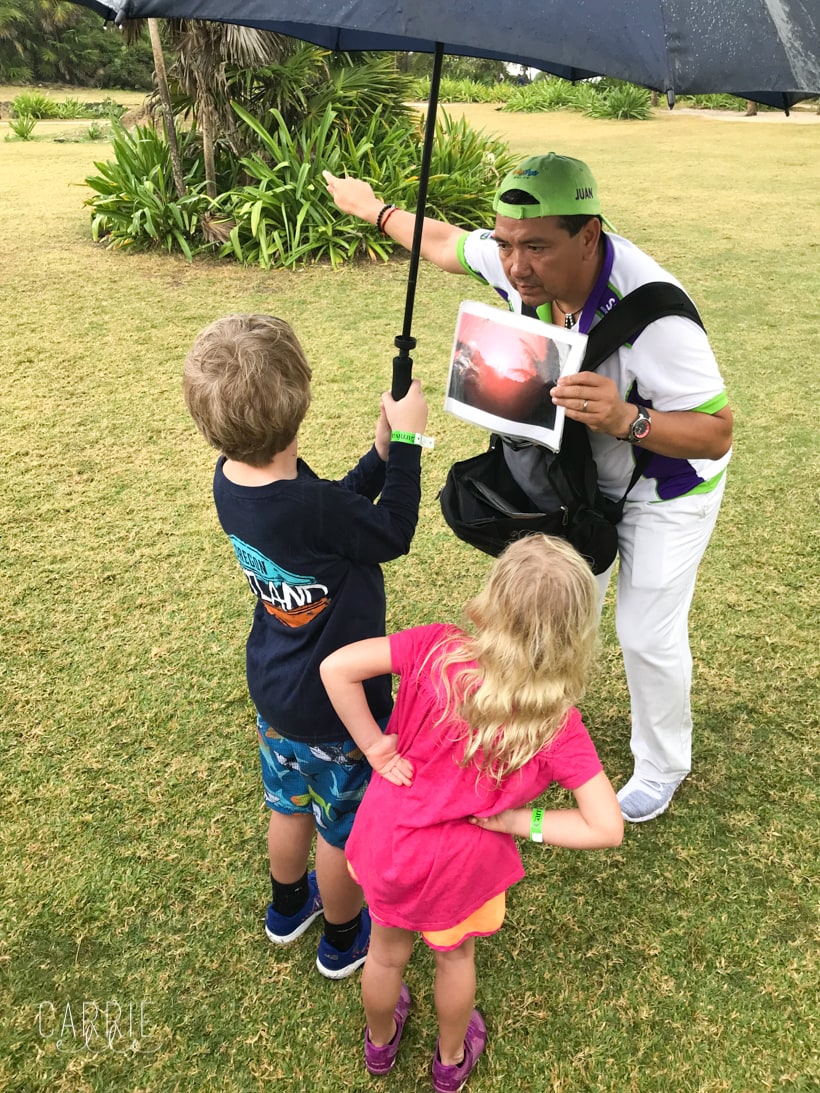 So be sure to keep travel time to and from the excursion in mind (you know you kid, you'll know what they can do!).
I recommend a baby carrier and/or an umbrella stroller if you have little ones, too. It can be a lot easier to transport the umbrella stroller in tricky spots (buses! boats!) than a full-size stroller.
If you decide to forego the excursions completely, keep in mind that the quiestest and least-crowded times on the ship are port days. Everyone is on land! This can be a good time for little kids to enjoy the pool and slides.
Also, another port day recommendation that comes from experience: if you have kids and choose not to go on an excursion, be sure to make some plans! It can be really tough wandering a foreign city on a tight schedule with cranky kids (that totally didn't happen to us on this trip, but it has happened on another trip…and that's why we always have a destination in mind before we disembark the ship).
Honestly, traveling with my kids is such a gift. For them, of course, but also for me. I love taking them new places and experiencing new things with them! A cruise is a great way to explore new places and foster the travel bug while still enjoying a vacation that accommodates everyone in the family.
Did I miss anything? Do you have any questions? Let me know below and I'll answer them to the best of my ability!
Also, be sure to check out the posts below if you're taking a cruise!