Fredericksburg is the BEST. It's one of my favorite places in Texas, and I just got back from a girls' weekend in this pretty town. We've also visited with the kids, and while Fredericksburg is super family-friendly (and also a great place for a romantic getaway!), today I want to focus on everything you need to know to plan your girls' trip to Fredericksburg, TX (but don't worry, if you're going with kids there's lots of stuff in this post you can do with them, too).
Girls' Trip to Fredericksburg
A few quick Fredericksburg facts before I jump into this, Q&A style.
Fredericksburg is Texas Hill Country. It's also a little German town that is officially in Texas Wine Country, with lots of walkable wine tasting, shopping, and dining options all downtown. And just out of town you'll find lots of historial sites, hiking, vineyards, and other fun destinations to visit.
OK, let's get started!
Where should I stay in Fredericksburg, TX?
Downtown Fredericksburg is very walkable, with lots of nice lodging options on Main Street. You'll have plenty of hotels to choose from (book early, Spring Break, which happens early in Texas, summer, and holidays are busy as lots of Texans make the pilgrimage to Fredericksburg for vacations!).
We stayed at at Airbnb just a couple minutes drive from downtown. It housed 8 people and was perfect for our group. We each got our own bed (there were 7 of us) and we all loved how old the house was (not in a dated kind of way…in a super cute kind of way).
It was also on 5 acres and there were sheep and a horse in the backyard…this is a great spot for families because the kids would have lots of room to run around!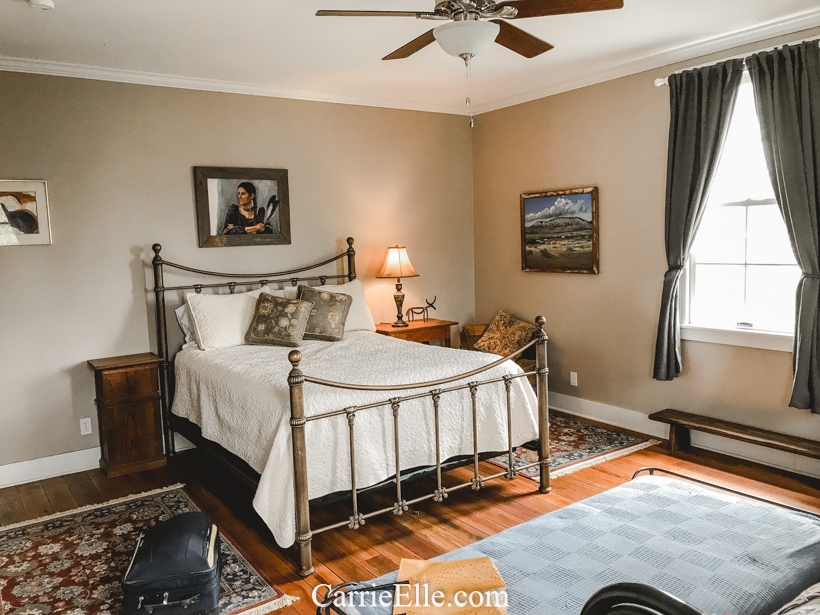 If you want to book an Airbnb, and you've never done an Airbnb before, use this link to book and you'll get $55 towards your stay.
This is the link to the house we stayed in, which you see pictured here – but there are lots of other options on Airbnb that might be more suitable if you have a smaller group.
What is there to do in Fredericksburg?
OK, this list might get long so I'm just going to share some highlights. You can see a big list of things to do here.
Go shopping. So. much. shopping. You can see all the shopping options here.
Go wine tasting! Fredericksburg is known for its wine tasting! There are lots of tasting rooms on Main Street. Anywhere from 5-30 minutes outside of town you can experience wine tasting at the vineyards. Depending on the season, you might need to book your wine tasting a few weeks in advance.
We had dinner at Grape Creek our first night there, which is a vineyard with gorgeous views and great food (they also have a tasting room downtown). You'll probably need to make dinner reservations.
The next day, we did a wine tasting at Signor Vineyards. This location is stunning. The tasting was $18/person and they had an amazing charcuterie board, too.
On our way back from Signor, we stopped at Altstadt Brewery for some beer, wine, pretzels, and live music. Including an alp horn, y'all. AN ALP HORN.
Visit the National Museum of the Pacific War. Located downtown, you can expect to spend at least a couple of hours at this powerful museum. You can find visiting hours and more info here.
Hike Enchanted Rock. It's an energy vortex, y'all! It's also a great hike. You can climb to the top of Enchanted Rock and hike a bunch of trails surrounding it. The hike up is pretty steep, but worth it. We had to get a reservation last time we visited, so be sure to check the website and keep that in mind when making plans to go. If you're traveling during a busy (or hot) time of year, my recommendation is to get there early. It was pretty quiet on our way up but super crowded on our way out of the park.
It's about a 20 minute drive from downtown to Enchanted Rock.
Take water and a hat and wear sunscreen.
Eat all the food (see below for some food recommendations).
I feel like I could go on and on with things to do, but this post is getting long and I still have food recommendations, so I'll just say click here for a comprehensive list of things to do!
Where should I eat in Fredericksburg?
You're going to have many food choices while you're there! Here are some we've tried and liked.
Fredericksburg Pie Company. I mean, PIE. The pie shop is only open Thursday, Friday, and Saturday, though, much to the sadness of my kids when we showed up on a Sunday. Also, they change their menu regularly and run out quickly, so get there early! Check the hours here.
Altdorf Biergarten. German restaurants abound, but I've eaten at this one twice and loved it both times. Plus, it has an awesome outside seating area and live music! Get the menu and address here.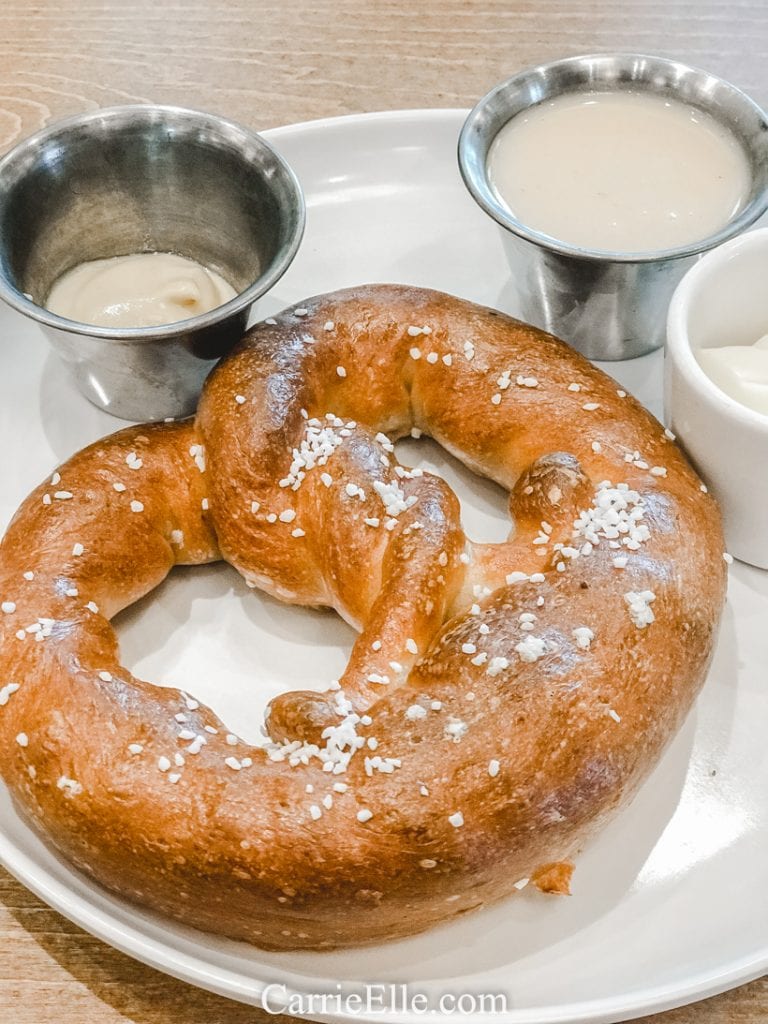 Emma + Ollie. GUYS. Do brunch here. Or lunch. Or breakfast. Just eat here. We got there right when it opened and sat outside in the chilly weather so we didn't have to wait. The wait time was about an hour shortly after we arrived. If you don't have time to eat there, just stop in and get some pastries before they sell out!
Because we were staying at an Airbnb, we brought lots of snack foods and breakfast for Saturday morning. You can read about how to meal plan for a vacation here.
OK guys I actually have a lot more to share but I need to end it here – there may need to be a part two! But hopefully this will get you started if you're planning a girls' trip to Fredericksburg. Let me know if you have any questions in the comments below!
Looking for some other Texas travel destinations? Here you go!