A few weeks ago, I visited Lubbock, Texas for the first time. Aside from the two times I've driven across Texas between Dallas and southern California, I haven't spent any time in west Texas. And I had certainly never made the drive to Lubbock before (it's beautiful, by they way…in some parts, stunningly so!).
I've been all over Texas, and I've visited Texas' biggest cities. They are all very "Texas." But Lubbock feels even more Texas. I am not sure how to put it into words, exactly…but I left Lubbock feeling like I had really seen a piece of authentic Texas.
The Texas Peanut Producers Board hosted an event for a small group of bloggers to learn about Texas peanut farming. As part of that event, we got to see quite a bit of Lubbock and everything it has to offer. I loved it so much that I wanted to share a post with you guys sharing these 5 things to do in Lubbock, Texas. If you've never been, I think you'll be as surprised as I was at how much this town has going on!
Take advantage of Lubbock's really, really good (and diverse) restaurant selection.
When in Lubbock, you'll need to EAT. Not just because we all need to eat, but because Lubbock is known for its cuisine. With trendy restaurants and a huge movement to eat local, there is no shortage of fantastic food in this town. We had a dinner provided by North Catering, and it was fantastic.
If adventurous eating, fresh ingredients and friendly service is your thing, be sure to try The Pickle & The Pig.
Drink Texas wine.
Y'all. I DID NOT KNOW that Texas wine was such a big deal, but it is. It's not the same Texas wine you were drinking 12 years ago (or maybe that is just me). The Texas wine industry is growing in a huge way, and for good reason. Did you know that Lubbock is prime grape-growing country, and most of the Texas wines you see today come from grapes grown in the Lubbock area?
We were so lucky to visit Lost Draw vineyards, which is a large vineyard outside of Lubbock that produces grapes for their own winery – Lost Draw Cellars – but also for many of the other wineries located in Texas.
We also visited McPherson Cellars for some wine tasting, and even got a behind-the-scenes tour (they had just unloaded a giant truck of grapes, which was so cool).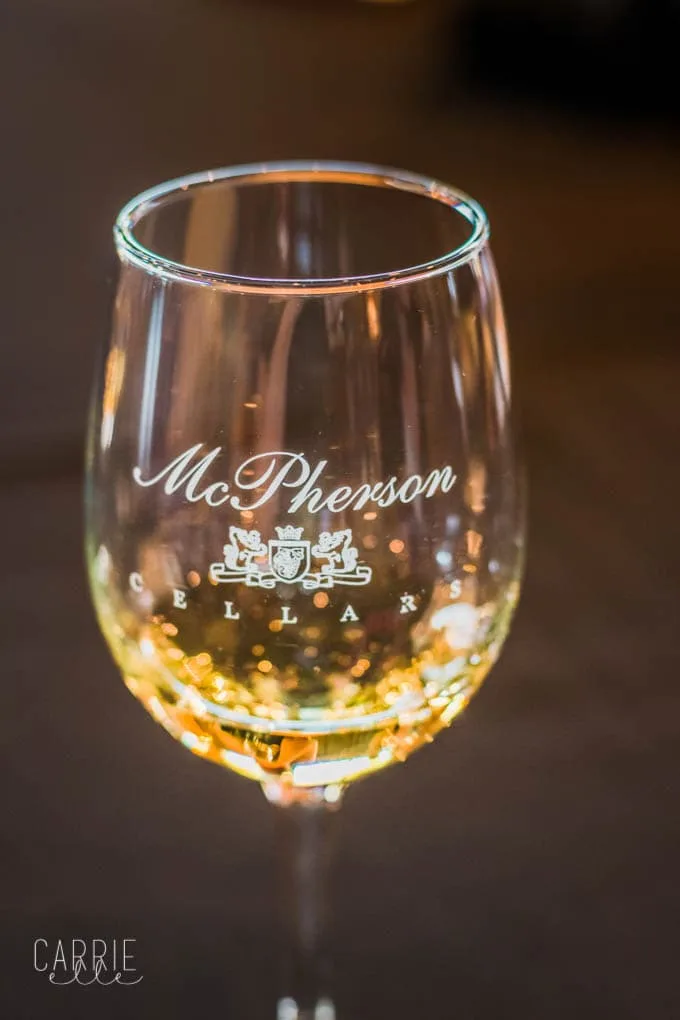 If you have kids with you, visit a museum.
You can see a full list of kid-friendly museums in Lubbock here. We toured the Bayer Museum of Agriculture (and even got to experience an authentic chuckwagon dinner, cooked outdoors and served under an airplane in the museum…so cool!). If you have a kid who loves tractors, TAKE THEM HERE. An extensive collection of tractors, tractor implements and farming tools is sure to keep their interest!
Go shopping and check out the Farmers Markets.
Lubbock is a thriving college town, and the town boasts plenty of great shopping. I popped into a few boutiques on my way out of town and had to resist the urge to buy ALL THE CLOTHES. You can see a list of boutiques and great places to shop here.
And taking it back to food, Lubbock also hosts two farmers markets. We had the joy of meeting two local farmers and even got to take home honey and corn harvested at local Hamilton Farms (you can find their fresh produce at the local market!).
And by the way? Getting to visit a peanut farm was THE. COOLEST. I had no idea how peanuts even grew before this trip (so embarassing, I know!). But after a visit at Henson Farms, I now know not only how peanuts are grown, but how much love and work goes into growing them.
Check out the local art.
I noticed that there was a lot of local art where we stayed and in McPherson Cellars. Turns out, Lubbock has a thriving art community – and the First Friday Art Trail is a great way to experience local art and support vendors in the community.
One more thing! We stayed at the Overton Hotel. I highly recommend it. The location was fantastic, the hotel was beautiful, and the staff was friendly. AND…I loved all of the Texas and farm-themed art all over the lobby and in the rooms. It reminded me that I was in a true farming town, and as a kid who grew up in San Diego county but spent her days and years surrounded by agriculture (4-H and FFA!), I loved bring surrounded by the farming culture.
Follow us on Facebook for meal planning, budgeting help, and the occasional travel post, too!
Have you been to Lubbock? Did I miss any must-see or must-do activities? Let me know in the comments below!