Who doesn't love waking up and having breakfast ready? Having to get ourselves ready, get the kids ready, and get out the door – all while trying to eat a healthy breakfast – can impact how we feel and also what we grab to eat on the way out the door. We have rounded up 10 of the most delicious and healthy 21 Day Fix Overnight Oat recipes that will cut down on your kitchen time and create a leisurely morning for you and your family.
To be sure you are working towards your goals, meal planning and prepping will help you to stay on course. Planning doesn't have to be intimidating. If you are in need of planning and preparing support, this post about 21 Day Fix Meal Planning will show you how to go from planning to executing your weekly meal plan!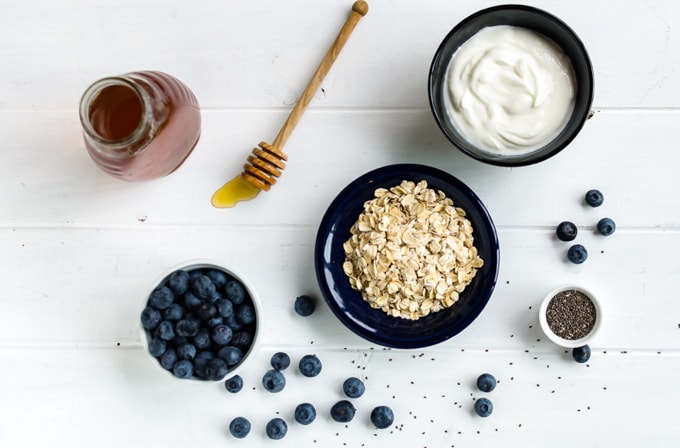 21 Day Fix Overnight Oats
Can I have overnight oats on the 21 Day Fix?
Yes! They are such a great option for an easy breakfast. And there are some really delicious recipes to choose from.
How do I make overnight oats?
Overnight oats are so easy to make. You just add the ingredients to a jar or a sealed container, shake them up really well, and then let them sit in the fridge overnight.
How long do overnight oats stay good in the fridge?
They'll stay good in the fridge for 4 or 5 days, but I usually don't leave them longer than a day or two. The longer they sit, the softer they get – so this is really just a personal preference thing. I know a lot of people like to make enough for the work week and then have them ready to go each morning. They're simple enough to make that I don't mind doing it every night.
Can I use steel cut oats for overnight oats?
YES! This is what I usually do, actually. Steel cut oats are a little heartier and chewier, but that's why I like them. My kids prefer more traditional oats.
21 Day Fix Blueberry Overnight Oats The perfect easy, healthy, make-ahead, no-cook breakfast to enjoy on the go! 1 yellow, 1/4 purple, 1/3 red, 1/2 orange. 1 tsp
21 Day Fix Cherry Pistachio Overnight Oats Yummm…pistachios! These are a definite favorite of mine. The juicy cherries just take it over the top! 1 yellow, 1/2 purple, 1/3 red, 1/2 orange. 1 tsp
21 Day Fix Overnight Oats Make your overnight oats in bulk with fun, customizable toppings for healthy breakfasts all week long. Each jar is 1 yellow, plus toppings (so simple!).
Blueberry-Pistachio Overnight Oats 21 Day Fix approved overnight oats have beautiful color, flavor and texture thanks to a delicious homemade blueberry compote and pistachios. 1 Yellow, 1 Purple, 1/4 Blue, 1 1/2 tsp raw sugar
21 Day Fix Coconut Overnight Oats Love oatmeal? Love coconut? If so, this 21 day fix approved overnight oat recipe will surely become a favorite breakfast option for you. Here are the container counts: 1 yellow, 1/3 red, 1 orange, 1 blue
21 Day Fix Baked Oatmeal Jars Pre-portioned, portable, and a perfectly easy way to prep for your week ahead! 1 Yellow, 1/4 Purple, 1/8 Orange
21 Day Fix Hummingbird Cake Overnight Oats No cooking. No fixing. Just wake up, grab some coffee and your yummy cup of oats and you will have a wonderful start to your day. Container Equivalents: 1 yellow, 1 purple, 1/2 blue

21 Day Fix Overnight Carrot Cake Oats When you want a sweet treat, you'll be happy you prepped a few delicious jars of overnight carrot cake oats. 1 yellow, 1/2 red, 1 tsp sweetener, 1 tsp, 1/16 green , 1/16 purple , 1/2 orange, and 1/2 blue
21 Day Fix Pumpkin Overnight Oats Use either fresh homemade pumpkin puree or one from the can. This recipe will rock no matter which route you use! 1 yellow, 1/4 purple, 1/2 red (if you add protein powder), 1 tsp
Clementine and Cocoa Overnight Oats Who wouldn't want to wake up to the indulgent flavors of chocolate and orange? Plus they're gluten free, dairy free and vegan! 1 Yellow, 1/2 Purple, 1 1/2 tsp maple syrup
Cranberry-Apple Pie Overnight Oats Perfect balance is having those tart berries against the sweet, cinnamon-y apple filling… it's exactly what I want in a dessert. So why not make it into a healthy breakfast or snack option? Container Equivalents: 1 Yellow, 3/4 Purple, 1/2 Blue, 1 1/2 tsp maple syrup
Overnight Instant Pot Oats I love this genius Instant Pot trick – use the delayed start button to wake up to hot, fresh oatmeal!