Aldi Week
. Aldi has great deals on meat, and ground turkey is no exception – so I went with a
Turkey Fried Rice
recipe that is delicious, freezer-friendly, makes great leftovers, AND is perfect for both the 21 Day Fix and Weight Watchers!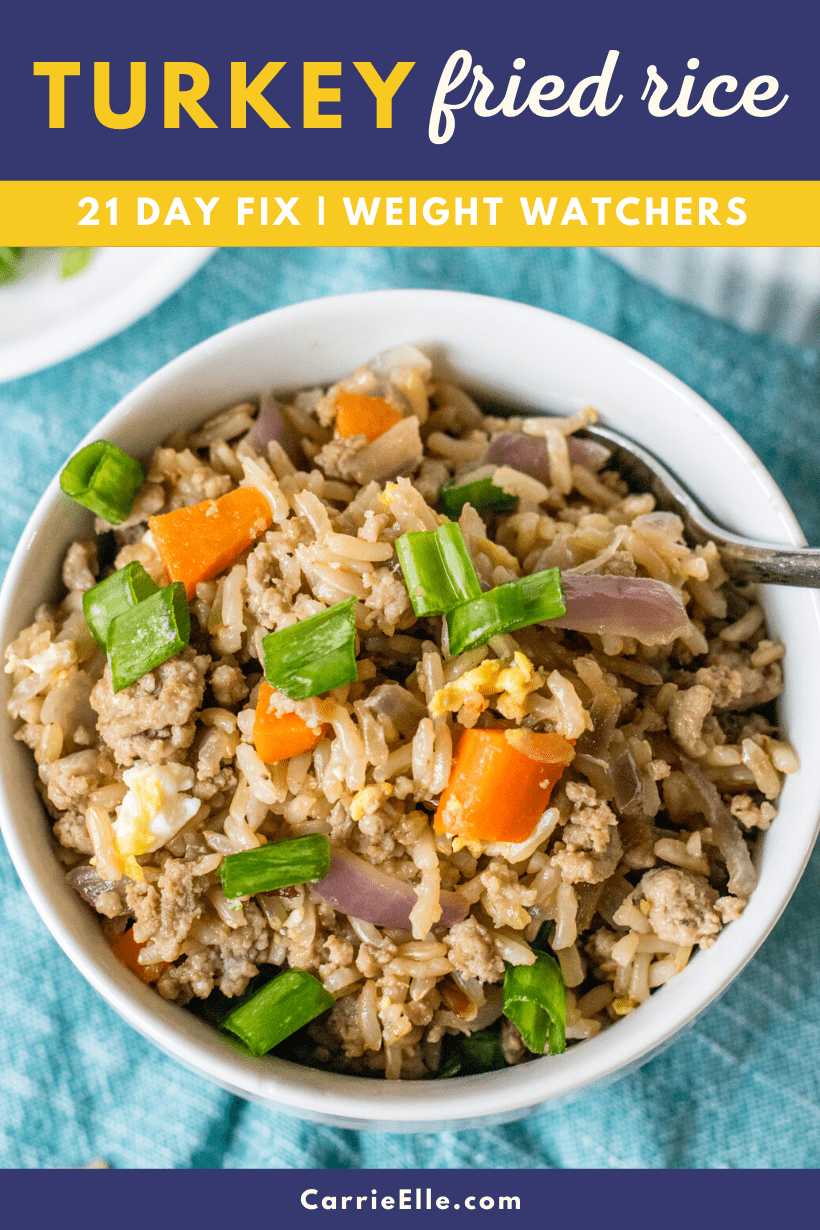 What is Turkey Fried Rice?
You've probably had fried rice before. Most likely you've had chicken fried rice, or shrimp fried rice. But ground turkey also makes for some really good fried rice. We used lean ground turkey, which was the perfet meat for this recipe – it just soaks up all the flavors.
What rice is best for fried rice?
If I were ordering fried rice at my local hibachi restaurant, I'd go with the white rice. But for a healthier, Fix and WW-friendly recipe, we're going to use brown rice for this recipe. Keep in mind that brown rice takes quite a bit longer to cook than regular rice, even in the Instant Pot – so you'll want to start the rice early for this recipe. Or, you could use pre-cooked rice or Instant Rice.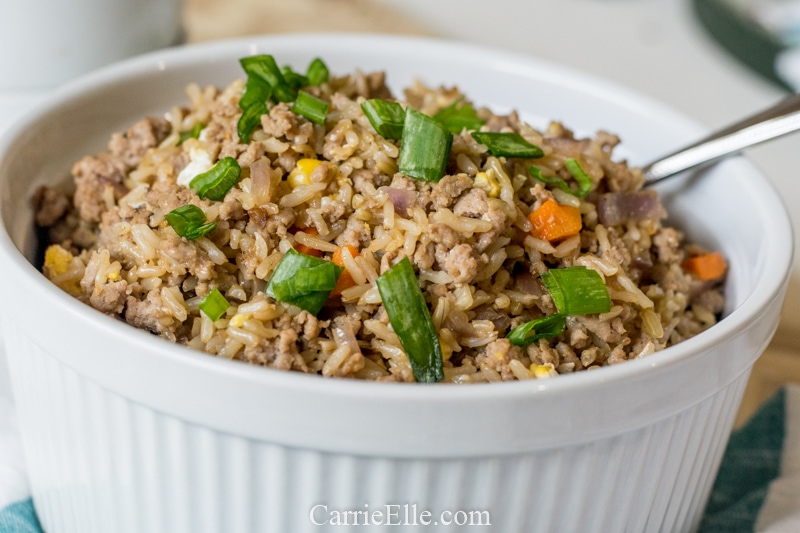 Can you eat fried rice on Weight Watchers?
You can eat anything on Weight Watchers – you just have to count it! Some items obviously have fewer points than others. We used lean ground turkey for this recipe and each serving size is about 1 cup, which is a lot of rice. Use extra lean ground turkey and make the serving just a little bit smaller to reduce points (just changing the turkey to extra lean will make this 7 points instead of 9 per serving).
Can you eat fried rice on the 21 Day Fix?
To keep fried rice 21 Day Fix-approved, you need to make sure you're using brown rice, minimal oil, and minimal salt – so that means avoiding too much soy sauce. If you can stick to those quidelines, you can definitely eat fried rice on the Fix! The recipe here is perfect for the Fix.
Because this recipe is part of Aldi Week, where I'm sharing recipes using ingredients from the budget-friendly Aldi, I want to share the price of this recipe with you, too.
The total cost of this recipe was right around $15, and that includes a new bottle of Sesame Oil. If you already have sesame oil, the cost is closer to $11. If you have rice around the house, take off another $2.50. That price assumes you already have salt, pepper, olive oil, and butter.
Turkey Fried Rice
You're going to love this Turkey Fried Rice recipe! It's perfect for the 21 Day Fix, Weight Watchers, and any healthy eating lifestyle.
Ingredients
1 1/3

c

brown rice

or 4 cups cooked

1

lb

lean ground turkey

1/2

tbsp

garlic powder

1/2

tbsp

extra virgin olive oil

1/2

tbsp

sesame oil

4

garlic cloves

minced

1

red onion

medium, chopped

1

large carrots

peeled and chopped

salt and pepper

to taste

1

egg

1

tbsp

butter

1

tbsp

soy sauce

4

green onions

stalks only, chopped
Instructions
The rice has the longest lead time, so you'll want to start this first (you could even do this the day before, or meal prep in advance). Cook rice to package instructions. I got the rice going in the Instant Pot about 15 minutes before we started the veggies and turkey so it had time to cook (brown rice takes longer, even in the Instant Pot). You could also use Instant Rice that you can just microwave when you're ready for it. If you go this route, make sure that you have 4 cups.

Add your sesame and olive oil to a large saucepan over medium high heat. Add garlic, onion, carrot and salt and pepper to taste. Sautee until onions are translucent, about 10 minutes. Stir regularly.

At the same time, cook your turkey. Use nonstick cooking spray in a medium pan over medium high heat. Break up the turkey and add salt, pepper, and garlic powder. Cook until browned (there should be no pink), probably 7-10 minutes. Remove from heat and drain off any excess oil. You probably won't have much because of the low fat content of the turkey.

In the pan with the veggies, move the veggies to one side of the pan. Use the remaining space to scramble your egg. Add a few drops of oil or nonstick cooking spray so the egg won't stick. If you use cooking spray, make sure you are NOT SPRAYING OVER AN OPEN FLAME (this is for those of you with a gas stovetop).

Add turkey and rice to the pan with the veggies and egg and mix all ingredients together. While mixing, add your butter and soy sauce. Garnish with green onions and serve immediately. Enjoy!
Notes
1 serving size = 1 cup
21 Day Fix Container Counts (rounded up/down to the closest 1/4): 1 1/2 yellow, 1/2 red, 1 1/2 tsp, 1/4 green
Weight Watchers Points
Use Extra Lean Ground Turkey to reduce this recipe to 7 points.
Purple plan: 9 points
Green plan: 9 points
Blue plan: 9 points
Have you made this recipe? Take a picture and share on Instagram or Facebook and tag @carrieelleblog!
Nutrition
Calories:
454
kcal
Carbohydrates:
54
g
Protein:
34
g
Fat:
11
g
Saturated Fat:
4
g
Cholesterol:
111
mg
Sodium:
357
mg
Potassium:
629
mg
Fiber:
3
g
Sugar:
2
g
Vitamin A:
295
IU
Vitamin C:
5
mg
Calcium:
51
mg
Iron:
3
mg
Tried this recipe?
Let us know how it was with a rating and review!
Here are the other Aldi Week recipes:
Zucchini Parmesan Egg Muffins
Veggie Hummus Sandwich
Aldi Charcuterie Board
Aldi Meal Plan
Our family eats a lot of fried rice, so I knew I wanted to bring you a fried rice recipe for