Aldi Week
! I'm starting the week off strong with this
Instant Pot Bolognese Soup
with Pasta. It uses a popular Aldi's ingredient (organic, grass-fed ground beef), but if you don't have an Aldi's near you, have no fear – you can make this hearty soup recipe with ingredients from your local grocery store.
If you do have an Aldi's, I think you'll love this series of Aldi recipes. You can find them all in one place here. I've compiled 7 recipes using ingredients from Aldi's. At the end of the week, I'll also share a printable meal plan and printable grocery with all of the recipes.
I've also done a Trader Joe's Week for you – so be sure to take a lot at that if you have a TJs in your neck of the woods!
What is Bolognese Soup?
When my husband was eating this, he said it was like a delicious bowl of pasta…but in soup form. That basically sums it up. Bolognese is a traditional Italian meat sauce served over pasta. If you follow this blog, you will know that I'm not traditional, so I've simplified the recipe a bit and also made it lower-calorie and less fat. I'll share the changes you can make if you want a richer version (or an even lower-calorie version).
This recipe is based on a Bolognese sauce from my mother-in-law. Actually, it's almost identical, except in a soupified version. If I were making this as a sauce, it would take 4 hours. This Instant Pot soup version comes together in an hour or less.
I used 16 ounces of beef. The original recipe calls for 1 1/2 lb, and you can definitely add that much if you'd like!
What pasta should I use in Bolognese soup?
I used whole wheat fusilli. This is because that's what I had in the pantry. You could use any pasta, but fusilli, rigatoni, penne, and bowtie pasta all come to mind as great options for this Bolognese soup.
If you are not following the 21 Day Fix or Weight Watchers, there's no need to use whole wheat pasta – use whatever you'd like. You can actually use whatever you'd like for Weight Watchers, too, but the points I've calculated for this recipe are based on whole wheat, so keep that in mind if you make any changes.
Can I freeze Bolognese soup?
Yes, you can freeze Bolognese soup, but with a caveat. You don't want to freeze this soup with the pasta in it, because when you thaw or reheat it, the pasta will be mushy. So if you plan on freezing some, set it aside before you mix the pasta in. You can actually freeze the soup (sans pasta) and the pasta separately, and then combine once thawed. You can read more about the best ways to freeze soup here.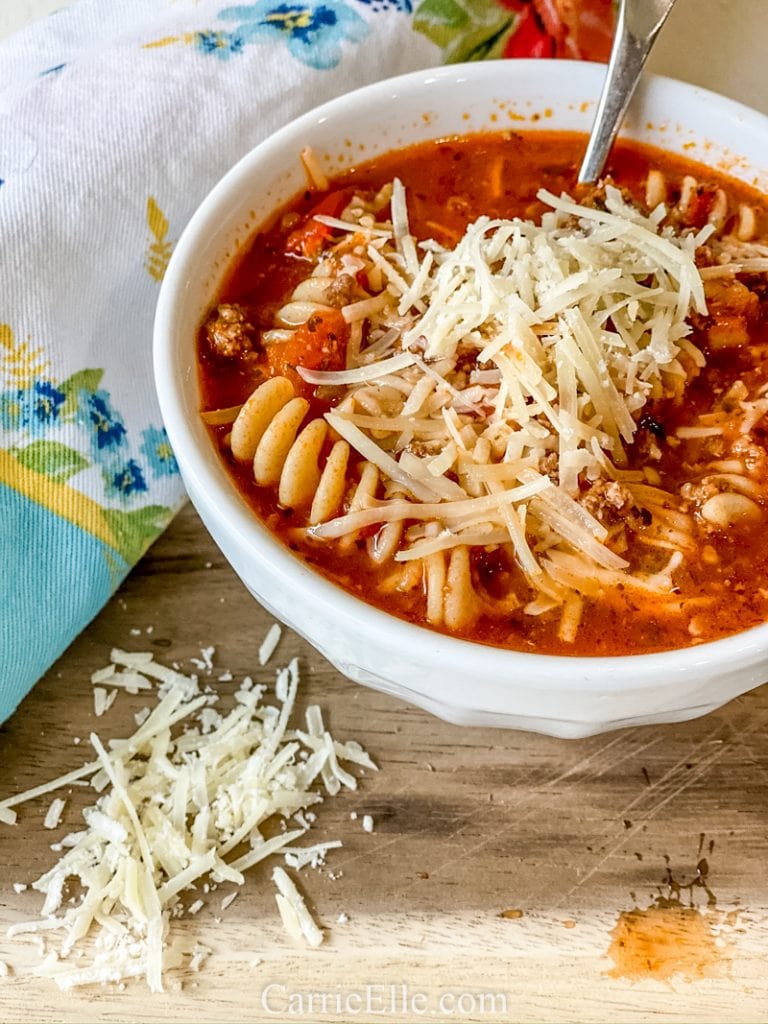 Can I add more veggies to this soup?
For sure! Carrots and celery would be fantastic in this soup. I would cut them into small pieces and saute with the onions.
How can I make this recipe healthier?
This recipe features organic, grass-fed, 85/15 ground beef from Aldi. To be considered "lean," ground beef needs to be 92/8 (that's 8% fat). So, this beef is not technically 21 Day Fix-approved because it's not lean enough. Sub for lean ground beef to make this Fix-approved. You could also sub for turkey to make it even leaner. Using lean ground beef with also get you a lower WW points count (the calculation here is based on 85/15 beef).
Additionally, this soup has some sugar in it. Use raw sugar for the 21 Day Fix. Alternately, you could leave it out completely, but the sugar helps cut the acidity of the tomatoes (I have made the sauce version of this recipe without sugar though, and it's been fine…so I'll leave the sugar up to your discretion).
If you're trying to go low-carb, you could also leave the pasta out completely.
The total cost of this recipe was $13.18, and that includes a new bottle of parsley flakes and a new bottle of bay leaves. If you have those items, this meal is just over $10. That price assumes you have salt, pepper, and olive oil already.
READ THIS FIRST: This recipe was made using a 6qt Instant Pot. If your pot is larger, you'll need to adjust accordingly. Also, altitude can affect your cook time!
Instant Pot Bolognese Soup with Pasta
This Instant Pot Bolognese Soup with Pasta is a hearty meal in a bowl. It makes for fantastic leftovers, and is easy to adapt to your preferences.
Ingredients
2

tsps

extra virgin olive oil

1

onion

chopped

2

garlic cloves

minced

1

lb

ground beef

2

14.5 oz

cans diced tomatoes

with basil, garlic, and oregano

2

8 oz

cans tomato sauce

2

c

chicken broth

or water

2

tbsp

parsley flakes

1

tsp

garlic powder

1

tsp

salt

2

tsp

Italian seasoning

1

bay leaf

optional

1/8

c

sugar

salt and pepper

to taste
Pasta
4

c

fusilli pasta

cooked and drained
Instructions
Turn Instant Pot on to saute'. Add olive oil, onion, and garlic. Saute' until onions start to be translucent and tender.

Remove onions and garlic from Instant Pot and set aside.

Add ground beef to Instant Pot. Brown the beef, using a wooden spoon to break it up as it browns. Pour any excess oil out of the Instant Pot (make sure you are wearing oven mitts or similar protection before touching the pot - it will be hot!). I actually didn't need to drain off any excess oil, but if your meat is fattier you may need to do this.

Add the onion and garlic back to the pot. Add the canned tomatoes, tomato sauce, and chicken broth. Add the spices, bay leaf, and sugar. Stir lightly to mix.

Cover the pot and lock lid in place. Make sure it is in the 'sealed' position. Set manual pressure for 20 minutes. When done, carefully turn the knob to vent and allow steam to quick release.

Cook pasta while soup is cooking.

Once soup is done, stir in pasta. If the soup is too thick, add water or more broth to your liking. However, if you plan on freezing any of the soup, set it aside now without the pasta to freeze. Let cool completely before freezing.

Before serving, be sure to remove the bay leaf. Enjoy!
Notes
This soup may thicken when it cools. You can add more water or broth as needed.
1 serving size = 1 cup.
Use lean ground beef or lean ground turkey to make this 21 Day Fix-compliant.
21 Day Fix Container Counts: 1 red, 1/2 green, 1 yellow, 1 tsp
Weight Watchers Points:
Purple plan: 4 points
Green plan: 5 points
Blue plan: 5 points
Have you made this recipe? Take a picture and share on Instagram or Facebook and tag @carrieelleblog!
Nutrition
Calories:
169
kcal
Carbohydrates:
19
g
Protein:
14
g
Fat:
4
g
Saturated Fat:
1
g
Cholesterol:
28
mg
Sodium:
281
mg
Potassium:
253
mg
Fiber:
1
g
Sugar:
3
g
Vitamin A:
14
IU
Vitamin C:
2
mg
Calcium:
23
mg
Iron:
2
mg
Tried this recipe?
Let us know how it was with a rating and review!
Welcome to