We just got back from Oregon, and it continues to be My Favorite Place. Man, I love it there. I took my eight-year-old daughter with the intention of visiting my grandmother, who is doing poorly. We got to hang out with my mom, sister, brother, BFF, aunt, and grandma. It was this awesome little reunion that I wish I could recreate every year! One of the highlights was the road trip from Portland to Bend – it's this insanely gorgeous drive with a bunch of fun stuff to do on the way…and I want to share some "must-see" stops with you!
Road Trip from Portland to Bend
Bend is located in Central Oregon. It's the high desert, and although you wouldn't think it by looking around (so many trees and mountains!), the dry weather and extra intense sun are definitely desert-ish. I feel like Bend would be a contender for Outdoor Activities Capital of the World if such a thing existed. My grandfather and his wife lived in Bend and nearby Sunriver, Oregon, when we were kids, so Bend was on our list of summer stops in Oregon when I was young (along with Portland and Wallowa Lake).
These days, my friend Jesika lives there – and so I have a great excuse to visit! It's a popular tourist spot because it's just so darn gorgeous and there are so many beautiful places to hike and spend times outdoors.
How long is the drive from Portland to Bend?
The drive is about three hours…unless you make a bunch of stops (me! me!) or get slowed down by snow (also me!). The drive I'm going to share below took us about 6 hours, with three stops. I'm specifically talking about the route that goes over Mt. Hood. There are other, slightly longer options, too.
I met my sister, Polly, at the Portland airport and we picked up our Toyota Highlander that Toyota was so gracious to lend me. I drive a Highlander at home, and it was really nice to ease into another one and not have to learn a new car. This turned out to be especially helpful as we drove through the pass on Mt. Hood during a crazy (to this SoCal/Texas girl) snow storm! Not gonna lie, I was a little bit scared and pretty much ready to head back to Portland as the road turned to slush and the snow beat down on my windowshield faster than my windshield wipers could remove it.
It was a comfort to be in the Highlander and I was so grateful for the All-Wheel-Drive. It also had a DVD player in it, and Claire watched movies while I drove.
One of the reasons we got the Highlander for our personal car is because we love all the room it has inside, especially the third row of seats (which aren't super fun to sit in, but are very nice to have when you're carting around a bunch of people). We used the third row several times on this trip. It's the perfect road trip car.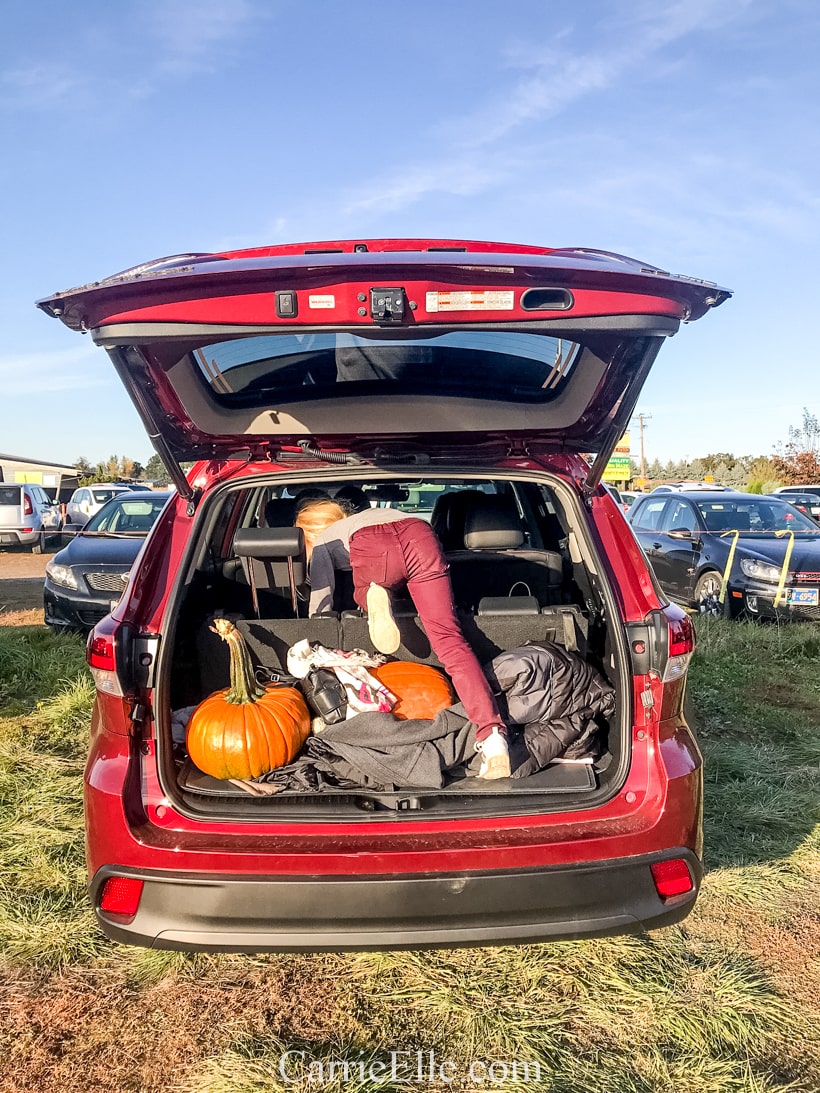 Where should I stop on my road trip from Portland to Bend, Oregon?
I have three places for you to stop, assuming you are taking the Mt. Hood route to Bend.
First up is Timberline Lodge, located in Government Camp. Just a few miles off the main road (get ready for some steep and windy roads with some truly awe-inspiring views), Timberline Lodge is probably most famous for the role it played in The Shining. The exterior shots of the Overlook Hotel in the movie were filmed at Timberline Lodge.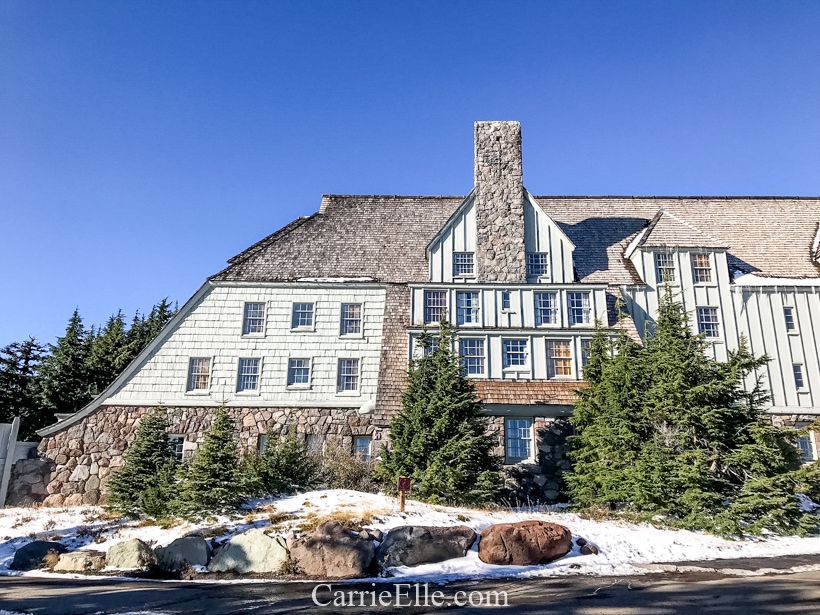 So, that part is cool and all (if you like scary movies), but the really great part about Timberline Lodge is the stunning views it has to offer! We stopped for lunch overlooking a snowy mountain peak at The Ram's Head Bar & Restaurant. There's something magical about eating a giant piece of hot buttered bread with the white-capped mountains surrounding you.
Once you've left Timberline, enjoy the scenery as the road winds back down the mountain and into the high desert. You'll see some incredible gorges and stretches of land. There are a couple of scenic stopping points if you want to get some pictures.
Our next stop was Kamala's Fry Bread, which we only knew about because of the hand-painted cardboard signs on the side of the road. What is fry bread, you ask? That's the question we needed answered when we decided to stop. I mean, I like bread, and I like fried stuff, so I figured a combo of the two would be amazing and I was right. Fry bread is kind of like a giant piece of funnel cake, but without sugar on it (although you'll have many toppings to choose from if you do want something on it!). Located in a teeny trailer in a dirt parking lot, Kamala's Fry Bread was the perfect stop.
Your next stop needs to be Crescent Moon Alpaca Ranch in Terrebonne, Oregon.
Yes. You read that right.
Alpaca ranch. Swoon.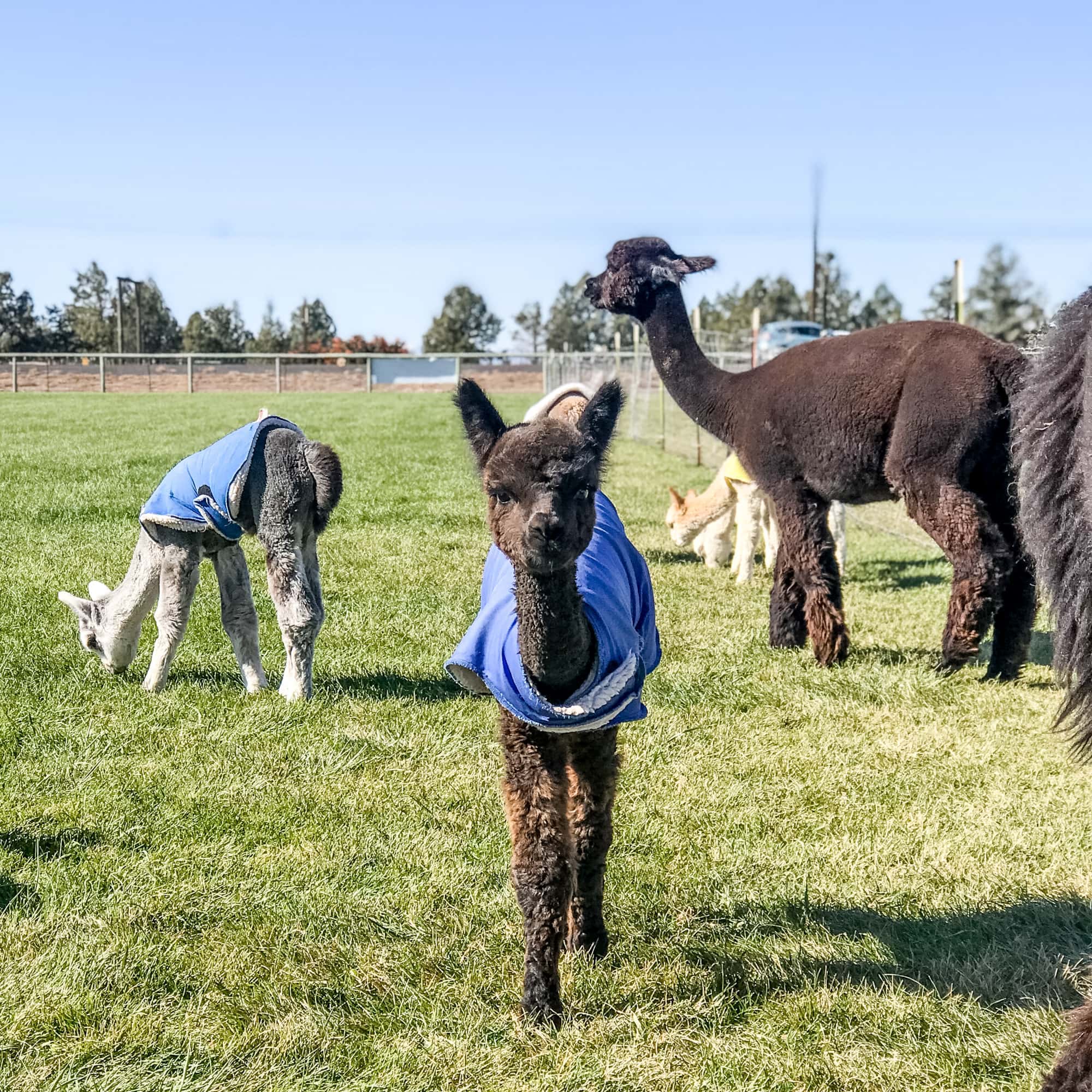 With the cutest shop everrrr (definitely stop here just for the alpaca yarn, if you like to knit or crochet!), you'll not only find yourself suddenly wanting to buy all the alpaca things, but also have the chance to buy some alpaca food – to feed the alpacas!
Two bags of feed are $5, and you'll discover about a gazillion alpacas willing to take it off your hands. Well, maybe not a gazillion (I asked, and 250 is more like it), but the part about them being willing to take it off your hands is definitely accurate.
Between browsing the shop and feeding the critters, we spent about an hour and a half at the alpaca ranch.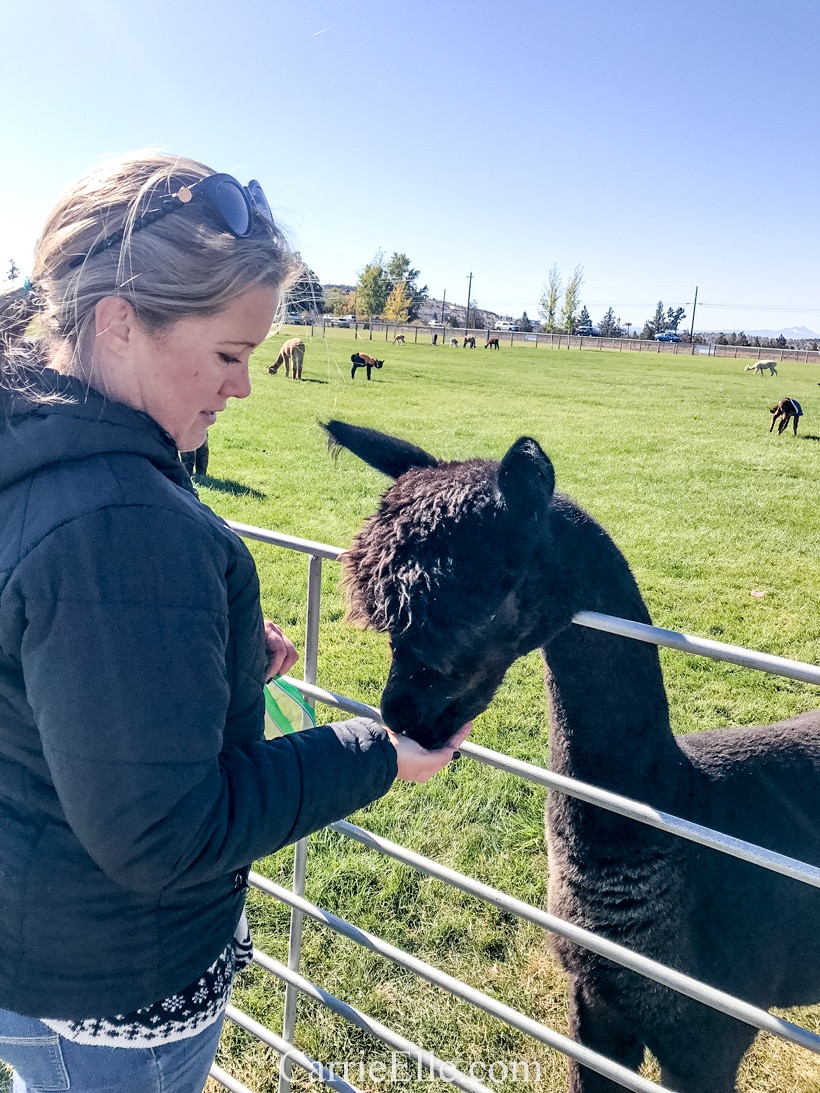 Next up: Bend. You made it! 🙂 Do you have any spots you like to stop at along this road trip? Share in the comments!
Thank you to Toyota for providing a vehicle for my Oregon adventures!