Welcome to my Trader Joe's Week wrap-up, which I'm doing in the form of a printable Trader Joe's Weekly Meal plan with a grocery list. YAY, right? It includes seven yummy dinner recipes and a recipe for Cookie Butter Cookies. Everything you need to know is included in this post. You can grab the printable at the bottom of this post if you want to jump straight there (but I kind of hope you'll read, or at the very least skim, through this post first so you can see my notes and "need to know" comments before you get started).
Trader Joe's Weekly Meal Plan
What is Trader Joe's Week?
As part of my 30 Day Meal Plan Challenge (which is FREE and awesome and I hope you'll join if you haven't already), I decided to put together some new recipes and meal plans from popular grocery stores. Trader Joe's was the first one, but I've got similar meal plans coming up for Aldi, Sprout's, and Costco.
All of the recipes that I've included this week use similar ingredients so you don't have to buy a bunch of ingredients that you won't use.
I'm also including some sides that you can pick up at Trader Joe's, too.
The recipes are simple and many of the side dishes are from the frozen aisle at Trader Joe's.
How many people will these recipes feed?
These recipes will all feed at least 4. See my short notes about each recipe to better understand portion sizes, in case you want to double a recipe or grab some extra sides. The side dish recommendations I've included are all available at TJ's.
Does Trader Joe's deliver?
Booooo, no. You used to be able to use delivery services to have your TJ's groceries delivered, but they quit allowing that. So, back to eternally busy parking lots and feeling like you are always in someone's way when you shop (or is that just me?). For me, it's worth it, because I love so many things from TJ's.
How does the meal plan work?
I've included all seven dinner recipes and the cookie recipe on the meal plan and shopping list. I would probably not make 7 new recipes for my family in one week, and I don't expect most people will (although you totally can, and think of the leftovers you will have!). The shopping list includes ingredients for all the recipes, and they've been combined. If you're not making something, be sure to pull those ingredients from the list.
Also, the shopping list is organized like a Trader Joe's store is organized. I tried to be helpful and group ingredients by location rather than by ingredient type. For example, the pizza dough is not included in the baking or bread section because at TJ's, you'll find it refrigerated between the meat and the cheese! Also, the dairy section is separate from the Meat & Cheese section for the same reason. Yogurt, butter, and eggs are in one section – cheese in another.
One more thing – I did not include the optional side dishes below on the grocery list. So if you love the idea of croissants with your frittata, don't forget to add croissants to the list!
All of the inforamtion below is included in the printable, which is two pages long – one for the meal plan (notes included) and one for the grocery list. Let's get started!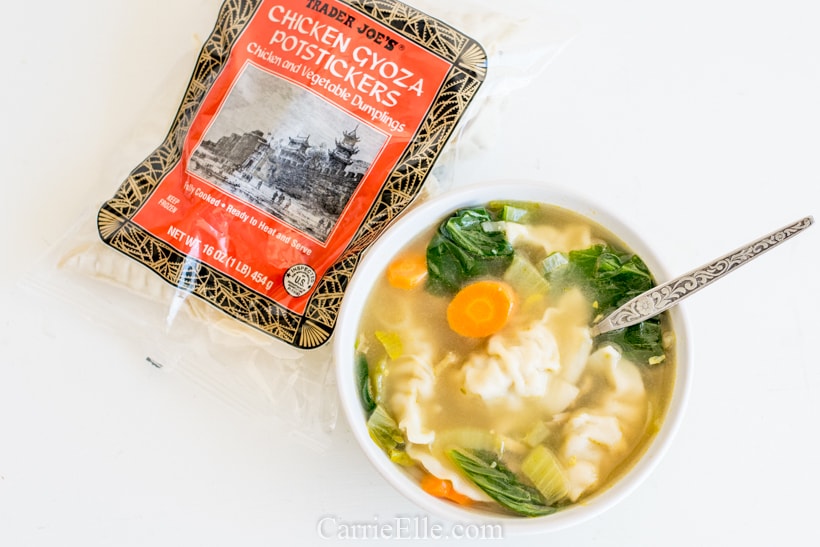 Trader Joe's Weekly Meal Plan
Monday – Instant Pot Tri-tip Fajitas (serves 4)
Tuesday – Parma Rosa Gnocchi with Goat Cheese and Asparagus (serves 4)
Optional side dishes: bread sticks (in the bread section or the frozen section, depending on your preference) and a pre-made salad)
Wednesday – Homemade Margherita Pizza (serves 4, recommend making two pizzas if you have big eaters)
Optional side dishes: bread sticks (in the bread section or the frozen section, depending on your preference) and a pre-made salad
Thursday – Instant Pot Potsticker Soup (serves 6)
Optional side dishes: pre-made Asian-inspired salad or stir-fried veggies (from the frozen aisle, these are really easy to make!)
Friday – Greek Gyro Salad with Tzatziki (serves 4)
This is really a meal in a bowl, but for more substance add extra gyro meat, pita bread, or tzatziki.
Saturday – Sheet Pan Herb-Roasted Chicken with Red Potatoes and Kale
Sunday – Pesto Frittata with Goat Cheese and Asparagus (if you'd prefer to use feta, you can use what's leftover from the Gyro salad and won't have to buy goat cheese)
Optional side dishes: croissants (from the frozen aisle) and a pre-made salad with argula.
Any day / Everyday – Cookie Butter Bookies
Here are some great Trader Joe's snacks/items you might also want to remember to pick up when you're there:
Everything but the Bagel seasoning
Asparagus Risotto (so good)
Peanut Butter & Jelly Granola bars (kid-favorite, and gluten-free)
Cookie Butter
Cauliflower Fried Rice (add an egg for an easy breakfast)
Pre-made Salads (in the produce section, these are the best!)
Charles Shaw Wine (two-buck Chuck is a favorite around here)
You can download the printable Trader Joe's Weekly Meal Plan and shopping list below. If you have any trouble, email us at [email protected] and we'll get you the file.


Also – before you go – be sure to join my 30 Day Meal Plan Challenge for lots of recipes, free printables, and meal planning support!