I've learned to love cauliflower over the years. It's very versatile, easy to sneak into recipes, and really takes up the flavor of what you cook it with. I know it's not the same as mashed potatoes, but this Garlic and Chive Cauliflower Mash is a great low-carb substitute for the 21 Day Fix, Weight Watchers, and any low-carb, whole foods lifestyle.
Does mashed cauliflower taste like mashed potatoes?
Sorry to be the bearer of bad news, but no. It does not taste the same, and if someone tries to tell you otherwise they are wrong. Mashed cauliflower tastes like cauliflower. However, like I mentioned above, it takes on the flavors of what you cook it with. Also, it's easy to get a creamy, potato-y texture. So while I would not say this tastes the same as a big ol' scoop of butter mashed potaters, I will say it's a great sub if you're counting carbs or calories, or just looking for something lighter to stand in for those potatoes!
Here are some other ways to eat your cauliflower that I really, really like:
Creamy Cauliflower & Goat Cheese Soup (this might actually be my very favorite way to eat cauliflower!)
How to make mashed cauliflower more like mashed potatoes
While you aren't going to ever turn a cauliflower into a potato, there are some tweaks you can make to this recipe to make it feel like potatoes (and maybe even trick your kids?).
First of all, this recipe uses olive oil, chives, and garlic. You could swap out the olive oil for butter (I'd go with a grass-fed, salted butter because that's where it's at) and the container counts and WW points would stay the same. Butter just feels like potatoes, you know? You could also add some extra butter to this recipe just to give it some of that buttery goodness.
I also think this recipe is great with some grated cheddar cheese on top. Cheese makes everything better! And to be clear, I realize I'm making this recipe sound like it's bad. It's not bad! It's really, really good. Imagine a really well-seasoned califlower dish, mashed, and there ya go.
It's just that for years I have been seeing food bloggers claim their cauliflower tastes just like mashed potatoes, and to that I just want to say, "nah."
Mashed Cauliflower Side Dish
This garlic and chive cauliflower mash makes the perfect side dish to any protein. This recipe is vegan (unless you use butter) and loaded with cauliflower goodness. It makes a great side for your holiday table, too.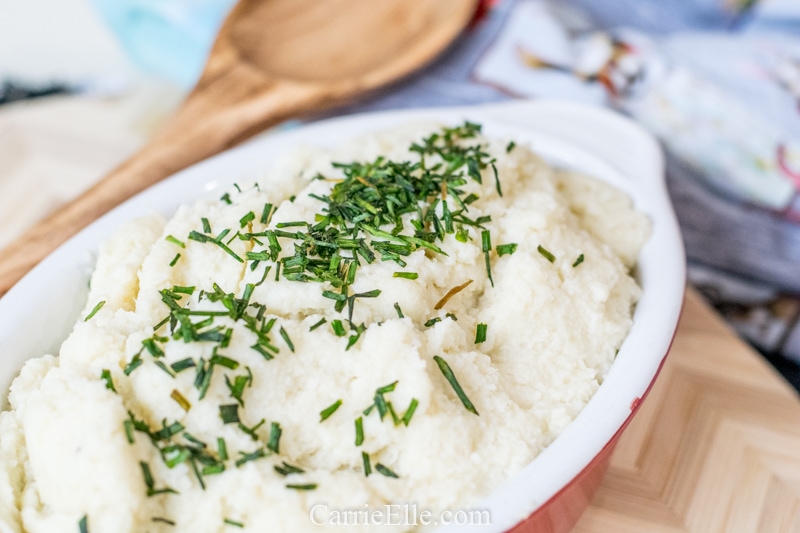 Garlic and Chive Cauliflower Mash | 21 Day Fix | Weight Watchers
This Garlic and Chive Cauliflower Mash is a low-carb sub for potatoes at the dinner table.
Ingredients
24

oz

cauliflower florets

frozen

2

garlic cloves

peeled

2

tbsp

extra virgin olive oil

2

tbsp

unsweetened almond milk

1

tsp

garlic powder

1

tsp

onion powder

sea salt and black pepper

to taste

3

tbsp

chives

chopped
Instructions
Steam the cauliflower and garlic. I dumped the cauliflower and garlic into a microwave-safe dish, added two tablespoons of water, covered it, and steamed in the microwave for about 6-7 minutes. You can steam your cauliflower and garlic using whatever method you prefer. It needs to be fork-tender.

Carefully transfer the cauliflower and garlic to a food processor or blender and add the olive oil, almond milk, garlic powder, onion powder, salt, and pepper. Process until smooth and creamy. Taste and adjust seasonings as desired.

Transfer to a serving bowl and top with fresh chives before serving. You can also add grated cheddar to make it feel more potato-ish!
Notes
This recipe makes 4 servings. One serving is about 3/4 cup. Don't forget to count your toppings! They are not included in these counts.
21 Day Fix Container Counts (rounded up/down to the closest 1/4): 1 1/5 tsp, 3/4 green
Weight Watchers Points
Purple plan: 2 points
Green plan: 2 points
Blue plan: 2 points
Have you made this recipe? Take a picture and share on Instagram or Facebook and tag @carrieelleblog!
Nutrition
Calories:
113
kcal
Carbohydrates:
10
g
Protein:
4
g
Fat:
8
g
Saturated Fat:
1
g
Sodium:
62
mg
Potassium:
518
mg
Fiber:
4
g
Sugar:
3
g
Vitamin A:
98
IU
Vitamin C:
84
mg
Calcium:
49
mg
Iron:
1
mg
Tried this recipe?
Let us know how it was with a rating and review!
I hope you enjoy this easy-to-make cauliflower recipe as much as I did!