You know what you need for your meal planning journey? You need a pretty Printable Weekly Meal Planner for fall! 🙂 OK, you can probably make it without out, but this meal planner is so cute (I am loving the brown and tan buffalo check) that it's going to make you excited to meal plan.
Printable Weekly Meal Planner for Fall
I really do believe planning is more fun when it's pretty (although all you really need to meal plan is any old piece of paper and writing utensil you have nearby). I am kind of obsessed with this particular buffalo check and have several free printables I'm working on that use this cute print.
If you're looking for other fall-related meal planning pages, check out this weekly meal planning page, this Halloween-themed page, and this page that is perfect for November! You can find the entire collection of free seasonal meal planning pages here.
If you're looking for tips to make beautiful printables, read this post about how to print pro-quality printables.
How do I use meal planning templates?
My meal planning templates are super flexible and can be put to work in whatever way works best for you. You might use them for just planning dinners, but some people like to plan every meal! You can plan a week at a time, but you may save even more time if you plan a few weeks or even the whole month at once.
The right side of the page has a handy spot to fill in your grocery list to take to the store with you too.
TIP: Don't throw away your old meal plans! Save them for future weeks when you need some meal planning inspiration.
Where can I find more meal planning help?
If you need some ideas for more than just Thanksgiving dinner, we have plenty of other resources for you. If you don't know where to start, start here – our free 30 Day Meal Plan Challenge. You'll get tons of meal planning help and recipes and go from NO meal plan to a month's worth of dinners all planned out in just 30 days!
Can you give me some recipe or meal ideas for fall?
Yes! Let's fill up that meal plan with healthy and hearty fall meals, shall we?
You can't go wrong with this Instant Pot Bolognese Soup. It's so delicious, and comes together quickly and easily. I am also a big fan of this Crock Pot Butternut Squash soup (I really like soup in the fall). This Pumpkin Alfredo Pasta also feels like fall. Taco-stuffed Acorn Squash is always a winner. And for dessert, how about some pumpkin blondies? And finally…if you need more choices…here's a collection of 70 Crock Pot recipes that are all under 500 calories (soup, pumpkin, and crock pot = FALL).
Do you need any other printables for fall?
Here is a cute Printable Thanksgiving Table Setting for Kids and Free Thanksgiving Printables: Thanksgiving Place Cards to get your table looking nice. This Free Thanksgiving Printable Wall Art will help decorate and these Printable Thanksgiving Planner Stickers will take your holiday organization to the next level. And here's another set of cute printable Thanksgiving stickers for you!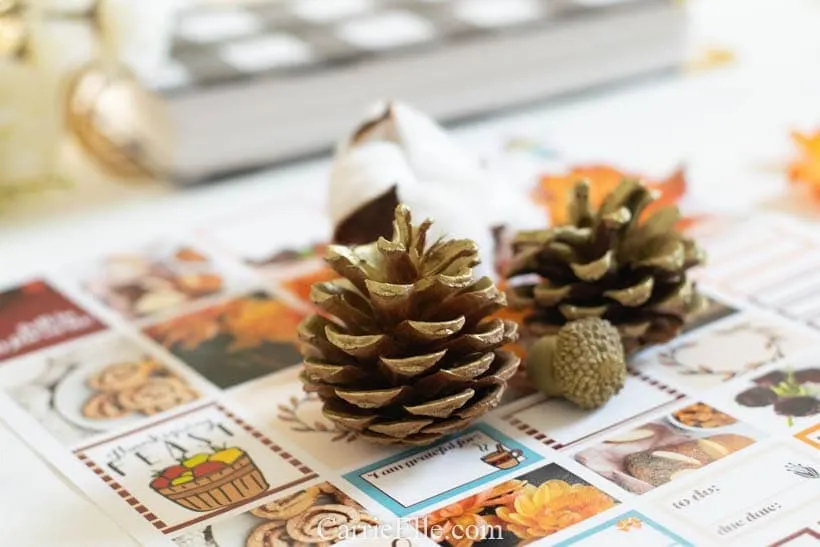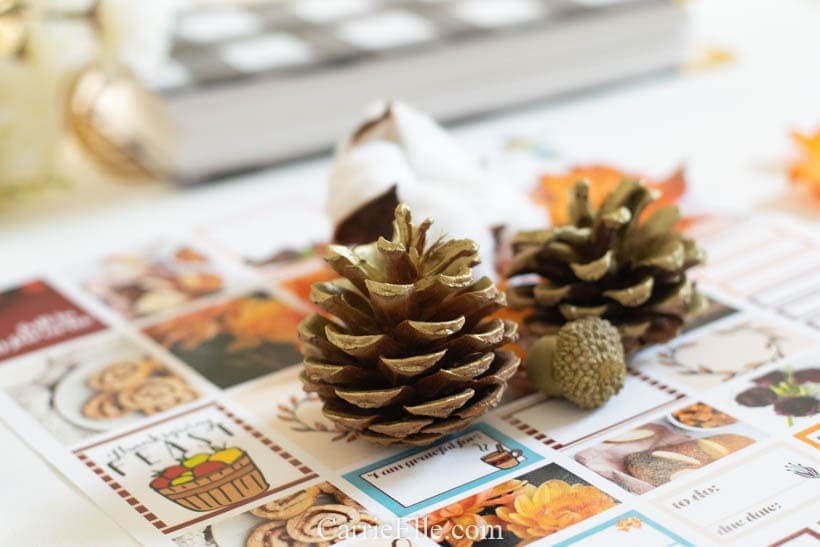 Now on to that meal planning printable!
Free Meal Planning Printable Download for Fall
For more printables, you can join the Carrie Elle Printable Club. The Printable Club puts hundreds of printables (planners, meal planning, ebooks, party printables, coloring pages, and so much more) right at your fingertips. You get instant access to everything that I've ever uploaded, plus all new uploads (about 10-15 new ones every month) for an entire year, for one low price. The Printable Club gives you access to all printable from my blogs in an ad-free experience, along with all of the printables I sell in the shop, AND exclusive content every month that you can only get as a member. Use couponcode BLOGREADER for $10 off your membership!
Time for your meal planning printable! Download by clicking the black "download" button below. If you have issues retrieving your files, please email us at service@carrieelle.com and we'll get them to you! 🙂