You know what I did differently this year?
I did my kids' Valentines early. Instead of rushing to Target at 7PM on February 13th and elbowing through crowds of crabby parents looking for the last box of Star Wars Valentines because apparently none of us could be bothered to pick up a box of Valentines during one of the previous 32 trips to Target I *know* we had all made in the last three weeks, I did mine ahead. Way ahead.
I love the way these LEGO movie Valentines turned out! And I made a free Lego Valentine printable for you, HOLLA!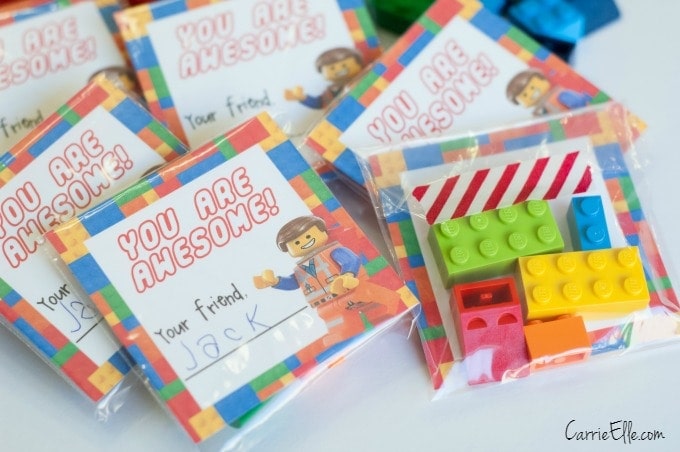 These were really easy. Unlike other "DIY" Valentines that require things like tricky cutting and gluing and glitter (not that I don't love glitter…!!!), I made these as simple as possible. Because there is nothing more annoying than a printable with weird edges that you need to cut out. Also, I wanted to make sure this was something the kids could actually help with, because the idea of making all the Valentines for both kids?
Ain't nobody got time for that, y'all!
But if you do end up making them all yourself, have no fear. I promise these are simple. In fact, after I did a few, I put the six-year-old to work and made him do the rest (it's his party, right?!).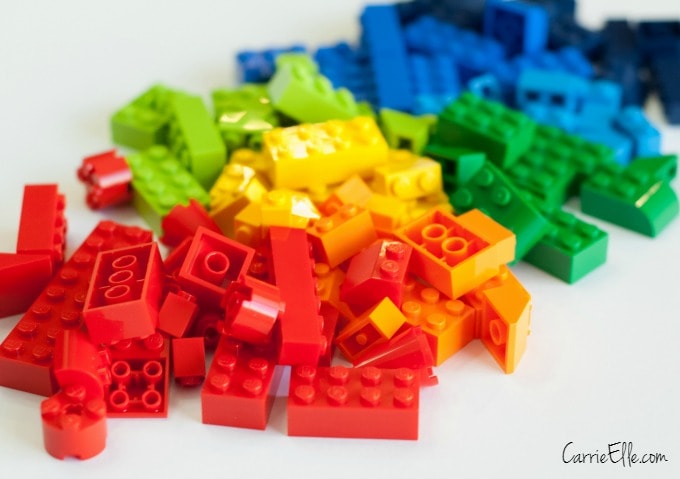 Here's what you need to make these:
Free printable (included – scroll down to download). There are two sheets – Side A and Side B. Each sheet has 6 Valentines on it. Print out Side A and then return the pages to the printer to print Side B. If you print these actual size, they will be 2.75″ across, which is the perfect size for the little baggies I used. To make the process even easier, just print the side with Emmet and don't bother printing the second side.
Baggies – I bought these at Michael's. They were 3″ x 4″ and cost maybe $.99. That was the only thing I went into Michael's for. So don't ask me how my final bill was $32 and included buttons, candy, and card stock!
Washi tape (but really, any tape will do) – I used some I had around the house.
Legos!
I bought this Lego set on Amazon. There were enough to create 20 Valentines, with each kid receiving a red, orange, yellow, blue and green lego.
Have your kid write their name on the Valentines, cut them out, stick them in a baggie, add some Legos (I was pretty methodical about making sure each kid got the same colors, because…kindergartners!), and seal with a piece of washi tape.
So easy, even a six-year-old can do it! 🙂
Click on the black and white download button to download the files. If you have trouble, you can try clicking here or email me and I will send you the files directly.


I'm feeling pretty on top of things today…it's not often (if EVER!) that I A) have the energy to make our own Valentines for the kids, and B) actually make them (I make all kinds of awesome stuff in my head…but it's kind of a miracle when any of it comes to fruition).
I hope you (and your kids) love these DIY Lego Movie Valentines as much as Jack does!