Crock Pot Curried Butternut Squash Soup
is a new addition to my collection of
soup recipes
. It's rich and creamy and full of vibrant flavors. Also, it manages to be a ZERO POINT recipe if you're following Weight Watchers!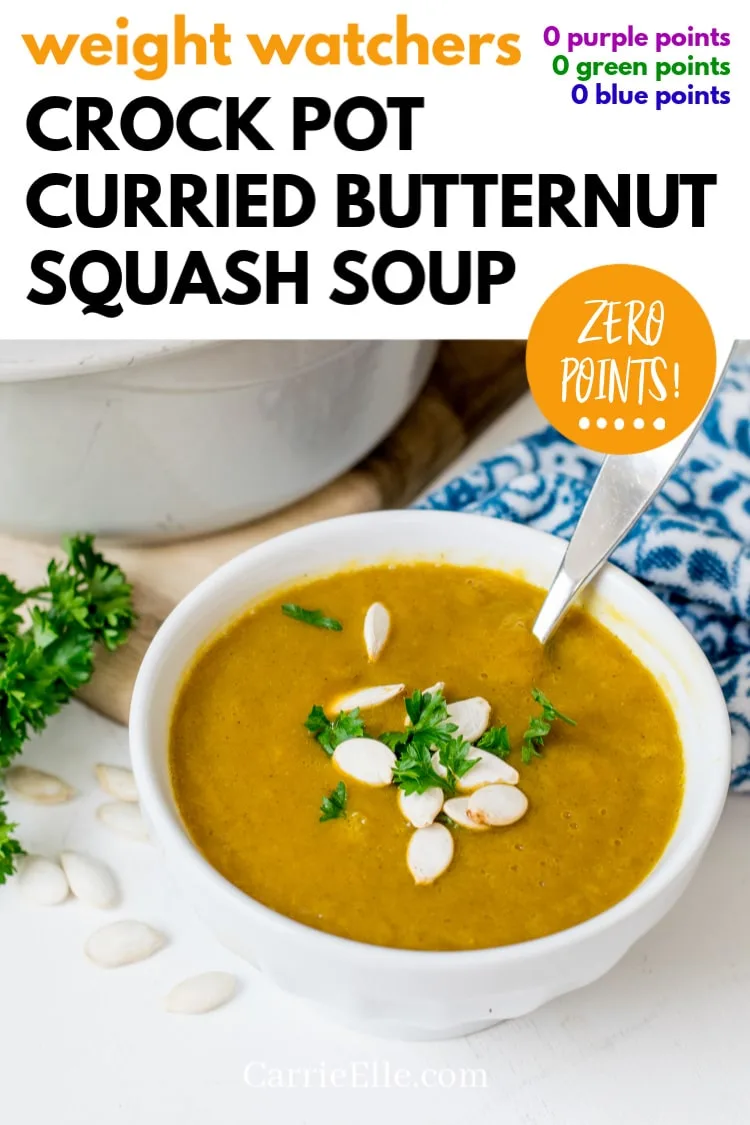 Crock Pot Curried Butternut Squash Soup
This Crock Pot soup recipe is zero WW points and also a fantastic 21 Day Fix option (a great way to get in those fruits and veggies). It freezes really well, too – I currently have four cups frozen in my freezer! I use Souper Cubes to freeze soup (and pasta, and ground beef, and basically anything!). I have been using these for awhile now and I 100% recommend.
Can you use frozen ingredients in the Crock Pot?
Yep! Using frozen ingredients might affect the cooking time, but you can definitely put frozen items in your slow cooker. The recipe I'm sharing today calls for 6 cups of cubed butternut squash. I bought it frozen and cubed (in the frozen veggie section at my local grocery store) and dumped it directly into the slow cooker without thawing.
How to prepare butternut squash for soup
Like I mentioned, I bought the butternut squash frozen and already cubed. You can also buy it cubed in the product section of your grocery store (not frozen). Or, you can prep it yourself!
If you've never cut up a butternut squash before, I recommend checking out a quick YouTube video for a tutorial. Or, check out this post with a great picture (and video) tutorial.
Ideally, you'll want smallish cubes of squash (about 1/2″).
What should I serve with butternut squash soup?
This recipe goes great with any protein or side salad, although I feel like the flavor in this soup makes it a great side dish to any mild chicken or pork dish. It does have a nice fall vibe (although it's currently May as I write this), and will go well with popular fall produce like pears and apples. I like to eat this as the main dish, with a side salad and a piece of crusty, buttery bread.
I topped this soup with pumpkin seeds and parsley (of course, you'll need to add those to your tracking if you're following WW or 21 Day Fix). Other options would be croutons, no-shell pepitas, or even a dollop of sour cream.
What is the best blender for soup?
Once this soup is done in the slow cooker, it requires blending. You can blend in your blender or use an immersion blender. I use my immersion blender a lot, and it will work well for this recipe. I have a relatively inexpensive immersion blender and I've been happy with it. For years, we also had an inexpensive blender and that worked fine, too.
HOWEVER. A few weeks ago we splurged on a Vitamix and I am here to preach it, sister. We got ours at Costco. It's probably the most expensive appliance in our kitchen, aside from the oven and fridge. But it is worth every. single. penny. Also, it comes with a 7-year warranty, which makes the cost easier to swallow. We've been using it for smoothies, soups, and even to make oat flour.
If a Vitamix is in your budget, I recommend doing some research and seeing if it might the right blender for you. If it's not in your budget, I recommend saving for it rather than purchasing a lesser one that you're going to be replacing every couple years.
Just to be clear, though, a regular blender will be perfectly fine for this recipe! We used the same blender for years…it was broken and I had to hold a towel over the top every time I used it, but it did the job.
Creamy Pumpkin Gouda Soup
This Creamy Pumpkin Gouda Soup recipe is so rich with flavor. It's perfect for the 21 Day Fix or any container program. It also freezes really week!
Ingredients
3/4

c

low-fat Greek yogurt

3/4

c

unsweetened almond milk

1

tbsp

evoo

2

carrots

medium, peeled and chopped (about 2 cups)

1

onion

chopped (about 1 cup)

3

garlic cloves

minced

6

c

low-sodium chicken broth

30

oz

pumpkin puree

2 15 oz. cans

1/4

tsp

ground nutmeg

1/4

tsp

ground sage

salt and pepper

to taste
Toppings
toasted pumpkin seeds

finely chopped parsley

shredded gouda
Instructions
In a medium bowl, mix together your Greek yogurt and almond milk. I used an electric mixer, and mixed until frothy. This is your heavy whipping cream substitute. Set aside.

Heat a large pot over medium heat. Add your olive oil or butter. Add your chopped carrots and onions and saute until onions start to be translucent. Add garlic and saute for one minute longer. Season lightly with salt and pepper.

Stir in your broth, pumpkin, nutmeg, and sage. Add any additional salt and pepper, to taste. Bring to a boil. Reduce heat and let simmer, uncovered, for 10 minutes.

Cool slightly before processing soup in batches in a blender until smooth. Be careful – it will be hot! You can also use an immersion blender for this step if you have one. Once it has all been blended, return to the original pot.

Stir in your Greek yogurt/almond milk "cream" until thoroughly mixed and heated throughout. Add cheese, and stir until melted.

Garnish with toppings of your choice.
Notes
Serving size = about 1 1/2 cup
21 Day Fix Container Counts (I rounded up a little when in between measurements):
1/4 green

1/2 purple

1/2 red

1/2 blue

1/2 tsp (but barely even that...I don't count it when I'm tracking my containers and eat this)
Did you make this recipe? Tag @carrieelleblog if you share on IG or Facebook! We love to see what you're making.
Nutrition
Calories:

151

kcal

Carbohydrates:

20

g

Protein:

10

g

Fat:

5

g

Saturated Fat:

1

g

Polyunsaturated Fat:

1

g

Monounsaturated Fat:

3

g

Cholesterol:

2

mg

Sodium:

145

mg

Potassium:

593

mg

Fiber:

5

g

Sugar:

8

g

Vitamin A:

25474

IU

Vitamin C:

9

mg

Calcium:

131

mg

Iron:

3

mg

Tried this recipe?

Let us know how it was with a rating and review!

I hope you love this one! Here are some other soup recipes that you can make in your slow cooker:

My Crock Pot is one hard-working appliance. We use it all the time, and have been for years! Honestly, it's kind of a miracle it even works after all these years. I keep telling myself I'm going to buy a new one, but if it ain't broke…right? This