This 21 Day Fix Double Chocolate Peanut Butter Shake is my favorite way to satisfy my cravings for something sweet. This has been my favorite shake for awhile, but I recently added a "secret" ingredient that took it from good to ACTUALLY DELICIOUS. I'm going to share the recipe I use and the brands I buy below!
First, a couple of notes about protein shakes on the 21 Day Fix and Weight Watchers.
Do I need to drink shakes for the 21 Day Fix?
You totally do not need to do shakes to lose weight. This goes for both the 21 Day Fix and Weight Watchers. I've found that shakes are a great way to get in my protein and veggies (I always struggle with getting enough protein and veggies!). They're also great to use as a meal on-the-go because they're portable and easy to drink.
I like Orgain protein shakes, but you can use your favorite chocolate protein powder for this recipe. I've gone back and forth on shake brands. You can see some other Shakeology alternatives here. When it came to finding a shake brand, the deciding factors for me were cost and ingredients.
Just remember to look for a protein powder that has ingredients you recognize and isn't loaded with sugar.
You could also use a vanilla protein powder if that's what you have, but for the extra chocolate, I recommend chocolate!
How to make a protein shake extra delicious
Now for my "secret" ingredient (which really isn't secret at all): cocoa powder. This is the brand I use (but again, you could use any brand). I use two heaping tablespoons in this recipe. If you're unsure, you can always start with less and add more if you like/want it.
21 Day Fix Double Chocolate Peanut Butter Shake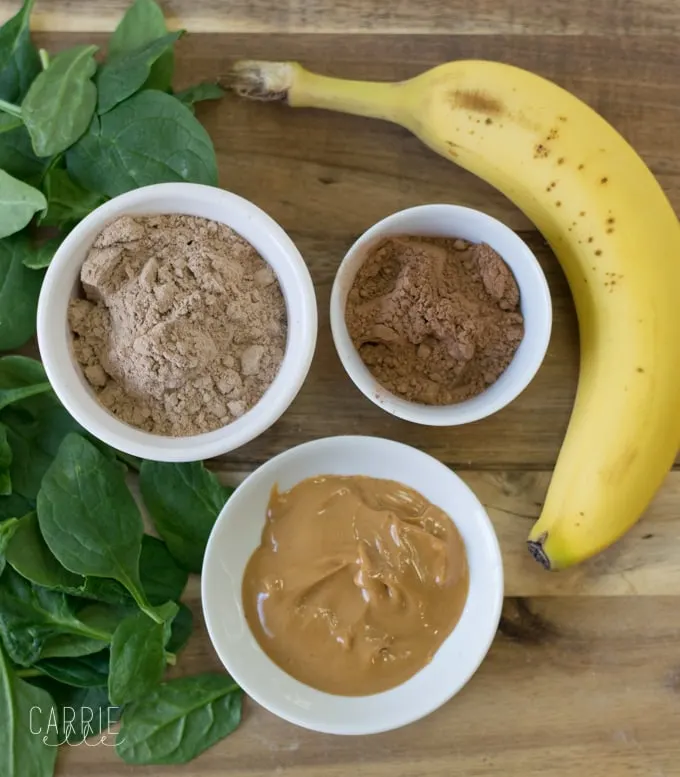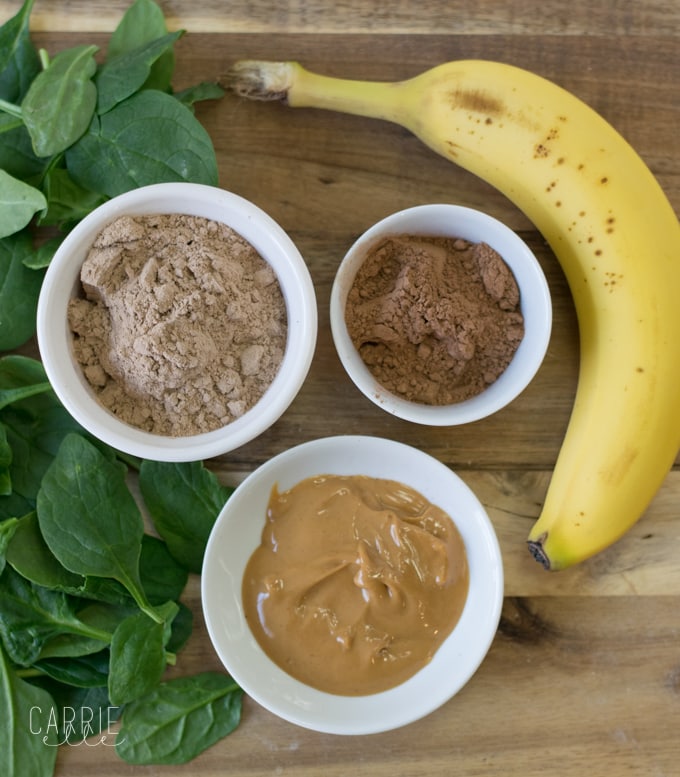 Here are the ingredients you'll need to make this yummy shake:
16 ounces ice
8-10 ounces water (you could also use almond milk, but the nutritional data reflects water)
Chocolate protein powder (I use two scoops of Orgain)
2 TBS cocoa powder
1 banana (if you're short on purple containers, use half)
Peanut Butter (use as many tsps as you have on your plan for the 21 Day Fix. For WW, the nutritional data in this post reflects two teaspoons)
Spinach (handful…I like to use close to one full cup of spinach – if you're unsure about the spinach, start small and increase it next time!)
Toss it all into the blender and mix it. I use a Vitamix. We finally broke down and bought one a few months ago and it has been worth every single penny. We got ours at Costco but you can find one on Amazon, too (highly recommend if you do lots of shakes and smoothies!).
If it's too thick, add more water.
Double Chocolate Peanut Butter Shake
This chocolate shake is a great meal replacement shake for the 21 Day Fix and Weight Watchers. It's full of chocolate and is also a fantastic way to curb that sweet tooth!
Ingredients
8

oz

water

1

banana

2

scoops

chocolate protein powder

2

tsps

peanut butter

1

c

spinach

16

oz

ice
Instructions
Put ingredients in blender and blend on high until well mixed. If the shake is too thick, add more water until it reaches the consistency you prefer.
Notes
Prefer almond milk? You can swap out the water for almond milk. Remember to update points/container counts as necessary.
To reduce the recipe by 1 WW point, use 1 tablespoon of cocoa powder instead of 2.
21 Day Fix Container Counts: 1 red, 1 green, 1 purple, 2 tsps
Weight Watchers Points
Purple plan: 6 points
Green plan: 6 points
Blue plan: 6 points
Have you made this recipe? Take a picture and share on Instagram or Facebook and tag @carrieelleblog!
Nutrition
Calories:
400
kcal
Carbohydrates:
45
g
Protein:
41
g
Fat:
12
g
Saturated Fat:
4
g
Cholesterol:
71
mg
Sodium:
379
mg
Potassium:
1153
mg
Fiber:
14
g
Sugar:
18
g
Vitamin A:
2889
IU
Vitamin C:
19
mg
Calcium:
449
mg
Iron:
1
mg
Tried this recipe?
Let us know how it was with a rating and review!
Here are the container counts: 1 red, 1 green, 2 purple, 2 tsp
I often use this to replace my lunch, or drink it in the afternoon when the afternoon slump hits…and begs me to eat all the chocolate.
How do you like your shake? Let me know below!
Join me on Facebook for 21 Day Fix recipes, free printables, and planning and organizing help!
I also think you'll like the posts below…click on the images to go the post.