This 21 Day Fix Double Chocolate Peanut Butter Shake is my favorite way to satisfy my cravings for something sweet. This has been my favorite shake for awhile, but I recently added a "secret" ingredient that took it from good to ACTUALLY DELICIOUS. I'm going to share the recipe I use and the brands I buy below!
First, a couple of notes about protein shakes on the 21 Day Fix.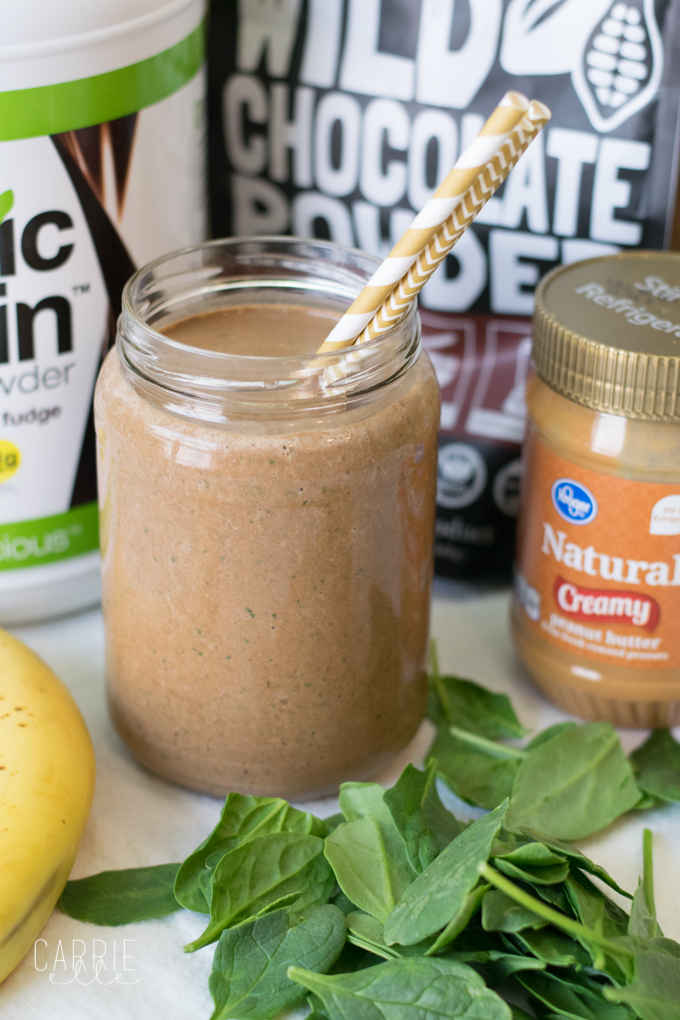 You totally do not need to do shakes to lose weight. I've found that shakes are a great way to get in my protein and veggies (I always struggle with getting enough protein and veggies!). They're also great to use as a meal on-the-go because they're portable and easy to drink.
I use Orgain protein shakes. You can read my full post about why I use Orgain here (there are also some other shake recommendations, and a comparison between Shakeology and a few other brands). When it came to finding a shake brand, the deciding factors for me were cost and ingredients.
I've been happy with Orgain, but you can use any chocolate protein powder for this recipe. Just remember to look for a protein powder that has ingredients you recognize and isn't loaded with sugar.
Now for my "secret" ingredient (which really isn't secret at all): cocoa powder. This is the brand I use (but again, you could use any brand). It's hard to pin down the official 21 Day Fix rules on cocoa powder. I couldn't find an official statement on it anywhere, but I have found several Beachbody recipes that use it and don't count it towards a container. Just use your discretion here.
21 Day Fix Double Chocolate Peanut Butter Shake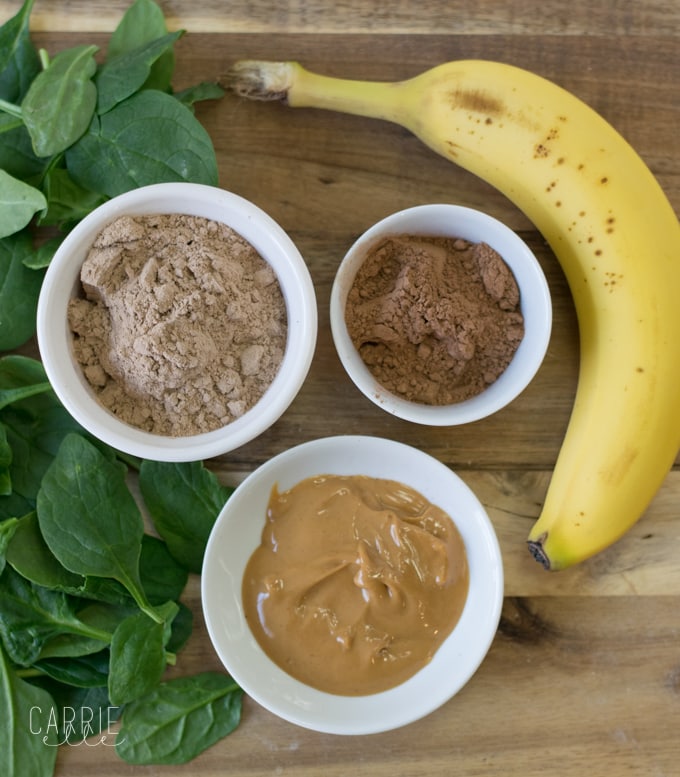 Here are the ingredients:
16 ounces ice
8-10 ounces water
Chocolate protein poweder (I use two scoops of Orgain)
1 TBS cocoa powder (I actually use two, but this does have calories…so to keep it compliant, I will officially recommend one)
1 banana (if you're short on purple containers, use half)
Peanut Butter (use as many tsps as you have on your plan…I use two tablespoons because LIFE IS SHORT, but I totally realize this is more than I should use)
Spinach (handful…I like to use close to one full cup of spinach – I think it makes me feel better about all the peanut butter I'm using)

Toss it all into the blender and mix it. If it's too thick, add more water.
Here are the container counts: 1 red, 1 green, 2 purple, 2 tsp
I often use this to replace my lunch, or drink it in the afternoon when the afternoon slump hits…and begs me to eat all the chocolate.
How do you like your shake? Let me know below!
Join me on Facebook for 21 Day Fix recipes, free printables, and planning and organizing help!
I also think you'll like the posts below…click on the images to go the post.