Contributor Chellie (who blogs at her stunningly beautiful food blog, Art From My Table) is sharing this fantastic 21 Day Fix Crock Pot Chili recipe with us today…and it looks AMAZING!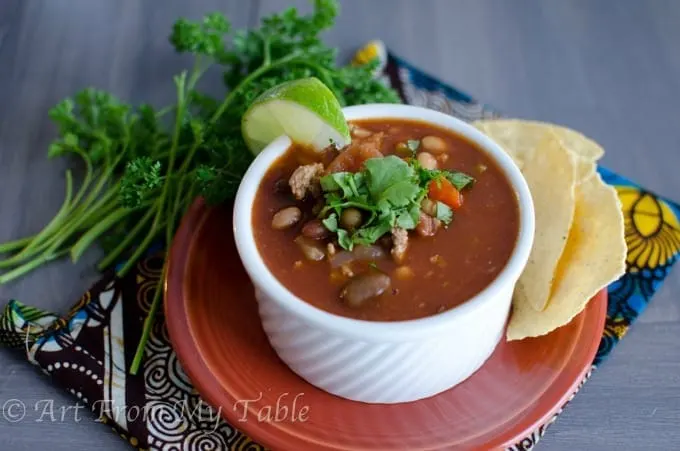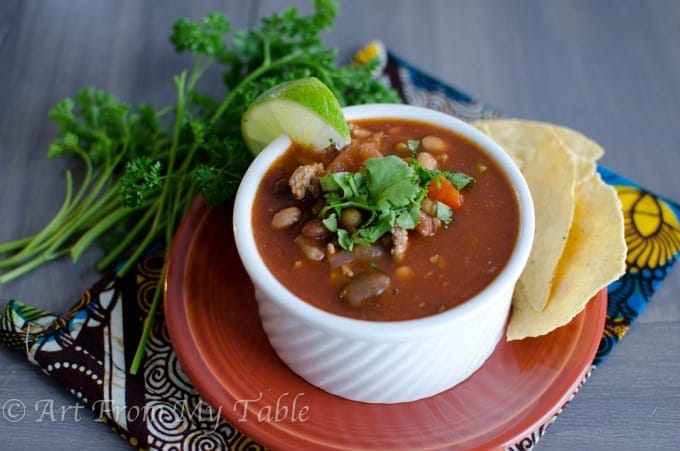 Fresh ingredients take this Slow Cooker Turkey Chili over the top delicious and the best news? It's 21 Day Fix approved!
If you're one of my 21 day fix friends, you are going to love this Turkey Chili!! Best of all, you can whip it up in your slow cooker, get on with your day, and have a hot comforting meal by the time dinner rolls around. Did I just say that? "dinner ROLLS around"? Haha! I'm getting more cheesy every day. I did it again.
We had this last night, and it was darn delicious! Plus, easy peasy to prepare. Here's my hot tip~to make your life just a tad bit easier, prep your veggies and meat the night before, so you can dump and run in the morning. I know, that was totally worth the read right there!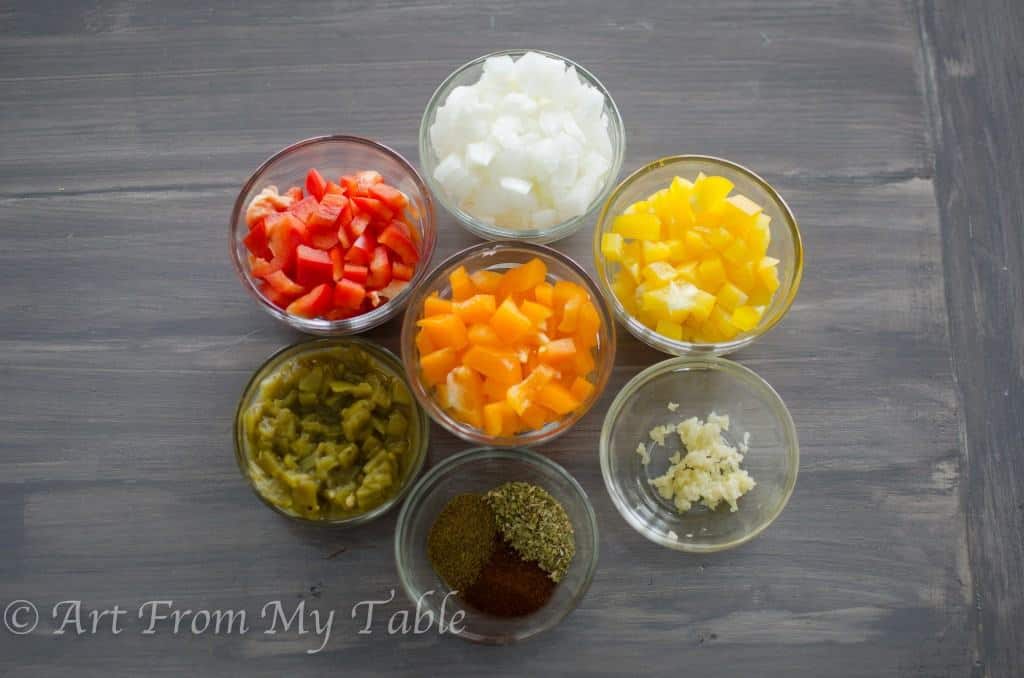 Fresh is best
I love this recipe because it uses fresh ingredients. Nothing against our canned friends, but they can contain some preservatives and such that you may want to avoid. So whenever possible, I use fresh ingredients. Even beans. I'm able to get all my dried beans from a local source, so I actually purchase them all in October, and use them during the year. I've found the best way for me to save time, because they do take longer to prepare, is to cook a bunch of them in my slow cooker, and then freeze them in quart size bags. Then when I'm ready to use them for a recipe like this one, I have them at the ready. They don't take too long to thaw.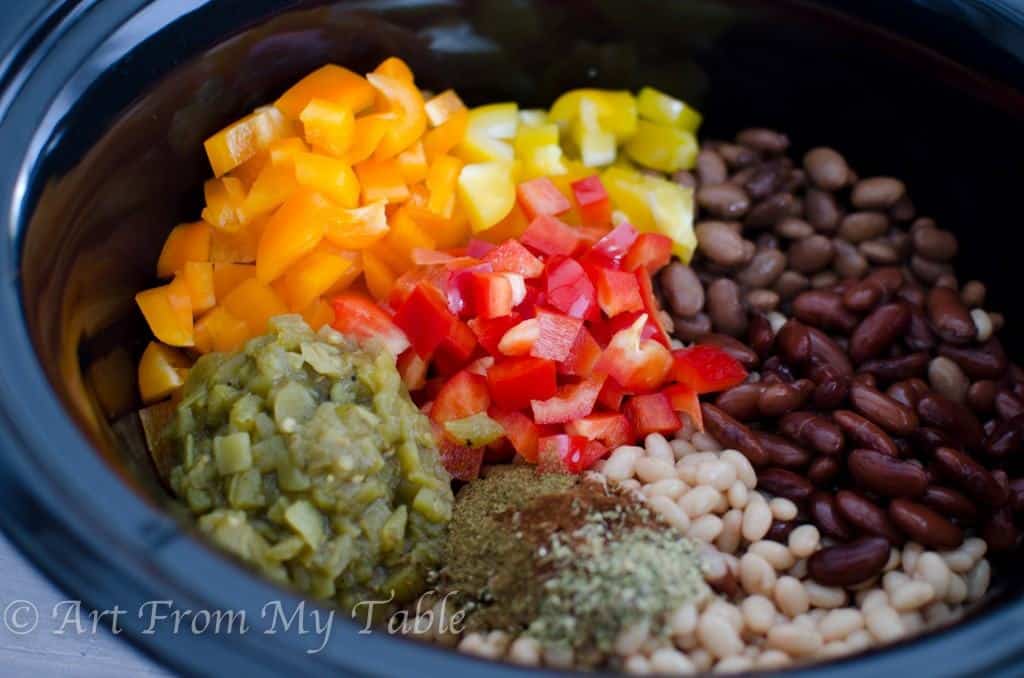 Ingredients:
1 lb lean ground turkey
1 cup onion, chopped
4 cloves garlic, pressed
1 cup yellow pepper, chopped
1 cup orange pepper, chopped
1 cup red pepper, chopped
1 4oz can mild chopped green chilis
2 cups navy beans
2 cups pinto beans
2 cups kidney beans
2 cups Turkey broth (can use chicken or vegetable)
2 15 oz cans tomato sauce (all natural, no sugar)
1 Tbs chili powder
1 tsp cumin
1 tsp oregano
Cilantro for garnish
How to make 21 Day Fix Crock Pot Turkey Chili:
Sautee onions until translucent, about 5 minutes.
Add ground turkey, and brown until cooked through.
Add garlic, stir until fragrant, about 30 seconds.
Transfer to slow cooker.
Add the remaining ingredients and stir to combine.
Cook on low for 6-8 hours or high for 4-6 hours.
Serve garnished with cilantro.
(NOTE FROM CARRIE: This serves 8-10, but I've figured out the containers based on 8 servings. One serving equals roughly 1 green container, .5 red, 1 yellow.
Since we're talking slow cookers, this is my favorite slow cooker. I like that it automatically switches to the warm setting when it's finished cooking.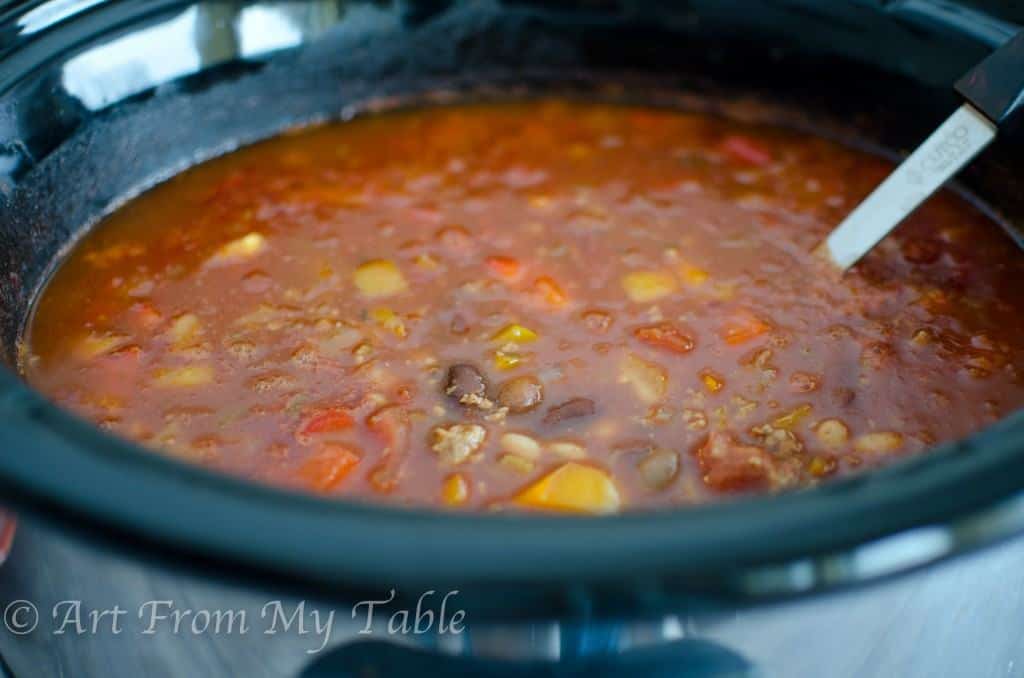 I love mine with a little cilantro sprinkled on top.
If you're a fan of chili, here's two more you might enjoy: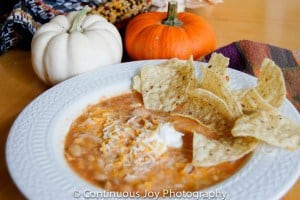 White Chicken Chili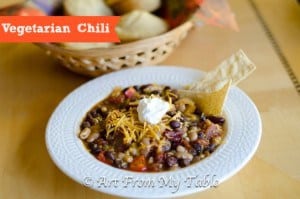 Vegetarian Chili
If you love recipes, head over to Art From My Table , and sign up to receive FREE recipes delivered to your mailbox, plus, you'll get my new eCookbook!
And be sure to follow us on Facebook for more 21 Day Fix recipes!