I have about a gazillion planners, notebooks, actual books, and stacks of paper around me at any given moment. They are all important (to me, they are…my husband would tell me to learn how to consolidate). All of these books are in use, and I am always searching through them for the page I was on last, my most recent notes, etc.
So, making a few DIY planner paper clips has been on my to-do list for, oh, EONS. But the time to actually sit down and make them has eluded me. A couple of days ago, I got so tired of staring at my bowl full of paper clips that I finally made myself sit down and make them and OMG.
They. Are. Adorable.
I knew I was holding onto that olive ribbon for something!
They are *so* cute, they'd make a perfect gift for a fellow planner lover or a teacher.
They were ridiculously easy to make, but I thought I'd run you through the steps anyway – I think I figured out the best way to hot glue the ribbons, and I'll share that here (and also, this can be your warning that hot glue is HOT. Ask my fingertip, which is currently hiding under two throbbing blisters, the result of hot glue gone wrong).
Here's what you need to make your own planner paper clips:
Paper clips. I suppose any will do, but I used 2″ colored one (like these). I think mine are from the Dollar Store.
Embellishments (buttons, sequins, you name it!)
Ribbon (I used several grosgrain ribbons I had around the house, cut into 5″ pieces – these look really cute!)
Just glue your embellishments to the paper clips.
And here's how I made the ribbon paper clips:
Cut your ribbon into 5″ pieces. Fold it over and loop through your paperclip.
Don't pull the ends tight…instead, leave a little space for the glue, and then glue a dab of glue onto the ribbon like in the picture below.
Watch those fingertips!
Pull the ends tight, hold for a second while the glue sets, and then move on to the next one!
And now? I have so many of these they've turned into a cute little paper clip garden on my desk.
And my planners? And books, and notebooks, and stack of paper?
THE CUTEST.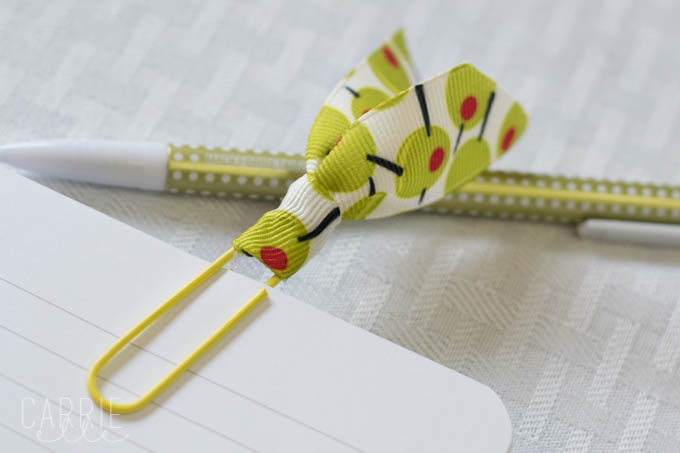 Now that my paper clips are all prettied up, I feel extra motivated to stay organized…and find another way to use that adorable green olive ribbon!
Find me on Facebook for easy recipes, free printables, fun crafts, and planning tips and tricks. I'd love to have you join me over there.