I grew up in Southern California, just a couple hours away from Universal Studios. But until this summer, I had never been! My childhood amusement park memories took place at Disneyland and Knott's Berry Farm, and for some reason we never quite made it to Universal. So this past summer, when we were in Florida on a family vacation, we squeezed in a trip to Orlando specifically to visit The Wizarding World of Harry Potter at Universal Orlando.
It was everything I hoped it would be and then some. You can read about how we visited both parks in one day here.
But as awesome as it was, there were definitely a few surprises that I wasn't expecting (like reallllly small seats on some of the rides), and so today I want to share some of those surprises with you.
6 Things I Wish I'd Known Before Visiting Universal Studios Orlando
Many (and I mean many) of the rides are 3D rides – which kinda sucks if you get motion sickness easily. The first ride I went on was Harry Potter and the Forbidden Journey (in Hogwarts). Y'ALL. I ended up so sick I spent the next hour-and-a-half sitting down by myself in Jurassic World while Charles took the kids on rides.
The Hogwarts ride is kind of a 3D/live action combo. So you're swinging through the air but also watching a 3D screen that is moving with you. If you get car sick or motion sickness easily, this is basically your worst nightmare. After I recovered I went on one more 3D ride (Transformers). The kids loved it and really wanted me to go on it with them. I ended up having to close my eyes for most of the ride, and after that I was done…I couldn't go on any of the 3D rides.
Unfortunately, many of the rides are this format (including the Hogwarts train that takes you between parks ). I think it's because they take up less space than a "normal" ride, so Universal can fit more in. But if you tend towards motion sickness, I think it's important to set your expectations before you go and take a look at the list of rides so you'll know what you can go on (the park maps specify if a ride is 3D or not).
My favorite (non 3-D) ride was E.T.'s Adventure.
Another thing about the rides…some of those seat sizes are small, y'all! Not on all of them. But I had to squeeze into some of the rides. I'm a size 12. Granted, most of that is in my hips…but if you're also "hippy" you might feel a little squished into the seats.
The Hogwarts ride had really narrow seats. But the worst was Dudley Do-Right's Ripsaw Falls. That one is a log ride and it was tight for me and really tight for Charles. We actually mentioned that ride to an employee (we were wet and she asked which ride it was from) and she told us she can't even ride it because the seats are too small for her.
Most of the rides (maybe all of them, and I just didn't notice) have a seat outside the ride for you to sit in to make sure you fit and can close the harness before you wait in line.
This is just another example of expectations to set for yourself before you go.
You will probably get wet, and possibly very wet. Several of the rides (Dudley Do-Right's Ripsaw Falls, Jurassic Park River Adventure, and Popeye & Bluto's Bilge-Rat Barges) all involve a lot of water! I wasn't prepared for the water (many people had ponchos, or knew where to sit to get the least wet, or at the very least weren't wearing jeans), and I got soaked on the Jurassic Park River Adventure. I also added to that with the Ripsaw Falls ride, and with the humid Florida weather (including an unexpected thunderstorm in the afternoon!), I was wet all day. I rode Jurassic Park in the morning and when we got in the car to go home, my jeans were still wet around the waistband!
So just dress appropriately or bring a poncho or avoid the water rides…or just be prepared to be wet!
Speaking of water, it's expensive. You can bring up to two liters into the park. But that doesn't go far in the summer! Water bottles are expensive and there aren't a lot of drinking fountains around to fill up your water (there are drinking fountains, but not as many as you'd think!) – but I would recommend bringing a refillable water bottle if you plan on drinking water. You can buy a refillable drinking cup if you want other drinks (sodas, lemonade, etc.).
Harry Potter World is split into two parks. One of the parks has Diagon Alley, and the other park has Hogsmeade. So you need to purchase tickets to both parks to see both Harry Potter Worlds. If you're a fan, this is definitely worth it! Here's how to fit both parks into a one day visit.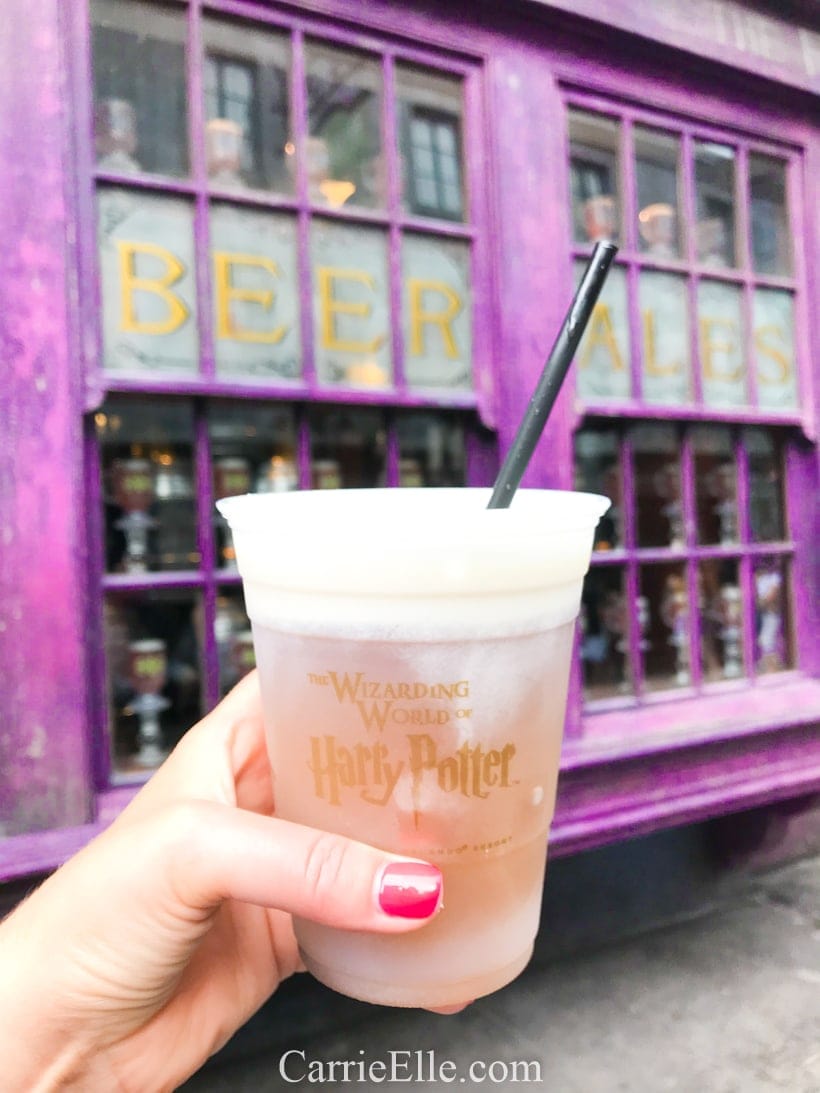 There are different types of Butterbeer, and frozen is the best. You have three Butterbeer choices (all non-alcoholic). They are: Frozen Butterbeer, Cold Butterbeer, and Hot Butterbeer. We had a cold one and a frozen one. The cold one is carbonated (I don't do carbonated drinks, but the kids loved this). The Frozen Butterbeer was not carbonated and it was so good. Like, creamy dreamy good. I could have had three of them (in fact, I sort of regretted that I didn't get on in Diagon Alley and one in Hogsmeade!).
Our trip was so, so fun. I would definitely go back, and if I could I'd try to arrange a visit on a weekday during the school year when it's less crowded and I could really spend some time wandering through Diagon Alley.
Have you been? Any "surprises" you wish you'd known about before you went?D or