I checked something off my travel bucket list recently! We visited the Florida Keys, and that has been on my list since I first heard the song "Kokomo" when I was a kid and wondered…what are the Florida Keys? I've got to say it was a little different than I had expected – but definitely worth the trip. Today I want to share my experience of our Florida Keys road trip with kids so you'll know what to expect on your own trip!
Florida Keys Road Trip with Kids
First of all, let me start with one important fact about the Florida Keys that I really think everyone needs to know.
Are there beaches in the Florida Keys?
There are no beaches in the keys.
To be fair, there are beaches as far as a beach being a place where the oceans meets the land. But I had been anticipating white sand beaches gently sloping into the turquoise waters of the Atlantic where my kids could splash and swim all day, and that just wasn't the case. The beaches, although many of them were beautiful white sand beaches that did indeed kiss the turqouise sea, were often more like little rocky ledges into the ocean, and often clogged with seaweed (the seaweed wasn't present everywhere and could definitely be seasonal, though!).
We had to do a little work to find a place where the kids could swim in the ocean (we did pass one teeny little swatch of land that looked like a real beach, but it was pretty crowded…I'm sure other little pieces exist, though!).
Here's a look at what many of the beaches looked like.
Are the Florida Keys kid-friendly?
Because in my head the Florida Keys were just giant expanses of white sand beaches with colorful houses and the occasional resort thrown in, it never occured to me that the Keys might not be a happening vacation spot for families. Luckily a couple of people filled us in and let us know that some islands are more kid-friendly than others.
I would say that yes, the Keys are definitely family friendly! However, I probably wouldn't stay in Key West with kids. I've heard it compared to New Orleans and that is how I would descibe it, too…the downtown area is very much a party scene. Lots of bars and souvenir shops with penises and crotchless underwear hanging out front (those were fun questions to answer, ha!).
Be sure to take a picture at the southernmost point in the United States (quick note about that: the line is long and most of it is in direct sunlight…have someone go stand by the monument with the kids, it's cooler and there's a nice ocean breeze there).
You'll also want to visit Ernest Hemingway's house while you're in Key West. Ernest Hemingway's house is basically a cat sanctuary, full of descendants of Ernest Hemingway's six-toed cats…the kids will probably remember this as a Cat Museum rather than Ernest Hemingway's home.
We stayed on Islamorada, at a resort called Cheeca Lodge (here's everything you need to know to plan a family trip to Cheeca Lodge). It was great for families and close to some kid-friendly activities!
So with that information…
Can we go swimming in the Florida Keys?
With all that ocean and not a lot of beaches, you might have to do some work to play in the ocean. (Side note: I think that if you like ocean fishing and have a boat, the Keys are for you!)
We rented a boat and sailed out to Whale Harbor Sandbar. Guys – this was so cool! There were a bunch of boats anchored at the sandbar when we arrived (which was around noon). So I recommend getting there early so you can find a spot. The sandbar is about 18″ or less under water. It's a great place to spend the day (but you need a boat to get you there!).
We stuck some chairs in the sand and let the kids swim. Because the water was too choppy that day to go to a great snorkeling spot (I can't hang when the water gets choppy), we let the kids put the snorkeling masks on and play here. There really weren't any fish, but they found tons of shells…and even a shark tooth!
Can we drive to the Florida Keys?
Yes! We flew into Ft. Lauderdale and drove to Islamorada. The drive was about an hour and forty five minutes. The drive to Key West was another hour and forty five minutes or so from there.
Chevy lent us a 2019 Chevy Blazer for the trip and it was the perfect road tripping car. The navigation system was a lot better than the one in my car (sorry, Toyota) and the cooling system in the seats was perfect for Florida in July (because basically, we started sweating as soon we stepped outside of the car). It was also a lot of fun to drive…zippy and responsive.
The Chevy Blazer was also really pretty. We had someone stop us in a parking lot and ask about it – and then go on about how sharp it looked!
There was a ton of room in the back for all of our luggage and I felt like it got good mileage…we drove all over Florida (not just the Keys!) and only had to fill it up a couple times.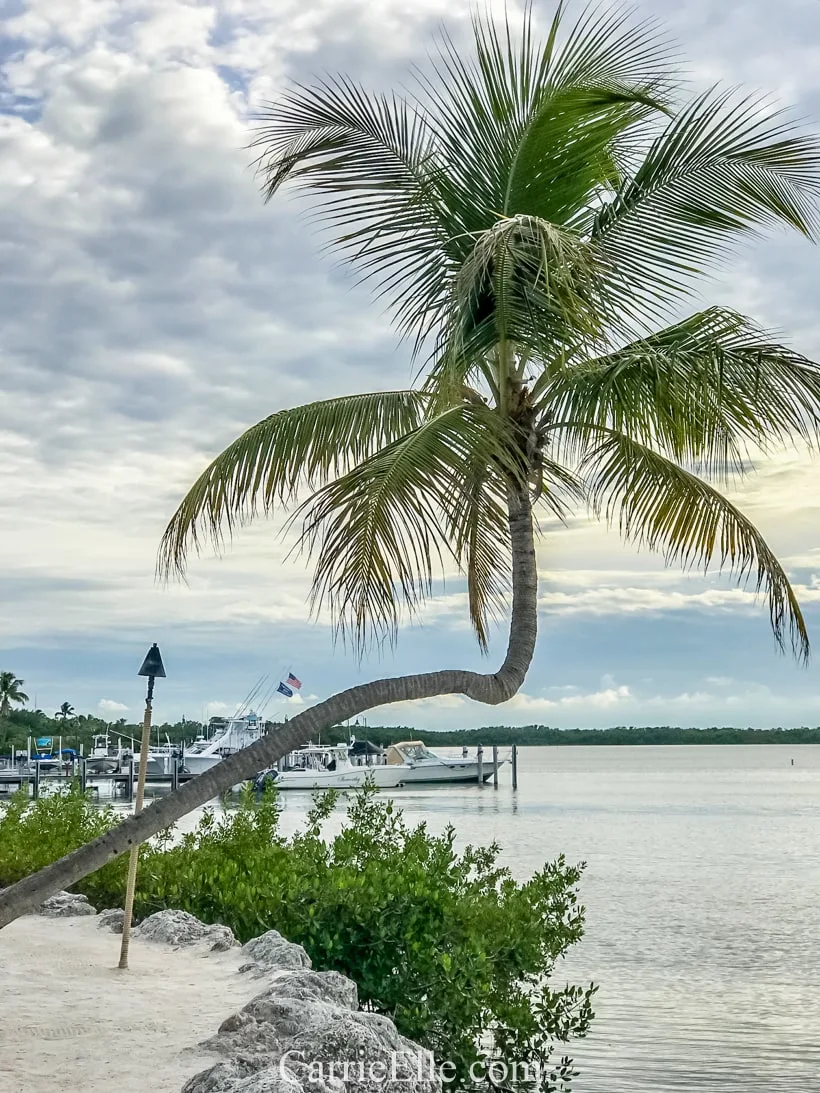 The Overseas Highway, which goes through all of the Keys, is mostly a one lane road. So keep that in mind if you're traveling into the Keys on a busy weekend or holiday. I feel like a wreck or a lot of traffic could really slow down your trip!
One thing that is super awesome is that if you drive the length of the Keys, you'll get to drive on the Seven Mile Bridge – which is a bride that is seven miles long and spans the space between two of the Keys. It's kind of creepy driving over the ocean for so long, with only the remnants of the original Seven Mile Bridge to keep you company (yep – there are bridge ruins!).
When is the best time to visit the Florida Keys?
I wish I had a good answer for you! The busy season is winter, when the weather is mild but the crowds are big. I read that spring is a good time to visit…you're there after the winter crowds but before it gets too hot.
We visited in July, and I can definitely see why this is NOT the prime tourist season. It was so hot, y'all. So, so hot. But despite that, I felt like there were still a bunch of other tourists. Key West was crowded, despite the temperature and humidity being over the top.
Where should I eat in the Keys?
Like anywhere touristy, you'll find a huge selection of restaurants, from fast food to gourmet. We had some great food, some not-so-great. I can defintely recommend The Lobster Shack in Key West if you like Lobster Rolls.
Our favorite restaurant – which we ate at twice – was called Morada Bay Beach Cafe. It was the perfect place to eat with kids. The views were stunning (I mean, really, really gorgeous!) and since it was outdoors the kids could play safely while we waited for our food. They also have live music on the weekends and do a Full Moon Party every month (wish I could have been there for that!).
Definitely stop here for dinner if you can – and try to arrange it so you see the sunset!
Where should I stay with kids in the Florida Keys?
We stayed at Cheeca Lodge on Islamorada. It was beautiful and had a pool. We had a suite, with plenty of room for the kids.
This post is getting long so I'm going to end it now…but here's what else I have coming up about our trip to Florida (I'll add links below as I write the posts):
Plan Your Stay at Cheeca Lodge in Islamorada
And let me know below or find me on Facebook if you have any questions!