WOW.
You guys.
What craziness the last couple of months have been!
And really, it's only about to get *more* crazy as we head into busy season around here…it's hard to believe, but I'm working on products that won't launch for months to come…and I still don't feel like I have enough time to get it all done.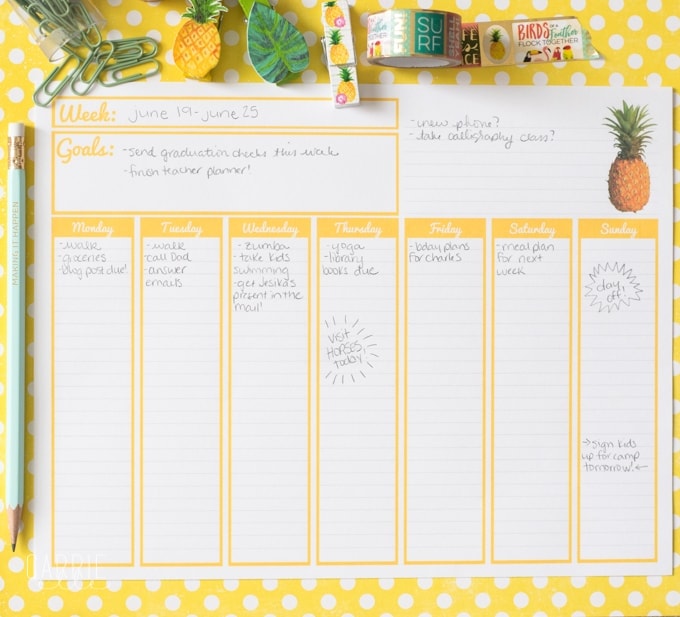 People always ask me, "how do you have the time?" I have the same amount of time as everyone else does. It's not that I have more time. And I'd be lying if I said I was an amazing time manager. The truth is, I prioritize, I do the best I can with what I've got, and I stick with something until it's done.
And of course, I use a planner and notebooks and to-do lists and all that fun stuff, too. 🙂
This printable weekly calendar is a helpful tool that can help you prioritize your week and see what you've got going on, all on one page. I made it a cheery yellow and added a pineapple because it's JUNE, yay! Come back next month for July's. 🙂
Printable Weekly Calendar
My hope is that this will help you get your week under control a bit, or at the very least help you better understand what your week looks like. Hang it on the fridge or pin it to your family bulletin board so the whole family can be on board!
Download your printable weekly calendar below. Don't forget to pin it for later if you can't download it now!
Hopefully, that will help you out some. And don't forget to come back next month for a new one!
Be sure to join me on Facebook for free printables, meal planning and budgeting help, and easy recipes. I'd love to see you over there!
I also think you might like the printables below – just click on the pictures to go to the posts! 🙂