Last week, my family was hosted by Epic Waters Indoor Waterpark in Grand Prairie for a day of waterslides at the biggest indoor water park in Texas. Epic Waters has been been open for a year-and-a-half, but this was the first time I'd even heard about it. Who knew there was a giant indoor water park in the metroplex?!
It was 40 degrees outside (brrr!), but a balmy 75 inside the park, making it the perfect physical activity for kids bursting at the seams with winter break energy! I'm going to share everything you need to know before you go to Epic Waters. I'm also going to share some info about birthday parties at Epic Waters, because for what they offer you really cannot beat the price for a birthday party these days!
Epic Waters Indoor Waterpark in Grand Prairie
First of all, Epic Waters is huge. It's the largest indoor waterpark in Texas. There are 12 slides, a toddler area, a lazy river, a pool, and even a Flowrider (which is one of those everlasting waves you can boogie board on). There are also cabanas you can rent, food, a bar, dedicated party rooms, and a shop in case you forget something.
My kids both said they liked Epic Waters better than Hawaiian Falls. They said the slides were more fun and closer together (less running around on hot asphalt), and also I think it's a huge bonus that they could go in December!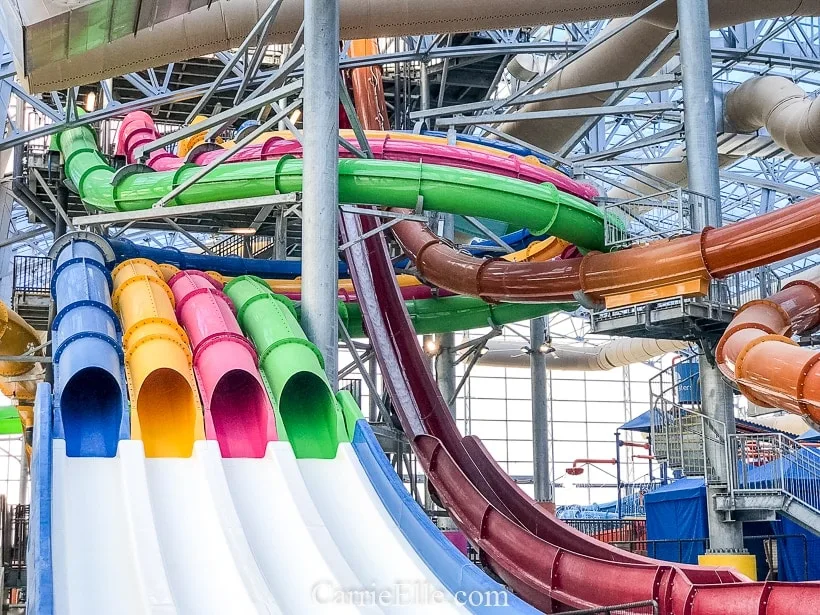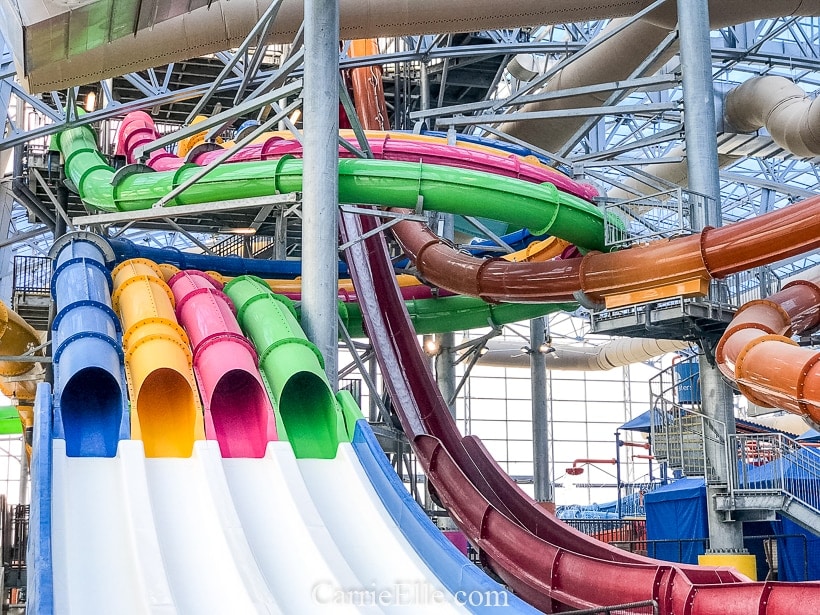 Is Epic Waters toddler-friendly?
Yes! There is a toddler/small kid area with shallow water and a big fort/play structure. They even have Tiny Tots Time on Mondays, where the park is open early and the children's area is available for the littlest kids only (no big kids to ruin the fun!).
Do I need to bring a towel to Epic Waters?
Yes. Bring your own towel. There are lockers available to rent if you need to store items during your stay. If you forget a towel (or any swim-related item, really), there is a gift shop where you can purchase one.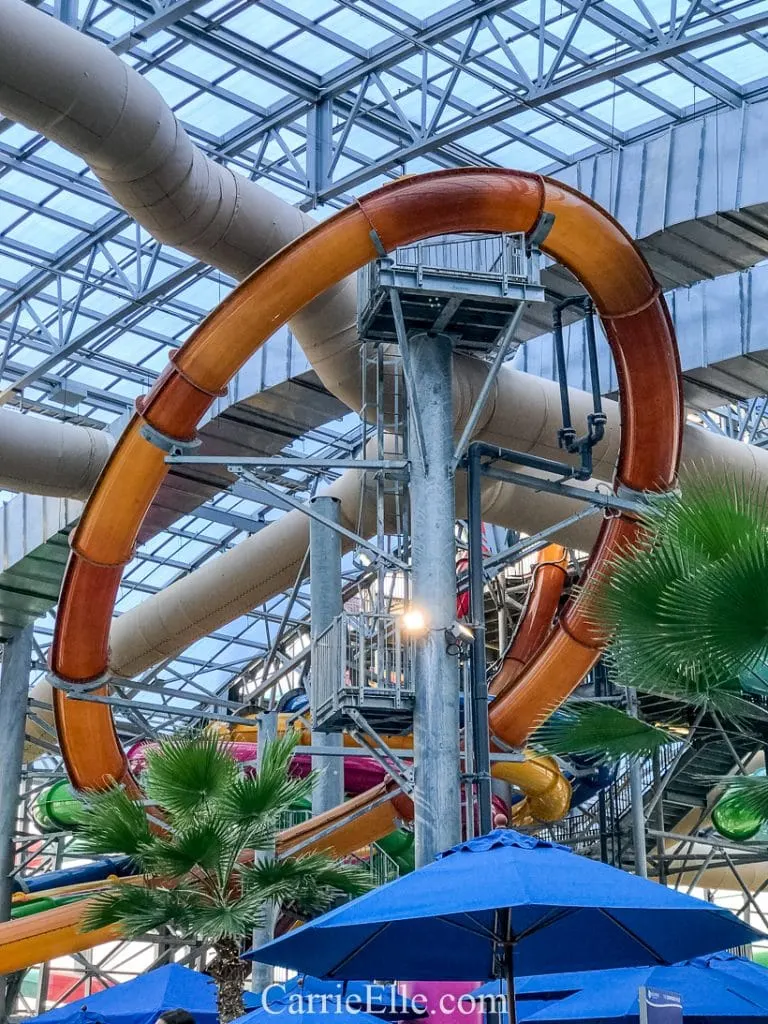 How much does it cost to rent a cabana?
A cabana for the day ranges between $150-200, depending on when you're going (weekends and holidays being more expensive). You don't need a cabana. Get there when the park opens and grab a table or some chairs for the day (there are lots to choose from). But if you plan on spending the entire day there or are having a party, a cabana can be a nice thing to have. They come with a TV (so you don't have to miss the Cowboys!) and a dedicated wait person to bring you food and drinks.
Are there lifejackets available at Epic Waters?
Yes, both life jackets and tubes are available free. However, if you have a really little child I recommend bringing your own life jacket that you know will fit.
Does Epic Waters do birthday parties?
They do, and I would consider throwing a party for my kids here, even though it's all the way across the metroplex from us! Even though it's a drive, the party packs come with admission to the park for the entire day, food and drinks for the entire party, and 1.5 hours of time in the dedicated party rooms overlooking the park (pefect for lunch, cake, and presents!). The prices also include game cards for the arcade. Prices start at just $25/kid and parties can be customized to meet your needs. I would probably not do a party for younger kids because those prices don't cover admission for parents…but if it was older kids who could all swim and roam the park without needing constant chaperoning, I don't think you could beat the price for this experience.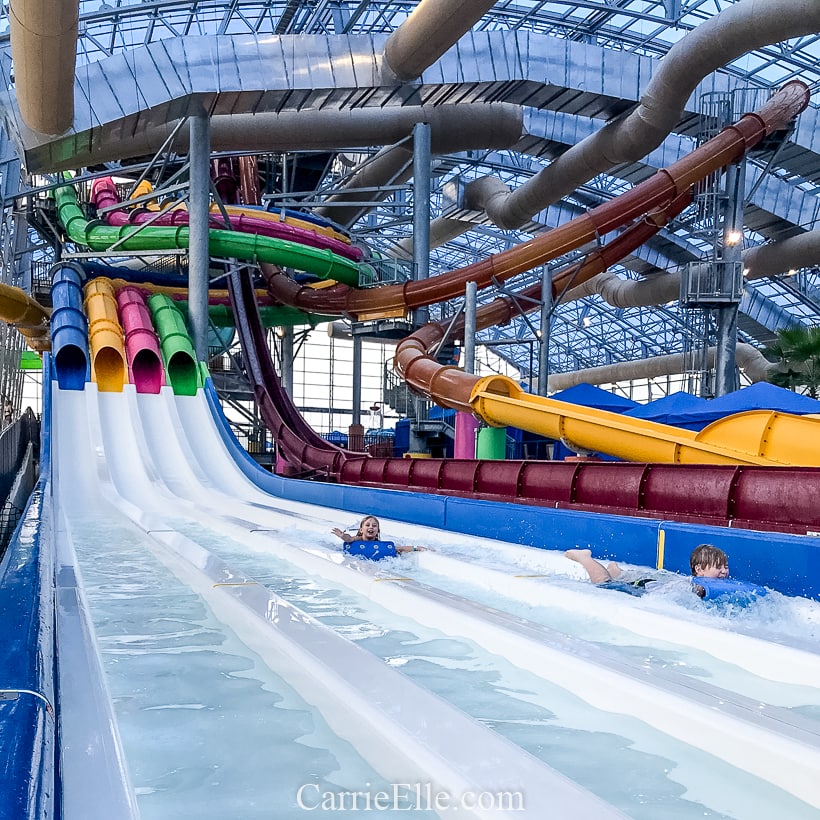 Is there food at Epic Waters?
Yep! We had a pretzel, pizza, salad, and chicken. The menu has something for everyone. And also, there is a full-serivce bar, so I was able to enjoy some holiday cocktails!
How much does it cost to park at Epic Waters?
Parking is free.
When is it least-crowded at Epic Waters?
This is always a question I ask when I visit a place like this, because I am a crowd-avoider! Busiest times are weekends and holidays. We were there on a Sunday morning and arrived right when it opened. It wasn't crowded at all. It picked up a little after church got out. Weekdays are the least-crowded, and of course, if you can visit on a weekday when schools are in you'll probably find the fewest crowds of all.
We had a great experience. I don't like waterslides, so I always end up in the lazy river or reading a book while the kids play. So for me, this was 100% ideal. The kids loved the fun slides (there weren't any lines for the slides, either, when we got there). This is definitely on my list of places I'd recommend to locals and out-of-towners looking for something to do.
You can get tickets or season passes here (tickets are less expensive for Grand Prairie residents).
You can find park hours and more information here.