If you live in the Dallas area, you have no doubt heard your friends talk about visiting Broken Bow, OK, if you haven't visited yourself. It's a very popular destination for a getaway from Dallas, and we've been hearing about it for years. We finally visited and I'm going to tell you everything a Broken Bow newbie needs to know to plan your trip to Broken Bow, OK (as well as answer some questions I had before I went that I think you might also have!).
Where is Broken Bown, OK?
Broken Bow is located in southeast Oklahoma. It's about a three-hour drive from Dallas, depending on where you're leaving from. After visiting we decided that the proximity to Dallas is probably the main reason it's so popular around here. It's a great place for hiking and spending time in the great outdoors, and you can leave after breakfast and be there for lunch!
Although it's only a few hours away, the terrain and scenery are so different from what we have in North Texas. There are forests, hills, rivers – it's a huge change of scenery for us North Texans.
Where should I stay in Broken Bow?
When I started looking for places on Airbnb to stay in the area, I was a little confused and overwhelmed. Did I want to stay in Broken Bow? Or Hochatown, or Beavers Bend? I had no idea because I was a little uncertain of the layout of the area.
Hochatown, Broken Bow, and Beaver's Bend are all very close to each other. We stayed in a little cabin in Hochatown that was in an RV park and right across the street from Beavers Bend State Park. The cabin was cute and new but we didn't have nice views or privacy…it was really just a place to eat, sleep, and shower. The plus side is that it was inexpensive. This is what happens when you wait until the last minute to find a place to stay! If you are booking far enough out, you can find some stunning cabins with amazing views of the lake, hot tubs, and lots of privacy.
I would choose a location based on what you plan on doing while you're there. Hochatown is conveniently located next to restaurants, the state park, go-karts, and some other family-friendly things to do. Another reason we chose our cabin was because it was within walking distance of a winery. Unfortunately, though, it closed at 5pm on weekdays and we were out doing stuff during the day, so we never got to visit.
UPDATE: We have also stayed at The Painted Bird Airbnb in De Queen, Arkansas. It's about 30 minutes outside of Broken Bow, but SUCH a gorgeous place. You can also read about our stay (and our trip to Crater of Diamonds, which is about an hour and a half from Broken Bow) here.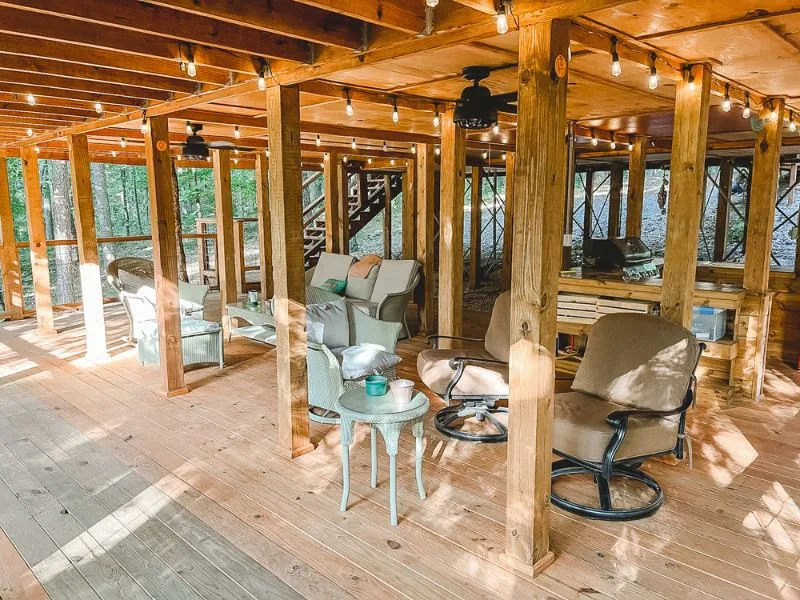 There are also several cabin resorts in the area. I've written a post about hotels/resorts vs. choosing an Airbnb/Vrbo. If you're on the fence about which option is best for you, read this!
There are also lots of places to camp in the area! So many places to camp. If you've never camped or don't have your own RV, you can read about renting an RV for a family camping trip here.
A note about the area: the WiFi was pretty bad. This was fine – we were on vacation and brought games to play in the cabin. But if Charles had been planning on working during out trip, it would have been tough for him.
What is there to eat in Broken Bow?
Food choices were better than I expected, with some delicious family-friendly dining options. The Rolling Fork Takery was probably my favorite place we ate at. It's a farm-to-fork experience with lots of organic food from local sources.
We also ate at Mountain Fork Brewery, which is very kid-friendly and has a giant patio with outdoor games for the kids to play. We wanted to eat at Grateful Head Pizza Oven and Tap Room, but it was closed. That was a common issue we had. We were there early in the week, which meant it was less expensive and not as crowded, but also that not everything was open.
And don't miss the ice cream at Okie Girls Coffee & Ice Cream!
We meal planned and brought most of our food with us. You can read my post about how to meal plan for vacation here.
What is there to do with kids in Broken Bow?
I'll share with you what we did on our trip and some thoughts on each experience, along with some things we wanted to try but didn't have time for.
Claire and I went horseback riding at Riverman Trail Rides. The horses were well-cared for and safe, and the trail was fantastic! It was a one-hour ride with some beautiful views, and we got to cross a river, too (which is so fun on horses). if you have people with you that won't be riding, there really isn't anything for them to do at the stables, so just keep that in mind (my husband and son ended up sitting in the car waiting for us the whole time). You'll want to reserve your ride in advance.
We did two hikes. One was the Cedar Bluff Hike, which had gorgeous views but some steep hills (and then we missed a turn and ended up hiking on, and on, and on…). That trail got a little tough for the kids, so the next time we went on a much easier hike called The Tree Trail. This hike, which starts in Beavers Bend State Park, is perfect for kids. It's mostly flat, with only a couple of inclines. There are also many opportunities to interact with nature on this trail, as most of it runs parallel to a creek that is perfect for exploring!
Everyone likes go-karts, and we took the kids for a few rounds at Bigfoot Speedway. I did two rounds and then started to get carsick, but the kids loved it and would have gone all day. Kids over 5′ can drive themselves…younger ones can ride with a grown-up.
it rained on our last day, which was when we were planning on swimming in the lake. There are several places to swim at the lake, as well as some trails with river access. The other thing we wanted to do but didn't have time for was renting paddleboats or a canoe.
What else is there to do in Broken Bow?
Some other things to do in the area: zip-lining, wine-tasting, more hiking (so many places to hike!), and shopping (mostly souvenir gift shop type shopping, but some of the shops have some fun stuff inside).
If we were doing an adults-only trip, I'd probably prioritize cabin location and hiking.
This was a great little trip for us. I'd go back, and I think it would be fun to do with friends or family. It's easy to get there. I would probably spend more money on a cabin the woods next time (with a jacuzzi!). Our little cabin was perfect for this trip, though.
if you have questions let me know and I'll be happy to answer them the best that I can. 🙂 If there's something amazing that I missed, let me know in the comments so future readers can find it!
Looking for more road trips from Dallas?
Here are a few fun trips:
Visit San Saba, Texas – Pecan Capitol of the World and also the gateway to Texas Hill Country.
Things to do in Austin – Visit the State Capitol and explore everything this awesome city has to offer.
Plan Your Trip to Waco – You know you want to visit The Silos and Joanna Gaines' empire! Here's everything you need to know before you go.
Take a Day Trip to Glen Rose – Feed giraffes and walk in dinosaur tracks while you're there.