My family attended a media weekend hosted by the Great Wolf Lodge. All opinions are my own.
The Great Wolf Lodge in Grapevine, Texas, has been on my kids' wish list for ages. We've driven by it, their friends have been and told the tales of its awesomeness, and they've heard us promise over and over again that someday we'd take them. It's been a lot of build up, y'all – and I am happy to say it did not disappoint. Here's everything you need to know to plan a trip to Great Wolf Lodge!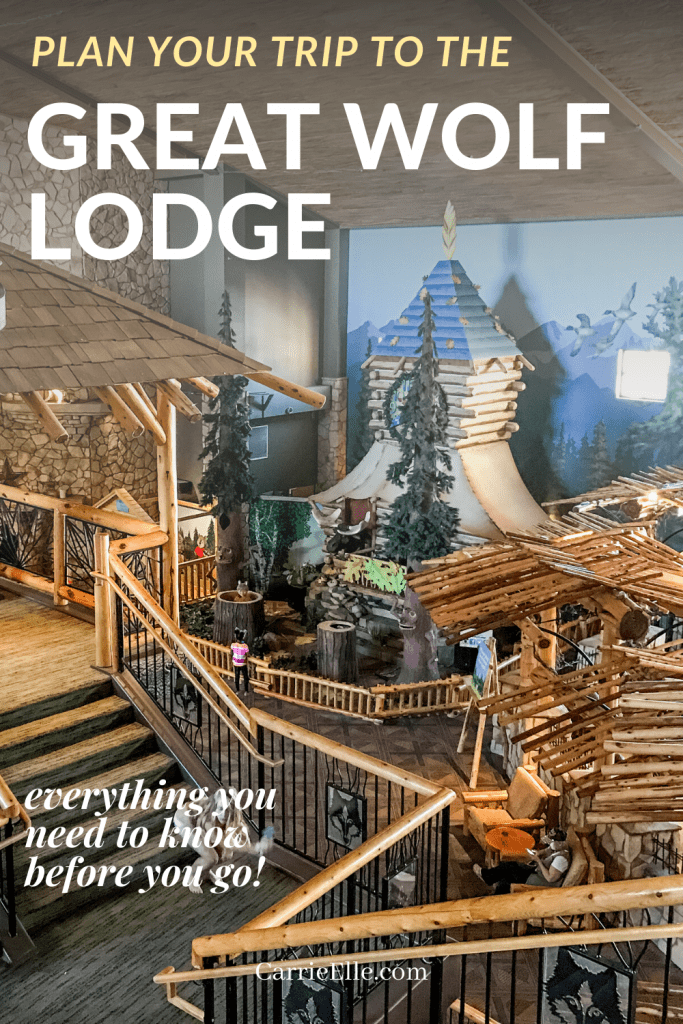 The Great Wolf Lodge is basically a kid's paradise, a little slice of ice-cream-filled heaven on earth – but there's a lot for adults to like, too. I've got all the details for you to help you plan your trip to the Great Wolf Lodge. I'll do this FAQ-style, answering the questions I think you might have. I'm specifically talking about the one in Grape Vine. We've also been to the one in Kansas City, and I didn't love it nearly as much as the Grapevine one.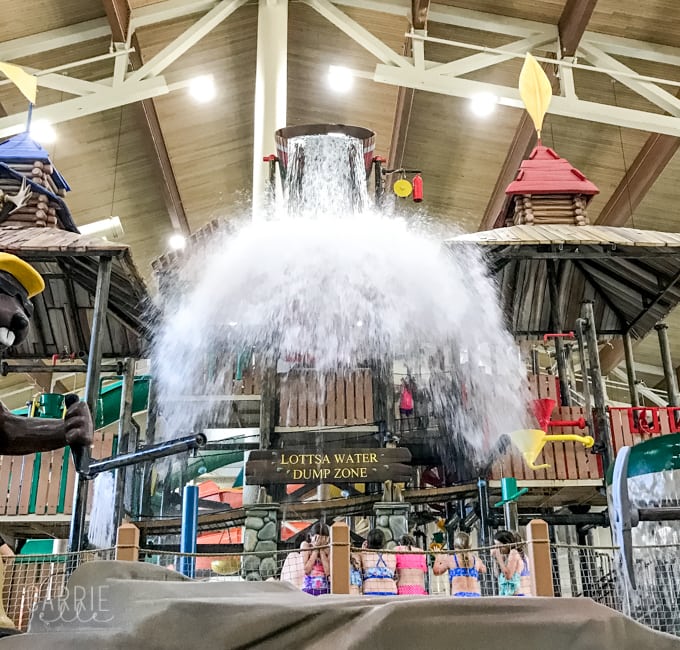 When should I visit? The Great Wolf Lodge is busy most of the year, but of course some times of year are busier than others (Christmas! Summer!). Expect the hotel to be busiest during the holidays, long weekends, and the summer. You'll find fewer crowds if you can book your visit during May or September. If you can't make that work, though, don't worry – it's a huge place and there is room for everyone.
How can I get a discounted rate? The best place to look for specials is on the website. Sign up for the newsletter to get seasonal promotions. We had a chance to meet with the hotel's manager, and he told us that while you might find third party specials, they won't be as deeply discounted as what you can find directly through the hotel.
If you sign up as a member, you can find low rates that include resort credits (I just looked, and they had rates starting at $169/night with a $50 resort credit…that's a great deal!).
What are the rooms like? All the rooms are nice. You can upgrade to a KidKamp suite, which has bunk beds in a cute little kid area. Or, you can upgrade to a premium suite (we visited one that was more like a condo than a hotel roo…complete with two bedrooms, two bathrooms and a living area). These are a great option for multiple families traveling together, or a vacation with the grandparents.
What ages will enjoy the waterpark the most? All ages. I'm not just saying that, either. There's an entire pool (the most heavily lifeguarded pool in the park) for babies and toddlers – the deepest part of this pool is 18″. Big kids will love the fort, the lazy river, and the wave pool. Bigger kids, tween, teens and adults will have a blast on the big slides. I was too scared to go on the biggest slide (Tornado), but my husband and eight-year-old went on it (and promised me it was amazing and appropriately terrifying and exciting at the same time).
When the weather is warm enough, the outdoor pool is also open – you'll find more slides, another shallow area for the littles, and plenty of splashing space.
What should we bring to the pool? Kids will need their bathing suits and flip-flops or water shoes for walking in the hotel. Towels are available at the pool area, so no need to bring a towel. Bring sunscreen and a hat if you'll be going outside. Life jackets are available for all ages. You can bring your own life jacket, but it must be Coast Guard-certified to use at the park.
Get there early to grab a table or some chairs. You'll find a lunch place inside the water park – we had some great burgers and fries!
What is there for toddlers to do? Toddlers will love the Cub Club, a quite, toddler-friendly space full of coloring and crafts. They will also love the Creation Station, where they can make their own stuffed animal. Stuffed animals also come with a game similar to MagiQuest, but made for littler kids. They'll also love story time and the dance party at night. And of course, the toddler pool will be a huge hit.
What else is there to do besides the waterpark? Kids of all ages will love the arcade. There's also an ice cream shop, a crazy rope course (right outside the waterpark – totally worth checking out!), and a movie theater that plays 4D movies (my kids were into the dinosaur movie). In the evening, younger kids will enjoy story time and the dance party. Kids can make stuffed animals at the Creation Station. And of course, everyone can play MaqiQuest!
Kids will also love Scooops, the on-site spa for kids. Claire and her buddy Taylor *loved* their spa treatments, which included a pedicure and lotion that smelled like ice cream (it was legit, y'all…I wanted some for myself). Kids get to bring their nailpolish home, and the spa treatment comes with a free ice cream to be enjoyed at the ice cream shop next door. Oh! And kids get to wear adorable little Scooops robes and even a tiara while they're there.
Here's a great resource for finding age-appropriate activities at the hotel.
If you want to leave the hotel (we did not), you also have access to all that Grapevine, Texas has to offer – like Legoland Discovery Center, SeaLife Aquarium, and a super cute downtown with tons of great shopping.
What is MagiQuest? My eight-year-old was really into MagiQuest. MagiQuest is a fantasy game that takes kids through the hotel looking for clues to unlock treasures and defeat levels. We played for a couple of hours and the kids made it through a level-and-a-half (I'm not sure how many levels there were, but I think eight or so). Anyone who completes the Quest gets a badge saying they defeated the game.
In order to play, you must have a wand (you will buy it at the hotel – I think ours were about $20 each). The game is activated when you purchase the wand. If you don't have time to finish the game, it's ok – save the wand for next time. You can pay a reactivation fee and play it again at any time, in any Great Wolf Lodge across the country.
Will my young child like MagiQuest? I think this game is better suited to bigger kids. Claire, who's five, really wanted a wand…but after unlocking a few clues, it was apparent that she was more excited about the wand and opening treasure boxes than actually playing the game.
Jack, on the other hand? Totally into it.
Will my teen like MagiQuest? Based on the number of teens I saw playing, the answer is an unequivocal yes.
What's the food like? The food was SO good. Every time we ate something, we talked about how much better it was than we expected. Not that we expected it to be bad – it was just really, really good! There are plenty of healthy options available. And don't fret about picky kids (or adults!). The Loose Moose buffet had something for everyone – from chicken strips and muffins for the kids to roasted brussels sprouts and prime rib for the adults.
There are several dining choices available, too – not to mention room service!
What about the grown-ups? I will admit – there is a lot going on, and it can feel very overwhelming to a parent. But you'll find plenty you like, too. If you're into cocktails, you'll find them in abundance. If you want to work out, there's a great workout room with tons of equipment. There's also a beautiful (and quiet…so, so quiet) spa waiting just for you.
And Wine Down Service! You guys, this is brand-new, and AWESOME. This turn down service lets parents enjoy sommelier-paired wine and food pairings in the quiet of their rooms after the kids have fallen asleep. Starting at $35, the service is delivered to your room – you'll be notified via text instead of having someone knock on the door and risk waking the kiddos. I LOVE this concept…it lets you have a little bit of a grown-up vacation in the midst of a very kid-centered trip.
How much does everything cost? A weekend at Great Wolf Lodge isn't cheap, but you'll find value in everything you buy. The food is good, MagiQuest is fun and the kids can literally play it for days, and the extras – like the 4D movies or the arcade – aren't unreasonably priced at all. The waterpark admission is included in the cost of your room. When you think about the cost of going on vacation and paying for a hotel and then buying the whole family tickets to local attractions (like a waterpark), it makes a vacation like this make a lot of sense.
Food prices are about what you'd expect at a hotel or amusement park. Cocktails were around $10. A spa treatment for the kids at Scooops will run you anywhere from $45-95.
Check here to see which activities are included for free and which have additional costs.
All said and done, I think my kids had more fun at Great Wolf Lodge than they did at Disney.
Yep. I said it.
We did one day at Disneyland last year. I felt like we spent most of the day fighting crowds or waiting in lines. At Great Wolf Lodge, the kids were always moving and never bored (which is saying something, because my kids seem to find a way to be bored in even the most exciting of situations) – and they were able to have freedom to run around on their own a bit. They're still talking about our weekend, and already begging to go back this summer.
So, on that note – let me know if you have any questions below. I'd love to help answer them! Also, if you're coming to the Dallas area, check out these things to do with kids in Dallas. You can see all of my Dallas posts here.
Join us on Facebook for more Dallas fun and kid-friendly travel, plus lots of free printables and healthy recipes!