Grocery delivery is one of the best inventions of the 21st century. But for awhile there, it was pretty rough. The grocery stores didn't have what I needed, and half of the stuff on my list wasn't available. I looked around for other options and ended up getting on the waitlist for Imperfect Foods, a produce delivery service. I've been receiving deliveries for months now. So…is Imperfect Foods worth it? I'm going to answer that as well as some questions you might have (that might not show up in the FAQs on their website).
I'm not an affiliate and I'm not being paid to write this…however, I do have a referral link that will get you $10 off your first box if you sign up. Sometimes it's $20, it just depends on their promos (right now, as of February 2021, it's twenty bucks!).
Ordering groceries can definitely be tricky – you can read my tips for making the most of grocery delivery services here (start with that post if you've never ordered grocery delivery before, or if you've had trouble with your orders!).
What is Imperfect Produce?
Imperfect Foods (or Imperfect Produce) is a produce delivery service that works on a subscription model. You choose which size box you'd like to order, and every week you'll receive a box full of produce. While they create the box for you, you have a 24 hour window every week to shop and change the items in your box. The food is usually surplus or "imperfect" produce.
What usually comes in the box?
Many of the items are standard things like onions, carrots, apples, cabbage. There are also lots of seasonal items. Right now it's peaches, plums, nectarines, and berries. It's pretty standard produce, although sometimes there are items available like radishes, beets, radicchio, jalapenos, etc. It really is different every week, but I know I can always get my onions, tomatoes and potatoes, along with other standard items.
Can you choose the items you receive?
Yes! You get an email about 4 days before the box is delivered telling you what will be in it. You can remove items and add things at that time (you have 24 hours to make the changes, so you kind of have to stay on top of it). They have new items available every week so I love to see what's new and change up my box (I never just have them ship a standard box…I always change it up).
Are there foods other than produce?
It's not just produce! You can also get meats, cheeses, eggs, and a variety of other items. Last week I got several cases of carbonated water, some super amazing truffle corn chips, roasted almonds, spinach wraps, and some treats for the kids. You never know what's going to be available!
How much does Imperfect Produce cost?
I get the large box. The cost is right around $50/week, shipped. I often take some things out and then add more items, so it's closer to $60 for me. I believe the smaller size boxes are closer to $35.
Is Imperfect Produce cheaper than the grocery store?
This one is tricky. Some items are less expensive. Some items, like eggs, are about the same. I think meat is more expensive. However, shipping is only $5 or so, which is around the cost of, or cheaper than, the delivery fee I pay to have groceries delivered from my local grocery store. Also, I always know what I'm getting. Sometimes I order groceries and they don't have what I asked for, so I don't end up getting the order I placed. I don't have that problem with Imperfect.
I'd say the actual cost of the groceries is pretty similar to what I'd pay at the grocery store, but not having to go to the store and getting exactly what I ordered outweighs the benefit or regular delivery.
How is the food packaged?
This might throw you for a loop when you first see it, but the food is all loose in the box. This is to save on packaging and make it more environmentally-friendly. The food is packaged in a box with ice. Cold items are next to the ice in an insulated wrapping.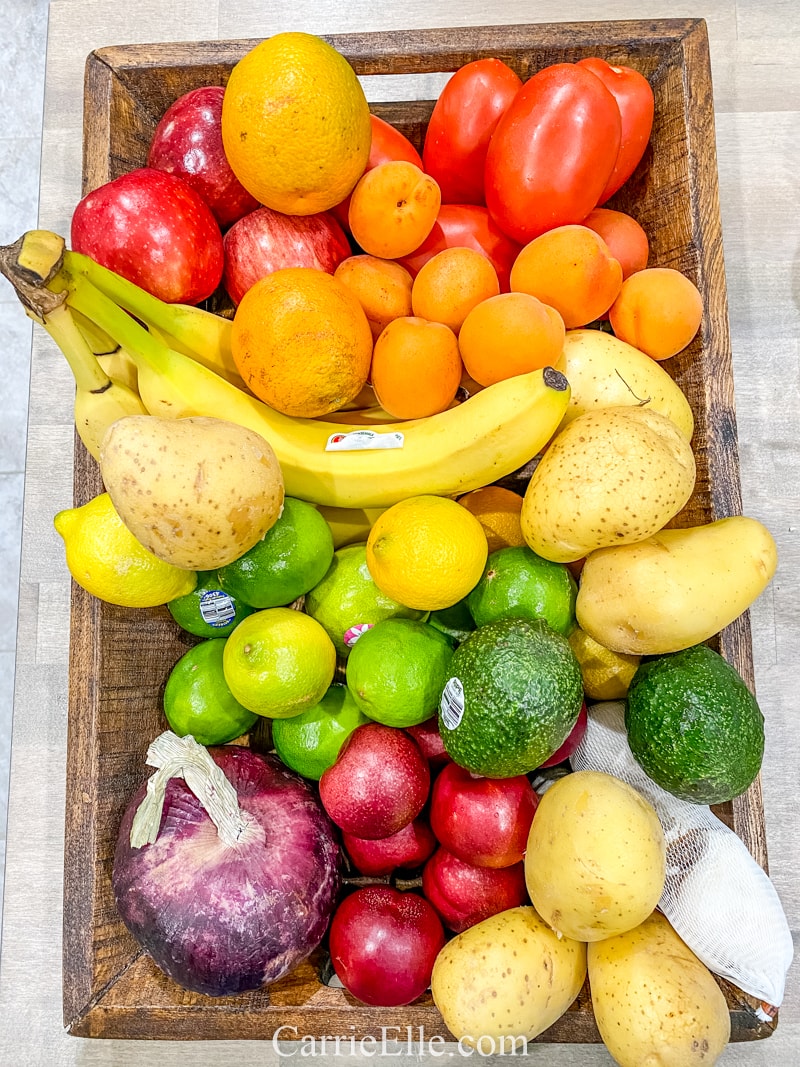 Have you had any issues with your Imperfect Foods box?
I've had mostly great experiences. I have never received old, or bad, produce. I have received a couple of zucchini that needed to be used right away and were on the verge, and I have also had a few peaches that got punctured by something in the box. Mostly, though, the produce has shown up in great shape.
I recently had a couple of experiences where I was missing something that I ordered or had extra of an item (I had like 14 nectarines in one box!!). I let customer service know and they refunded me right away for the missing items (and we ate all the nectarines, don't worry!).
So overall, I would say I've been very pleased with my items.
Is the produce actually funny looking?
When you visit the website, they really sell you on the fact that you're getting food that's "imperfect" and can't be sold elsewhere. When you shop, it will tell you where the food is from…whether it's surplus, imperfect, or just something they have available with no story behind it. The actual food that arrives doesn't usually look as imperfect as you'd think…it mostly looks normal. Some of the imperfections I've had are some funny looking bell peppers, a couple of abnormally large bell peppers, and a massive cabbage (I weighed it, it was almost 7 pounds!).
Is Imperfect Foods worth it? My overall opinion is that I am pleased with the service and the quality of the food. It's been a real blessing during this time – knowing that I will have my groceries delivered every week and that I can get eggs, milk, bread, and produce has been nice.
Is it easy to cancel?
I haven't tried canceling, but I've skipped weeks before and it's super simple – you just log on and skip it! Easy peasy.
You can get $20 off your first box here.