Things I am grateful for: pizza, iced tea, my family, and MUFFINS. Maybe not in that order. But I would definitely put muffins way up there on my gratitude list. And there is everything to love about these healthy lemon blueberry muffins because they are 21 Day Fix / Portion Fix and Weight Watchers friendly! And when I say 21 Day Fix-friendly, I mean you have have three…yes, THREE…muffins for one yellow container.
And if you're on Weight Watchers? They're only ONE point per muffin.
WINNING!
Healthy Lemon Blueberry Muffins
These are based off of two popular muffin recipes I have – the Banana Cherry muffins and the Pumpkin muffins. So if either of those appeal to you, be sure to check them out!
Can I have muffins on the 21 Day Fix?
YES! You most definitely can. However, you can't have just any muffins. They must be made with whole wheat. Also, they can't have a bunch of added sugar or oils that you often find in muffins. So you need to look very, very closely at the recipe to make sure all of the ingredients are approved before you indulge.
Can I have muffins on Weight Watchers?
YES! You can definitely have muffins on Weight Watchers, and there aren't any restrictions to the ingredients. However, as you'll find out once you start calculating points, most muffins will have a ton of high point ingredients, which means they are usually very high in points, too. So choose your muffins wisely, my friend.
On both programs, 21 Day Fix/Portion Fix and Weight Watchers, you can also have butter…but don't forget to add it when you're tracking your food!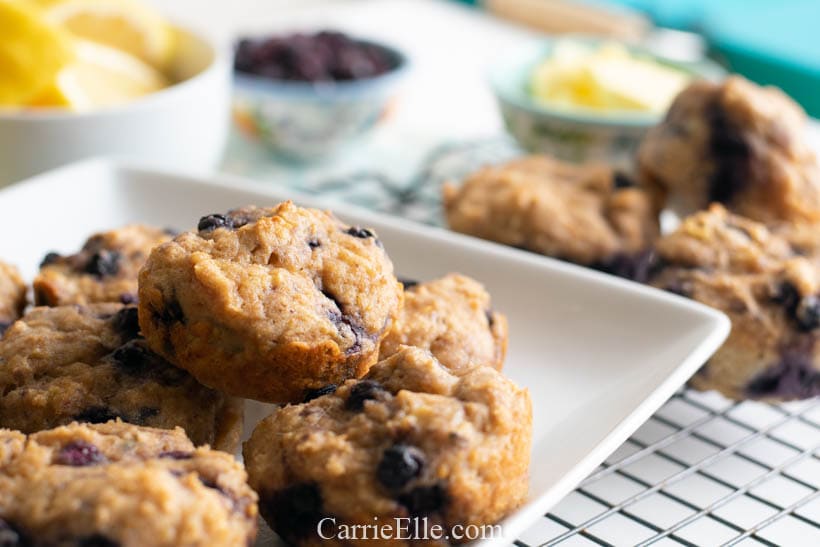 Can I freeze these muffins?
YEP! And they freeze beautifully. Make a huge batch and freeze a bunch. Set them out to thaw overnight or reheat in the microwave for about 45 seconds when you're ready to eat them.
These are a definite favorite in this household. In fact, these muffins and my recent pizza recipe have me pretty much convinced I just need to be a healthy pizza and muffin blogger from here on out. There's a niche for that, right?!
Healthy Lemon Blueberry Muffins
These healthy Lemon Blueberry Muffins are delicious, and they're made with whole wheat so they're suitable for the 21 Day Fix, Portion Fix, and Weight Watchers plans!
Ingredients
1

c

whole wheat flour

1/2

tsp

baking soda

1 1/2

tsp

baking powder

1/2

tsp

salt

2

ripe bananas

mashed

1

tsp

lemon zest

1

tbsp

lemon juice

1

c

Greek yogurt

lowfat

1/2

c

blueberries

frozen (fresh is fine too)

1

egg
Instructions
Preheat your oven to 325.

Spray a muffin tin with non-stick cooking spray, or line with paper liners.

In a medium bowl, mix the flour, baking soda, baking powder, and salt.

In another medium bowl, mash the bananas. Add the yogurt, egg, lemon zest, and lemon juice until blended together.

Add the banana mixture to the dry ingredients and mix until everything is wet. Fold in blueberries.

Divide evenly into 12 muffin tins. Bake for 20-25 minutes, depending on your oven. You'll know they're done when they are a pretty golden color and the toothpick stuck in a muffin comes out clean and dry.
Notes
21 Day Fix / Portion Fix Container Counts:
Weight Watchers Freestyle Points: 1 pt per muffin
Nutrition
Calories:
142
kcal
|
Carbohydrates:
27
g
|
Protein:
7
g
|
Fat:
1
g
|
Cholesterol:
28
mg
|
Sodium:
323
mg
|
Potassium:
406
mg
|
Fiber:
3
g
|
Sugar:
7
g
|
Vitamin A:
65
IU
|
Vitamin C:
6
mg
|
Calcium:
104
mg
|
Iron:
1.1
mg
I'm showing the container counts for these three different ways (because some of y'all might want one, or two, or three). The container sizes are a little wonky on the single and double muffin servings, so personally, I just go for three because I like simple math. 😉 But you can use this information however you see fit! I'm rounding all numbers (since I feel like it's not helpful to say one muffin is .3333333 yellow…you get the idea!).
Disclaimer: Sometimes my math is wrong, so always double check yourself!
21 Day Fix Container Counts:
1 MUFFIN – .3 yellow, .4 purple, .2 red
2 MUFFINS – .7 yellow, .75 purple, .3 red
3 MUFFINS – 1 yellow, 1 purple (actual purple is 1.125, but…), .5 red
Weight Watchers Freesyle Points – 1 point per muffin (WHAT WHAT!)
Looking for more healthy muffins? I'm your girl! Start with one of these: